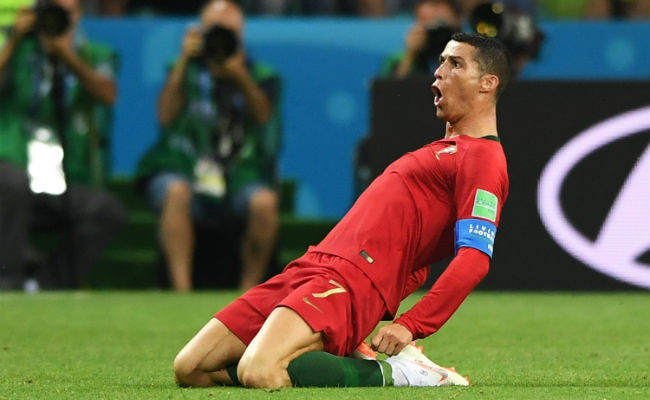 When the groups for the World Cup were first drawn, the early pick for game of the tournament was an Iberian Peninsula Derby between Spain and Portugal. The two rivals have a lot going for them this tournament, with Spain always a threat to get things together and make a run at the title and Portugal having, well, one of the best players on the planet.
Cristiano Ronaldo, that candidate for best player on the planet, certainly delivered on Friday in what may prove to be the best game of the tournament after all. Ronaldo was nothing short of brilliant in Sochi, scoring a hat trick in a comeback that punctuated one of the most entertaining 3-3 draws you'll ever see.
That Ronaldo's brilliance was overshadowed by stunning Spanish goals tells you just how entertaining this match was. He netted his first of the match minutes in on a penalty, only to see Diego Costa score two brilliant goals, the first of which took out Pepe and left half of Portugal's defenders on the turf.
Ronaldo answered shortly before the second half with a sneaky shot that went through Spanish keeper David de Gea, giving Portugal its second lead of the match.
But again, it was Costa somehow getting his right foot on a cross as he streaked into the net to tie the match on a nice passing sequence off a free kick.
The early favorite for goal of the tournament, though, came from Nacho, who struck an absolute rocket to give Spain the lead.

Seriously, watch the movement on this ball from a different angle. Just unreal.
And much of the run of play stayed in Spain's favor in the late stages of the match. Porgutal couldn't muster much offensive pressure until shortly before extra time. Becuase despite the string of amazing goals against them, Portugal has one advantage no other team in the tournament has: Ronaldo behind the ball on a free kick.
In the 88th minute, trailing 3-2, Ronaldo lifted his shorts slightly and delivered a bending free kick over the Spanish wall for his hat trick to steal points and cap a brillaint match.
That it seemed so clear he would score on that free kick is what makes a player like Ronaldo so great. Even Ice T got excited about it.
Ronaldo became the oldest player to net a hat trick in World Cup history. He's also the fourth player to score at four different World Cups. On a day that started with a suspended sentence about tax evasion, Ronaldo made a strong statement that he's the best soccer player alive. Thankfully for the rest of is, Lionel Messi will have a chance at a rebuttal early Saturday morning against Iceland.