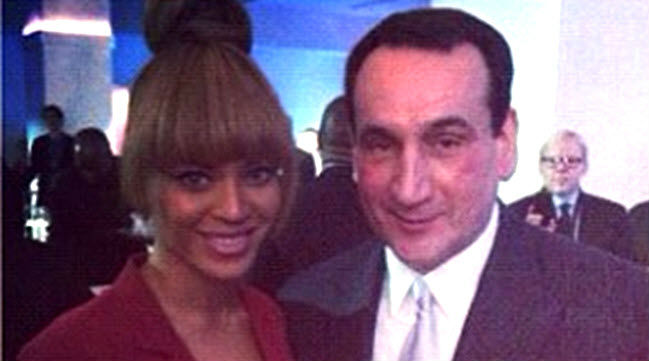 To be fair, everyone should feel like this when they meet Beyonce. In a recent interview with a local Durham television station, Duke head coach Mike Krzyzewski is asked about the time he met Queen B two years ago, when he presented LeBron James with the Sports Illustrated Sportsman of the Year Award. Jay Z was in attendance with his wife, Beyonce, and the legendary coach took a photo with Jay Z and James, but he didn't get a chance to meet Beyonce. So, he decided to take matters into his own hands.
"But I didn't get to meet her, so I went up and said 'I'm Coach K' and she says 'I just heard you speak for 10 minutes. I know who you are.' So I felt like 13, and then I asked her — something I hardly ever ask anyone to do — would you please take a picture with me?"
He admittedly joked that he looked "petrified" in the photo, but who can blame him? You'd think with so many accolades, Coach K has earned throughout his storied career that he'd be a little more composed, though.
[Via: Sporting News]