Everyone stop and give yourselves a round of applause. We've made it through half of the regular season (excluding Army-Navy, which is its own special category). We have enough data now to know we were so, so wrong about so many things, and that we were maybe right about others. It's a chance to reflect on the good, the bad, and the ugly of what we've seen so far, and to make predictions the rest of the way.
Essentially, it's a midseason break (without there being an actual break) of our favorite TV show. What went well? What did we love? What could have been done differently? Are there any big surprises to come?
Here are a few things we noticed thus far, and some speculating that will surely be wrong about the remainder of the college football season.
First Half Heisman – RB Leonard Fournette, LSU
Apologies to Christian McCaffrey and Dalvin Cook (and others), but Fournette is the clear-cut best running back in all of college football. Watching him run feels like a gift we are given each and every week. Everyone seems to know his time, much like the colors of the leaves in the fall before they tumble to the ground, is limited, and we only get a finite amount of games to enjoy his presence at the collegiate level.
First, the numbers: 1,202 yards, 8.01 yards per carry and 14 touchdowns (in six games). One gigantic mean streak. 230 pounds of sheer destruction. So much so that every week people seem to ask themselves whether they'd like to do something incredibly hurtful to themselves or try and tackle Fournette. Most people typically choose the former.
Most college running backs don't do this:
He knows he's better than the guys around him. He knows exactly what his body can do. He's out here absolutely punishing people. And he has LSU undefeated and in the Playoff conversation well into October.
First Half Heisman Runner-Up – QB Trevone Boykin, TCU
I was really tempted to give the first half Heisman nod to Boykin over Fournette, but then I realized I'm sick of quarterbacks automatically winning the award because they're quarterbacks. That being said, Boykin's case is pretty dang strong. TCU just keeps losing important players to injury, and keeps playing in close games, and somehow the Horned Frogs find a way to weather a storm.
The biggest reason? Well, that'd be Boykin, who has single-handedly brought TCU late game wins over both Texas Tech and Kansas State.
The Heisman hopeful took a little time to get going this year, and maybe the expectations weighed on him a little bit, but he shook it off quickly and has put up monster numbers (and has established an incredible rapport with WR Josh Doctson, who already is up over 1,000 yards receiving to go with an astounding 12 touchdowns). Boykin is responsible for 30 touchdowns and 2,979 yards. There's little evidence to suggest the second half will be anything different.
Biggest Surprise Team – Utah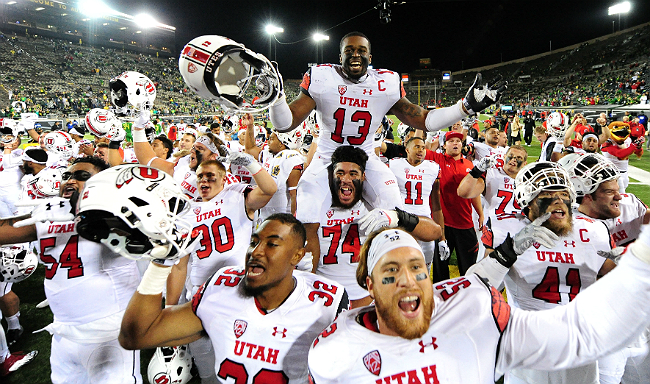 Lots of compelling cases to be made for the biggest surprise through seven weeks, but Utah has been, well, the most consistent. The Utes burst into the regular season with a win over Michigan, dismantled Oregon, hung on against Cal, and beat Utah State and Arizona State along the way. There are still places they could get tripped up, but they played themselves all the way from a borderline Top 20 team up to the lone undefeated left in the Pac-12, and the league's best hope for a Playoff contender.
Utah's doing it with a tried and true formula. The Utes run the ball extremely well behind Devontae Booker, they play a solid brand of defense that forces a lot of turnovers, and they have arguably the best all-around special teams play in the nation. So maybe we shouldn't have been this surprised that Kyle Whittingham's squad has put it all together.
*Honorable mentions: Memphis! Yes, undefeated Memphis, who is coming off a huge win over Ole Miss. The American also has two other unbeatens in Temple and Houston. The rise of the Group Of Five has seen Toledo (6-0, MAC) ranked as well.
Biggest Disappointment – USC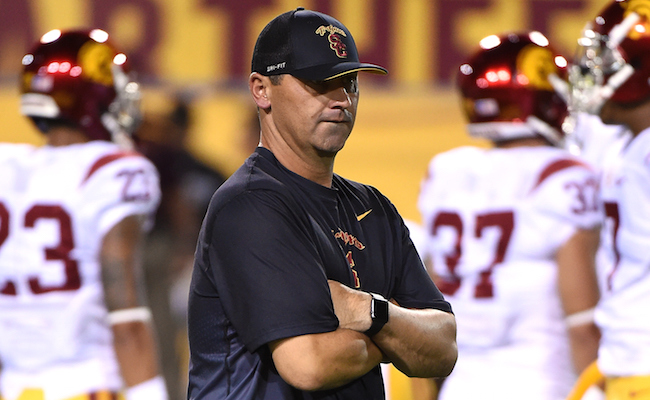 Southern Cal entered the year with lofty expectations and a roster full of talent once again. But an odd interaction between then-coach Steve Sarkisian and donors at a Salute To Troy event in August should've keyed us into things to come. Fast forward to now, and the Trojans are 3-3, Sarkisian has been relieved of his duties and voluntarily entered a treatment facility for alcoholism, and athletic director Pat Haden is under fire.
The Trojans can still make a mess of the Pac-12 South and has plenty of opportunities to spoil someone's party, but they're not the contender they were supposed to be with all those recruiting stars on the roster.
*Honorable mention: Auburn for its 4-2 start, including an almost-loss to Jacksonville State, although the Tigers saved some embarrassment by finding a way to beat Kentucky last Thursday. We also see you, Oregon. Losing to Washington State isn't a good look. Who knew replacing a Heisman winning quarterback would be so tough?*
Midseason Coach of the Year – Jim McElwain, Florida
Whittingham rightfully deserves props, as does Justin Fuente for engineering that 6-0 start. And I'd be remiss to keep Toledo's Matt Campbell out of the conversation. But the way McElwain took Florida from being a good defense with no offensive firepower to a 6-1 first half that almost saw a huge upset over LSU in Death Valley the same week the Gators' starting quarterback was suspended for the remainder of the season due to an illegal supplement is incredible.
It's one thing to be a good offensive coach, but McElwain actually took that phrase "changing the culture" and made it a truism. Florida believes again, and that's a big deal.
*Honorable mention: Hey, let's not forget about Kirk Ferentz. Iowa is undefeated, too!*
Game of the Year of the First Half – Oklahoma 31, Tennessee 24 (2OT)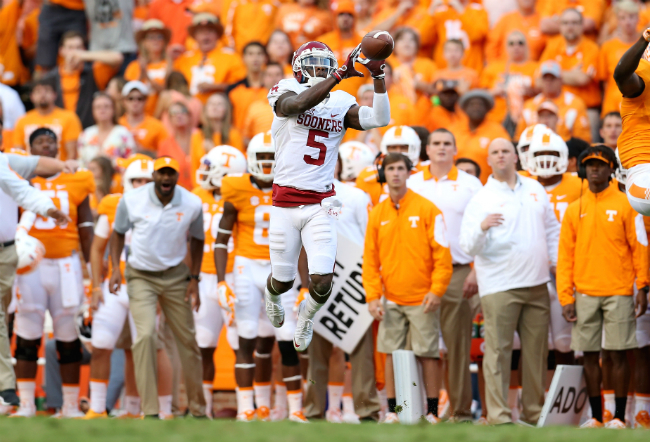 Maybe I'm wrong, and maybe there really are better games than this one that have been played so far, but there was something about the drama of this one. Oklahoma not getting anything going and looking dead in the water before mounting a furious comeback after trailing by 17. That Baker Mayfield touchdown to Sterling Shepard with 40 seconds left to force overtime. The Sooners defense coming up big in the second overtime to grab that interception. The 102,000-plus in Neyland Stadium being loud and awesome the whole game. That weird dust-up between Tennessee coach Butch Jones and Oklahoma's Eric Striker afterward. And Bob Stoops with one of his better quotes following the game:
"It's one of the more special wins, maybe my favorite of all of them," Stoops said. "A little Sooner magic came back out."
This game officially proved to me that college football was back more than anything else in the first few weeks. I had been feeling a bit beaten down and unsure of my relationship with the sport, but this game woke me back up. I'm thankful. I only with I could have been there to see it in person.
Play of the Year of the First Half – Whatever We're Calling the End of the Michigan State vs. Michigan Game
[protected-iframe id="f0e5b54ed078c939dbe643a853cf5ea0-60970621-92419873″ info="https://streamable.com/e/4t4z" width="640″ height="360″ frameborder="0″ scrolling="no" webkitallowfullscreen="" mozallowfullscreen="" allowfullscreen=""]
We haven't dubbed it anything as clever as the Kick Six, but I'm sure it'll come. Until then, the Punt That Wasn't will have to do. (Although if you have a better name, go ahead and drop it in the comments. I like spit balling and brainstorming sessions.) Michigan State was dead. It was buried. The headstone was placed on the grave. Everyone was already back at the house reminiscing about the good times and sharing stories over drinks. And then the Spartans zombied up, ripped out Michigan's heart and ate it raw in a scene that was far more frightening than anything The Walking Dead has done in about four seasons.
The thing that makes this play so special is the reaction from both sides. Michigan State was given a miracle. Michigan was given the biggest nightmare a team can have. And you get to see both playing out in real time. It's not the Kick Six, but it's different and unique in its own way for so many reasons. Watch college football your entire life and you'll see plays similar to this but not this exact play in this exact sort of moment again. It's a snowflake that you catch on your tongue, melting away as you smile and think of the beauty of the world around you.
Strip away fanhood and context, and we're just so lucky that college football gives us something like this every single year.
Midseason Ricky Dobbs All-Stars
First, an explainer: Back at SI, I used to run a story every Sunday called "Between the Hashes." It basically took all the weirdness of college football – tailgates, tweets, quotes, dancing, uniforms, mascots, etc. – and gave weekly awards to celebrate just how silly this sport really is. I also highlighted some huge performances and dubbed them the Ricky Dobbs All-Stars. Ricky Dobbs, of course was the Navy quarterback who was known for putting up gigantic statlines and not getting nearly enough credit. So here are a few of the players this season who deserve some special recognition. (We already talked about Trevone Boykin and Leonard Fournette above, as well as Dalvin Cook and Christian McCaffrey, and we know what guys like Ezekiel Elliott and Royce Freeman can do.)
NIU CB Shawun Lurry: 7 INT, 11 pass breakups, 25 tackles
Oklahoma State DE Emmanuel Ogbah: 33 tackles, 8 sacks, 3 forced fumbles
Penn State DE Carl Nassib: 35 tackles, 12 sacks, 1 INT
Rutgers WR Janarion Grant: 2 Kickoff Return TD, 1 Punt Return TD, 18 catches, 170 yards
Bowling Green QB Matt Johnson: 2,891 yards, 70.5 completion percentage, 24 passing TD, 2 rush TD, 3 INT
Houston QB Greg Ward Jr.: 1,524 yards passing, 9 passing TD, 631 yards rushing, 14 rush TD
Baylor WR Corey Coleman: 41 catches, 877 yards, 16 TD,
Georgia Southern RB Matt Breida: 875 yards, 10.3 yards per carry, 11 TD, 97 receiving yards, 1 receiving TD
Predicted College Football Playoff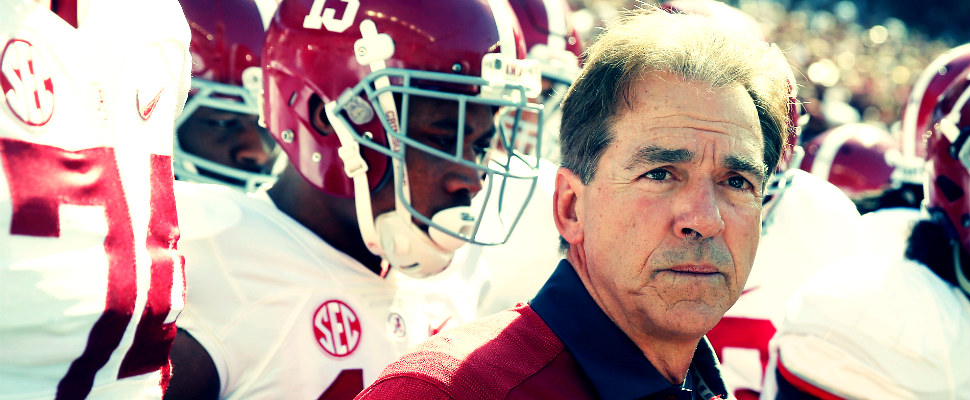 Oh here's where the fun starts. I have to make a guess of something that I'll most certainly be wrong about so that you can tell me I'm wrong now, and also rub my nose in it later when I am wrong. Fine. I'll play that game. Here is who I think is going to make the College Football Playoff after one half of play:
No. 4 Michigan State vs. No. 1 Clemson
No. 3 Alabama vs. No. 2 Baylor
Championship: Michigan State vs. Alabama
Champion: Alabama
Bama got its early-season loss out of the way, and although it might end up looking worse as the year goes on, if the Tide can win out (and Ole Miss loses one more game, which is not unrealistic at all), they'll be in Atlanta with a chance to play the winner of the East. Even if that is Florida, it's a very winnable game for Alabama.
This is a team that still has work to do, especially in the secondary, but with a running back like Derrick Henry and those athletes who can grow into their own on the defensive side of the ball, there's just enough (to go with Nick Saban's magical focus) to put Alabama over the hump. The Crimson Tide are at their best when they're disrespected a tiny, tiny bit and aren't overwhelming favorites, and this is a perfect year for that. If we went by the AP Poll as of now, they're not even in the Top 4, so it gives them something to play for.
Call me crazy, but there are worse bets than banking on Alabama beating LSU at home and beating Tennessee, Mississippi State and Auburn along the way, as well.