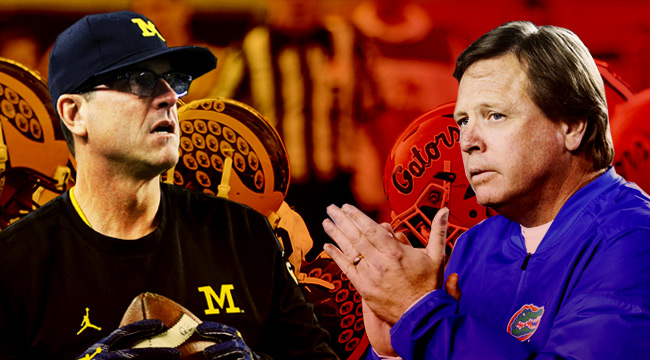 After a little tuneup action last Saturday — with all due respect to Oregon State-Colorado State, South Florida-SJSU, and Stanford-Rice, of course — college football season is officially back this weekend. With college football officially coopting Labor Day weekend as its big kickoff party, we have five straight days of games, starting Thursday night and rolling through Monday night.
That means plenty to watch and also plenty to unwisely wager our hard earned money on. College football is my favorite sport to bet on, largely because of the variety of options and the feeling that you can at least get some value on lines that otherwise doesn't exist in the NFL due to oddsmakers being so in tune with how NFL games will go.
So, this week begins our long march through the season of trying not to lose our entire nest egg before bowl season even arrives. For those that have read my picks previously at CBS or SportsLine, I'm happy you've all followed me here and don't worry, nothing has changed. We still ride Unders and underdogs almost exclusively, unless trends dictate otherwise. For those that are new, welcome and I hope you appreciate sweating out fourth quarters and rooting against offense, because that's what we do around here.
As always, lines come courtesy of VegasInsider, as of Wednesday night, where I will shop my way to the best line possible like I would if I were in Vegas for the weekend. Without further ado, let's get into this weekend's slate starting with, naturally, a home dog on Thursday night. (Picks are in bold.)
Ohio State at Indiana (+21)
Yes, I know Ohio State is really good. I think they win the Big Ten and make the College Football Playoff. However, we've got ourselves a principle play on our hands here. Home dogs are my kryptonite. I can't resist them and getting three full touchdowns with the Hoosiers is just candy I can't say no to. Indiana lost to Ohio State by 21 on the road last year, and the Hoosiers almost always play tough against good teams — last season, the Buckeyes were the only one of four ranked opponents to beat Indiana by more than two touchdowns. This game is Indiana's season, to be honest. It's the home opener in primetime against Ohio State on an ESPN Megacast. For Ohio State, it's a game they just have to win to reach the end goal. In the Kevin Wilson Bowl, I'll take Indiana to cover in a major sweat.
Michigan vs. Florida UNDER 44
This is my lock of the week. The Gators have 10 players suspended, including their best receiver and running back. Both teams have excellent front sevens and the major questions for each defense is in the secondary, but they also have significant quarterback questions — Florida will roll with redshirt freshman Feleipe Franks — and inexperience at receiver. That would signal to me that we are going to have a good old rock fight on our hands with a lot of attempted running of the football, little success from either side, and both teams desperately trying not to make a critical, back-breaking mistake.
Northern Illinois at Boston College UNDER 51.5
This is a bread and butter play with a Boston College Under. This total has moved up a bit from the mid-to-high 40s and at 51.5, if you're talking about key numbers, we crossed one getting the hook on the other side of 51. Boston College's offense is bad. They cannot run the football well and as of Wednesday, they have yet to name a starting quarterback. Rarely a good sign. Northern Illinois was a bad football team last year that gave up lots of points. Concerning for the Under, but when you combine BC's offensive woes with Northern Illinois having a new quarterback and running back, you've got yourself a recipe for some sputtering on that side of the ball. We're fading defensive and special teams scores in this one, but I always feel good rolling with the Dudes and an Under.

Vanderbilt (-3) at Middle Tennessee State
I know what I said about Unders and underdogs above, but we always have an exception for my beautiful 'Dores. Last year, in Nashville, Vanderbilt rolled up 47 on Middle Tennessee State while only throwing for 113 yards. They exposed the Blue Raiders defense with the running game to the tune of 231 yards. Ralph Webb is back and he will once again be the focal point of the Vanderbilt attack against MTSU, and I like how this line has dropped to a field goal. I think Vanderbilt's defense — as good a "bend don't break" defense as there is — will do just enough against Brent Stockstill's passing attack to keep them out of the end zone a bunch (as they did last year allowing 24 points on 400 passing yards), and the running game will load up time of possession in the Vandy's favor.
Wyoming (+12.5) at Iowa
This one spooks me for a couple reasons, but I'm sticking with my gut and taking the Cowboys on the road getting nearly two touchdowns. Let's start with what scares me. One, Iowa was a Jekyll and Hyde team last year, as best evidenced by their final two games in which they blew out Nebraska 40-10 then lost 30-3 in the bowl game to Florida. Bad Iowa was really bad last year. Good Iowa was quite good, and if they show up, I'm in trouble. The other reason I'm afraid is Wyoming quarterback Josh Allen is suddenly a public figure and getting tons of NFL Draft hype, and I don't want them slinging the ball around. Last time they did that on the road against a Big Ten team, they fell apart to the tune of a five interception fourth quarter to lose 52-17 and blow a sure fire cover.
That said, if Wyoming keeps this thing on the ground (where they were very strong a year ago) and mucks it up, Iowa will happily play that game too. A slow-paced, running heavy game is great for double-digit dogs. Also helping the likelihood of a run-heavy focus is Iowa having to replace long-time quarterback C.J. Beathard with an unproven young quarterback. Kirk Ferentz will likely play it safe with a new quarterback taking over, and that means plus-territory punts and playing the field position game, which are wonderful for the dogs.
[NOTE: This previously noted running back Brian Hill, who is now on the Falcons, not back in Wyoming for his senior season. My apologies.]
Appalachian State (+14.5) at Georgia
We love our key numbers, and Appalachian State getting that hook on the other side of two touchdowns sounds like good money to me. There are some that think this is the Dawgs' year to finally be what they're supposed to be, but I'd like to see it happen before I throw my faith behind Nick Saban's large adult son Kirby Smart and the rest of the boys in Athens. Nick Chubb is inexplicably back, which scares me a bit, but App State has a really good defense and with a veteran starting quarterback who won't be spooked by the moment or stage in Athens, I think the 'Eers keep this one pretty close and cover the number.