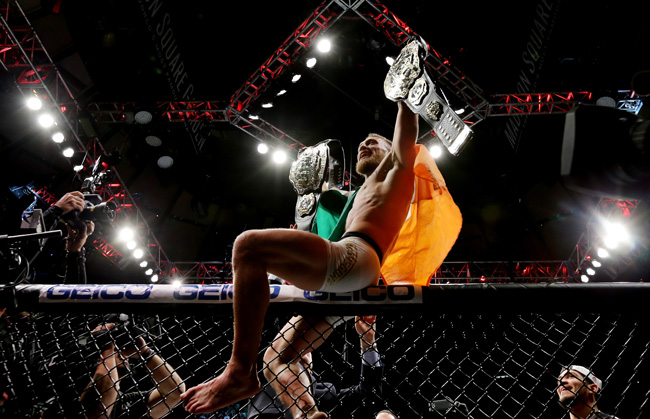 Conor McGregor is a two weight class world champion no more. According to an announcement made by the UFC at its event in Australia, he will 'relinquish' his 145 pound featherweight title, making Jose Aldo the owner of the official 145 pound belt. In addition to that big bit of news, the fight between featherweight contenders Max Holloway and Anthony Pettis at UFC 206 in Toronto has now been turned into an interim featherweight title bout.
There's many questions here with few answers. Did Conor really relinquish his belt, or did the UFC basically strip him of it? Why is there a new interim featherweight belt being immediately fought over at UFC 206? Does this mean Jose Aldo is still salty with the UFC after a year of demanding a rematch with McGregor but not getting it?
At this point a lot of cynical attention being paid to the interim featherweight title fight at UFC 206. The show just lost its main event fight of Daniel Cormier vs Anthony Johnson for the light heavyweight title, and many feel the new interim featherweight belt exists simply because Toronto needs a title fight at the top of its pay-per-view show. But there might be a little more behind it.
As we mentioned before, now-champ Jose Aldo and the UFC have been feuding, with Aldo at one point announcing his retirement and demanding to be released. The UFC refused to release him, and at this point its unclear whether turning the belt Aldo won at UFC 200 into the true featherweight title will encourage him to fight again. With another interim belt out there, Aldo will have to fight the interim champ soon or have his belt stripped as well.
It's an ugly situation, and that's without Conor McGregor adding to it with his own feelings on the subject. The superstar fighter has been silent regarding the situation, but in the past he's seemed both reasonable and unreasonable about his belts. In trying to save a PPV event that's probably un-savable, they may have upset their biggest PPV star. It's a bold strategy, Cotton. Let's see if it pays off for 'em.