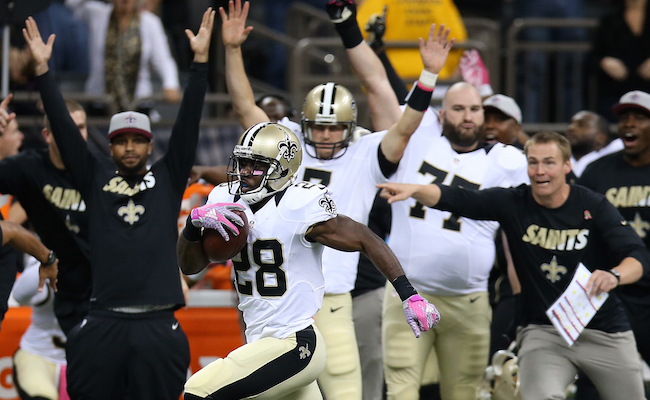 Sunday night's NFL game between the New Orleans Saints and the Dallas Cowboys had one heck of a finish in the Big Easy. Midway through the fourth quarter, the Saints broke a 13-13 tie and went up by a touchdown on a Khiry Robinson one-yard run. The Cowboys weren't dead yet, though — Brandon Weeden, yes that Brandon Weeden, found Terrance Williams, who made an incredible leaping grab near the back pylon of the end zone to tie things up at 20 with just under two minutes to play.
Drew Brees and company would counter effectively, however, and were able to get all the way down to the Dallas 12-yard line to set up a 30-yard field goal with 16 seconds left. Instead of putting the game away with an easy field goal, Saints kicker Zach Hocker doinked the kick off the left upright to force overtime.
Now, I'm not sure how an NFL kicker manages to miss a 30-yard field goal, but I'm pretty sure this Saints fan had some effect on it. Can't confirm, but it's a pretty good guess. I mean, look at this dude. He is mesmerizing! Could you concentrate with that in your line of vision?
Brees and the Saints clearly didn't want this game to last any longer, because on just the second play of overtime, Brees found C.J. Spiller down the right sideline for a ridiculous 80-yard touchdown. In addition to it being a thrilling game-winner that provided the entire city of New Orleans with a sigh of relief, the score also marked Brees' 400th touchdown of his NFL career.
Ball game. If the overtime period sounds like it was a short one, you aren't wrong — per NFL Network, it was the NFL's shortest overtime period in the regular season history.
Can we have more Sunday night finishes like these, please, NBC?