LOS ANGELES — "Don't f*ck it up."
Those were the four words of advice Fox Sports chairman David Hill gave Curt Menefee in 2006 when he was set to take over as the host of Fox NFL Sunday for James Brown, who left for the NFL Today on CBS. Menefee was a veteran sportscaster who had graduated from local TV in New York City to doing play-by-play work for Fox's NFL and NFL Europe coverage, but to many viewers, he was still an unfamiliar face.
His first year with the show was spent on the road, as Fox had him split hosting duties with Joe Buck on-site at the A game Buck would call later that day. It was, in essence, a redshirt year, which Menefee figures was purposeful from Fox to allow viewers to get used to him before they turned it over to him full-time.
"At least in my mind, the thinking was: Joe Buck has been here since Day 1 on a big scale," Menefee says. "America knows who Joe Buck is. Curt Menefee's been doing games for 10 years, but he's been doing what I call the 'milk games' where you get two percent of the country. So, I'm doing these games so people have heard of me, but not on a national scale. This gives me an opportunity to introduce myself to America and let people get to know me. And it seemed clear that it was not going to stay on the road forever, so the point of that, to me, was this gives me, as long as I don't f*ck it up, a chance to be introduced to everybody and then when they say, 'Curt's going to be the host next year,' it's not like, 'Who?'"
While Menefee wasn't well known to the nation, he had supporters where it counted. Terry Bradshaw, who serves as co-host, Howie Long, and Jimmy Johnson (with the exception of a brief return to the sidelines to coach the Dolphins) have been on the Fox NFL Sunday set since its inception in 1994. Bradshaw was among the first to know of Brown's impending departure, and when Fox management called him to discuss potential replacements, Menefee was the only name on his list.
"They called me and I said Curt Menefee," Bradshaw recalls. "They said some other people and I said, 'Curt Menefee, that's the guy we want.' I said, don't look, I don't even want to come out and audition anybody — 'cause that's what we did when I started. I said, it's Curt Menefee. He's our guy. He's smart, knows football, cares about football, puts in the time. He's likable, he's engaging, he'll fit perfectly with us. I knew Curt would be fabulous, and it was that easy."
The support Menefee had from his new colleagues served as a helpful backing as he sought to get settled. That first year wasn't just to get viewers acclimated to Menefee, it allowed him the opportunity to feel his way into the role he now commands at the head of the five-man desk. The first two weeks on the job, Menefee tried to figure out what tone he should strike as the host, given that one of the hallmarks of the show is their banter on set. Both weeks he tried to work in a joke that failed to land as hoped, including one aimed at Bradshaw's failed marriages, which is still a punchline for the group.
Back in Los Angeles, Menefee stewed and sweated, wondering what was going wrong and how he would find his way to fit in with a group that had 12 years worth of chemistry built up. Roy Hamilton, then the head of Fox Sports Net, pulled Menefee into his office and offered sage advice.
"You know you've already got the job, stop trying so hard," Hamilton told him. "Be you. They hired you because of who you are. Don't try to be anybody else."
A day later, he got a call from Long, who similarly told him to just be himself. Menefee got the message, noting it's impossible to ignore when two people tell you the same thing back-to-back, and allowed himself to relax and stop pressing going forward. With that acceptance that he should just be who he is, he could begin building a chemistry that is unique in the otherwise ever-changing world of sports media.
The main desk on Fox NFL Sunday has been together for 12 years, with Michael Strahan, who joined in 2008, being the newest member of the core group. The friendship and trust between them is what each and every one points to as the chief reason for their success. They go on offseason trips together and convene at the hotel on Saturday to watch and talk about college football in the same manner they do on the show — just with, as Menefee puts it, "adult beverages and curse words."
The bond off the set allows the show to be what it is, a free-flowing conversation about football among friends. That casual feel is what makes it popular, but it can only be facilitated by a host like Menefee, who has the trust of the rest of the desk. The loose structure requires Menefee to be delicate but firm in facilitating interesting conversation, while getting them into and out of topics and maintaining the pace needed to get to every segment and commercial in a compact one-hour show.
Each of his co-stars is quick to highlight his intelligence and skills, highlighting the various ways he steers the ship to make the show as successful as it is. For Bradshaw, 14 years in, he still can't help but marvel at Menefee's smoothness and his calm during the somewhat controlled chaos of the show.
"He's a chameleon," Bradshaw says. "He's the one that has to change colors and pop up and lead us, and he does. We trust him. Imma tell you something, the greatest compliment you give guys in his role, and I'll say this about Curt, when everything goes blank on that screen and they tell him take it, he can vamp. He's smooth. He gets us in, gets us out, and it's not on prompter. I mean, the rest of us panic and go crazy. I tell you he's set himself apart, man. I love him. He's not only someone I thoroughly enjoy working with, he's a dear friend, and that means a lot."
It's a skill Menefee attributes to years of doing local news, where a late breaking story can force a complete restructuring of a show minutes before air. On the Sunday I visited the set, that scenario popped up when Antonio Brown hopped on Twitter between the production meeting and show time, posting that he was retiring and calling out the likes of Ben Roethlisberger and Robert Kraft for their past sexual assault and prostitution charges, respectively. Discussion of Brown was already a topic for the show, but they needed to adapt to the new developments before going live.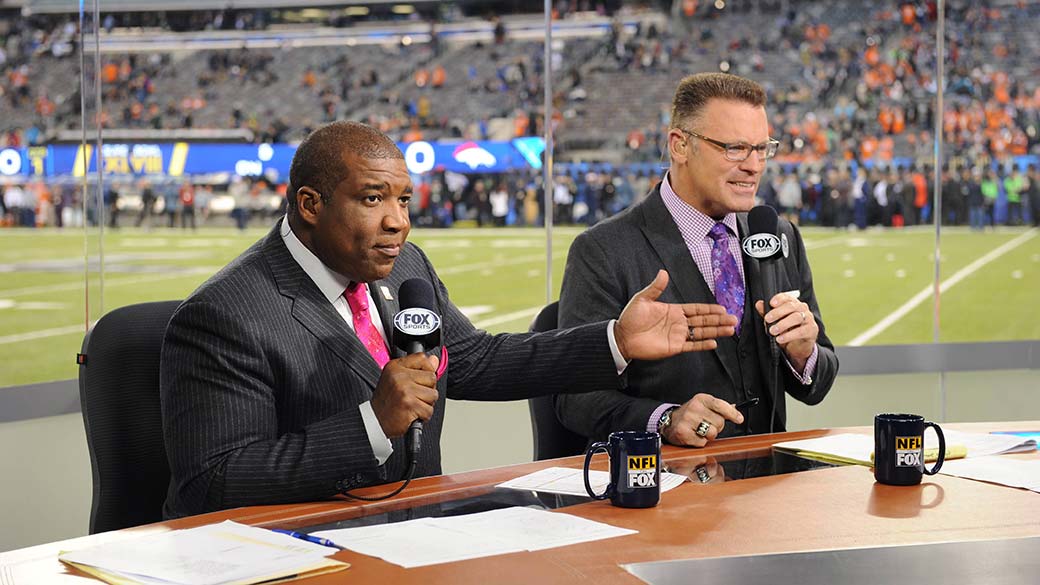 Menefee and insider Jay Glazer quickly rehearsed the segment that will open the show, detailing the latest from Brown's tweets to the NFL meeting with the women who accused Brown of sexual assault and misconduct. Glazer runs through his report, while Menefee gives him feedback on how to properly word things given the serious nature of the subject.
For Glazer, Menefee's experience is an invaluable resource in these situations. The two have long been friends, along with Strahan, as the trio met in 1995 when Strahan was a young player and Glazer and Menefee were on the Giants beat. When Glazer got offered a show on MSG Networks, he turned down a list of ex-athletes and requested Menefee be his co-host so he could learn from a seasoned studio host. That's still the case nearly two decades later, but Glazer believes Menefee's greatest skill is how he's so adept at handling the show's personalities.
"The biggest thing he does, not only is he flawless as a host, but there's a lot of things he does in a host role beyond what we see there running traffic," Glazer says. "It's managing the personalities. I mean, look, what makes us so successful is that we are big personalities. There's six of us on the show, or seven with Tony now, but there's 18 personalities between the seven of us. So, Curt has to be the host and our therapist, and I cannot stress enough, we're a team. You see other teams, they have ups and downs, and he, man, will steer us through stuff and he's a big reason we are as close as we are."
Trust and friendship come up in every conversation on set. Each of them has put in a tremendous amount of work to earn the trust of each other when it comes to talking football. The four Hall of Famers on set have credentials that speak for themselves. Glazer's rolodex of sources and friends within the league, both via reporting and MMA training, speaks volumes as well. Part of what makes Menefee stand out to his co-workers is the work he's put in to earn the same level of trust in talking about the game.
"He's a tireless student of what we're talking about, and I appreciate that because I think it helps with the interaction and the questions and the directions he pushes things in," Long says. "Because he's so smart, it's always a stimulating conversation, and there's back and forths that are, I think, unique to him. Curt is a really good point guard, a very good facilitator, and what I like is when there's a topic that I think it becomes obvious you need to hear Curt's perspective on it, he's informed and intelligent and he can handle that. Because that position, you have to be omnipresent but invisible and you have to be selfless but informed, and he's all of those things."
Bradshaw notes sitting next to Curt is like sitting next to an encyclopedia because he knows almost every GM and coach in the league. Menefee spends the offseason visiting training camps and putting in time with various teams around the league — he also does play-by-play for Seahawks preseason games — so that when the time comes during the season, if he needs some information he can get it.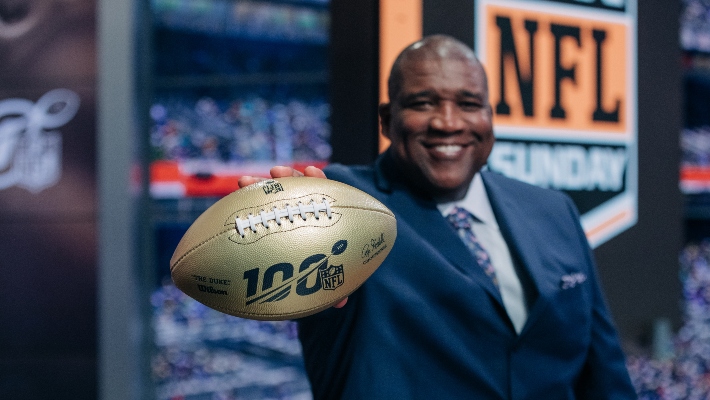 "I'm not a Hall of Famer like these guys," Menefee says. "I'm not someone who automatically when you call a coach in the NFL is going to pick up the phone. OK, he's the guy on the show, we'll do it as a courtesy, but I get what I truly need because, who is this guy, he's a reporter.
But there's six or seven head coaches, easily, I'll text on Saturday or Friday and talk to them about things that are going on this week — or GMs or players — about what's going on in the league that helps me and helps the show. And all our guys are plugged in, so we'll talk to each other about what we've heard and it's another resource for all of us. We all are able to put our pieces together to make our show better, and I think that's part of my contribution in doing that."
What he lacks in on-field credentials — Howie is still demanding actual footage of Menefee playing middle school football as he claims — he more than makes up for with the work he puts in to be plugged in with folks around the league. But all that knowledge and skill as a host wouldn't mean as much if Menefee didn't use his greatest skill: listening.
"Curt listens better than anybody and listening is the number one quality in television for people on either side of the camera," says producer Bill Richards. "So Curt knows in a meeting or rehearsal, Howie had a really good point, and [on the show] whether it's time or he went a different way, Curt's good at bringing that back, like, 'you mentioned their secondary…' and something he knows they want to say, he's that good. He's super generous. Michael has the line, and it fits to Curt — well, not the first part — but our show has eight Super Bowl rings and zero egos. Curt has zero ego. He knows he's there to make the guys look better."
That ability to always be perceptive and listening to what the guys are saying, whether it's on set, in meetings, or even in their group chat, is what makes Menefee the perfect host for Fox NFL Sunday. It's a show that prides itself on being mostly unscripted, following the conversation to make for the best show possible rather than a stringent rundown. Without a host that can facilitate conversation and listen to push it along and get guys into the best spots possible, it wouldn't be as effective.
Menefee has done a little bit of everything in his career, from local coverage in Dallas and New York to play-by-play and studio hosting for Fox on everything from NFL to MLB to Champions League. He'd love to host a game show at some point — he once tried to buy the rights to Match Game — but when it comes to sports there isn't much else he'd rather do than spend his Sundays with friends talking football on TV. It's a formula that's worked and, as evidenced by the group's recent induction into the National Association of Broadcasters Broadcasting Hall of Fame, Menefee has at the very least managed not to f*ck it up.
Uproxx was hosted by Fox Sports for reporting on this piece. However, Fox Sports did not review or approve this story in any way. You can find out more about our policy on press trips/hostings here.