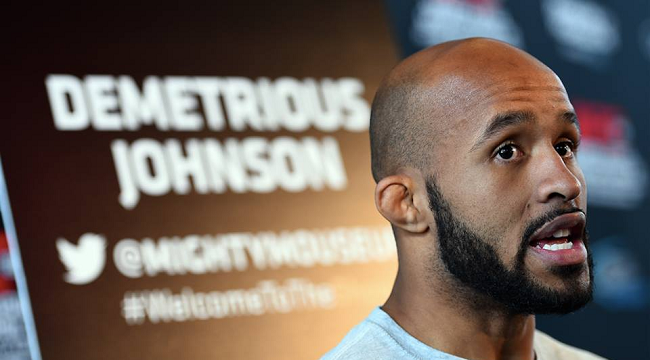 For a moment there it looked like the UFC was going champion vs. champion crazy. Three fights between belt holders seemed to be coming together just in time for their big International Fight Week event in July, with light heavyweight Daniel Cormier vs. heavyweight Stipe Miocic signed and sealed for the UFC 226 event in Vegas.
But with so many other cards to fill, the UFC peeled away women's bantamweight champ Amanda Nunes from a showdown with women's featherweight titan Cris Cyborg and put Nunes on UFC 223 in Rio in May. Cyborg is still angling to make the superfight happen but as it stands, it's up in the air. And now word comes straight from Dana White that a highly-anticipated scrap between flyweight champ Demetrious Johnson and bantamweight champ TJ Dillashaw isn't happening either.
White told the Los Angeles Times that the fight "is not happening. It was never made. Plus, DJ is hurt and out for a while."
Johnson had surgery near the start of January to "clean up" his shoulder and remedy the pain he'd been feeling since December. At the time, it seemed like the minor kind of elective surgery several other champs were getting to tune up while negotiating bigger fights with the UFC. In a recent interview, Demetrious said he'd be ready for International Fight Week.
So as usual, we're left wondering what's truth and what's spin. White blames DJ vs. TJ not happening on Johnson's injury, but we have to wonder if it's due to one or both fighters asking for too much money. This isn't a case of the UFC being lukewarm on the fight. Earlier in 2017, Johnson got into a huge public spat with Dana White over the Dillashaw fight, claiming the UFC was trying to 'bully' him into it. Since breaking the record for most title defenses, he's become much more agreeable to the fight. But since then talks have gone dormant.
It all underscores the new interesting reality in the UFC. Fighters are all chasing the biggest money fights they can find while the UFC attempts to maintain some kind of order in their divisions and a cap on fighter pay. And while the UFC wants the DJ vs. TJ fight, they don't seem willing to pay for it, mainly due to their belief that Johnson doesn't sell pay-per-views.
We as fans get caught in the middle because we don't particularly care about the bottom line, we just want the best fights. But as we're seeing more and more these days in MMA, the bottom line dictates what's going to happen and what isn't. The UFC doesn't see Johnson as a draw so they refuse to pay for him as if he is, thus scuttling the one big fight where he might actually become one. Better get used to that, because it's a story that's going to repeat itself numerous times over the coming years.