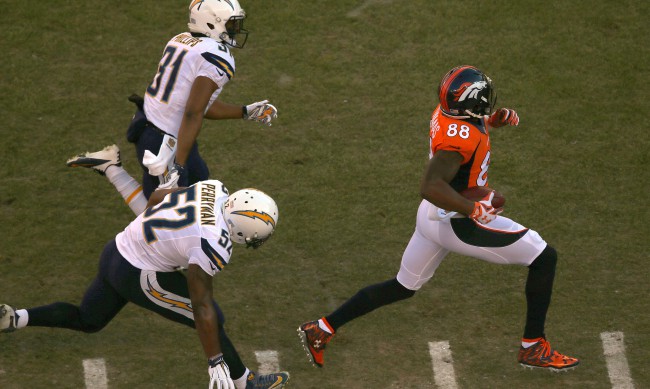 When the top-seeded Denver Broncos host the Pittsburgh Steelers in the AFC Divisional Round Sunday, a special guest could be in the stands. Per USA Today, Katina Smith, the mother of Broncos wide receiver Demaryius Thomas, could be in the stands to watch her son play a football game for the first time in her life. Thomas has been mostly quiet about his family and private life, but Smith has been in prison since her son was a little boy:
Thomas' mother, Katina Smith, was released from prison after her 20-year sentence for drug trafficking was commuted by President Obama. She has since been released from a Georgia halfway house and Thomas said a ban restricting her ability to travel has now been lifted.

Smith, who was arrested in 1999, when Thomas was 11, has never seen her son play a football game in person
Now that she's out and able to travel, Thomas is working on travel arraignments to get her to the game. "I know she'd be excited. It'd mean a lot for her to see my first game live," Thomas said via the paper. It's crazy to think about how many experiences involving her son Smith has missed over the years. This would be a big day for both of them. Hopefully the Broncos will be able to get something worked out to get her out to Denver. It'll be an emotional moment, without a doubt, but a long-awaited one, as well.
(Via USA Today)