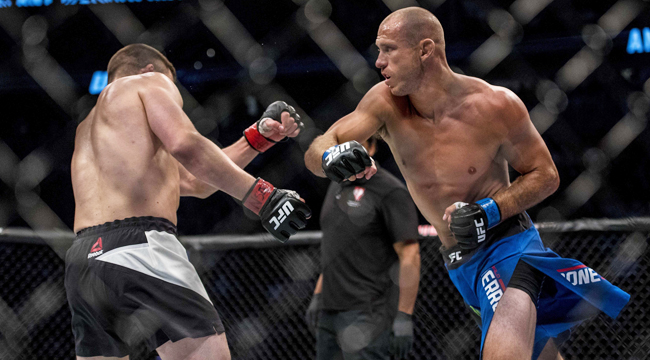 For the past five years, Donald Cerrone has been about as exemplary a UFC employee as the promotion could possibly ask for. He's fought approximately 1,412 times, has never pulled out of a fight in that span, and has offered to fill in for every major lightweight and welterweight fight that was shaken up by injury regardless of how much time he had to prepare. Throw in the fact that he consistently scores either a Performance of the Night or Fight of the Night bonus and seriously, how could you ever dislike this guy?
Having just finished off Rick Story in spectacular fashion at UFC 202, it was beginning to look like Cerrone had found himself a new home in the UFC's welterweight division that would allow him to carry on collecting skulls and/or win bonuses for the foreseeable future. In his post-fight interview with Joe Rogan, however, Cerrone stated his desire to face lightweight champion Eddie Alvarez next in the UFC's inaugural trip to Madison Square Garden — you know, the card that might feature the return of Ronda Rousey and Georges St-Pierre. This notion was almost instantly rebuked by Dana White, and now, it looks like Cerrone might be growing just a tad bit sick of playing the role of company man.
Speaking at UFC 202's post-fight press conference, the 33-year-old made sure to mention that he "was a UFC fighter" before hinting that he might be "making some calls" in light of White's insistence that he stay at 170.
"Normally I just say I'll take anyone, anywhere and that I don't care who I'll fight next," said Cerrone. "The UFC always tells us if you want a f*cking fight, let us hear about it so god*amn it, there I am letting someone hear about it. I think that was my 33rd or 32nd walk for Zuffa but f*ck, it's time man, let's start making some calls and making some moves. That's kinda where I'm at."
Cerrone reiterated that he would take "whatever avenue I [need] to get on the New York card," so more likely than not, that will mean sticking it out at 170 for the foreseeable future. If he doesn't end up on that card, however, you can guaran-damn-tee that he'll be letting the UFC know about it. For what it's worth, self-described MMA Insider @talkMMA has also added this interesting wrinkle to story…
I'd call that an enticing offer for a guy who fights 12 times a year yet goes through all his earnings "like a fart in the wind." But, Cerrone has one fight left on his UFC contract.