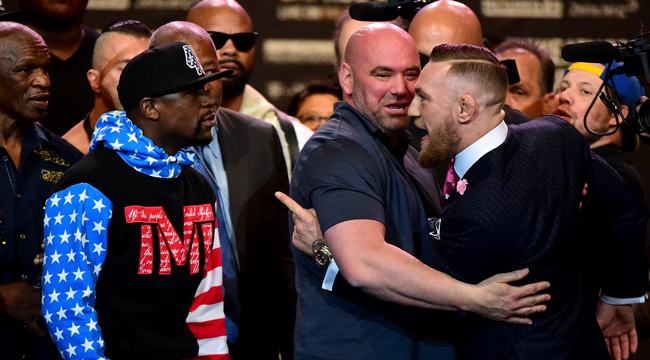 Things are taking an unfortunate racial turn in the spectacle that is the Floyd Mayweather vs. Conor McGregor boxing superfight. Conor McGregor has never shied away from throwing a racial jab at his opponents, but a recent clip of him referring to black men in Rocky III as "dancing monkeys" crosses a whole lot of lines even Conor has never gone near in the past.
McGregor brought the racism issue up during the New York stop of the Mayweather vs. McGregor World Tour, and the WWE style posturing these events have been full of certainly wasn't the place where it was going to be addressed maturely.

"Let me address the race," he said. "A lot of the media seem to be saying I'm against black people. That's absolutely f**king ridiculous! Do they not know I'm half-black? Yeah! I'm half-black from the belly button down. And just to show that that's squashed, here's a little present for my beautiful, black female fans."
You can watch the gyrating dance that follows below.
Up until all this, Mayweather had been pretty relaxed about any perceived race issues levied by McGregor, brushing off implications that Conor's "Dance for me, boy!" comments during previous World Tour stops were racist. But he called McGregor out for this latest volley.
"This is an event where two fighters are competing against one another," Mayweather said in a post-conference interview with FightHype. "But saying a lot of racist things like today toward black women. I have two black daughters, a black mother, of course I'm a black man. He's crossing the line, but I can't really focus on that right now. I'm here to do a job, and my job is to go out there and entertain. But he's losing a lot of fans by doing that."

There's one more stop on the Mayweather vs. McGregor World Tour then six more weeks before the fight on August 26. That's a lot of time for this to get uglier before it gets better. Let's hope things somehow turn around. Mayweather vs. McGregor was supposed to be a ridiculous bit of over the top spectacle … the last thing we need is for it to turn into a gross example of racism.