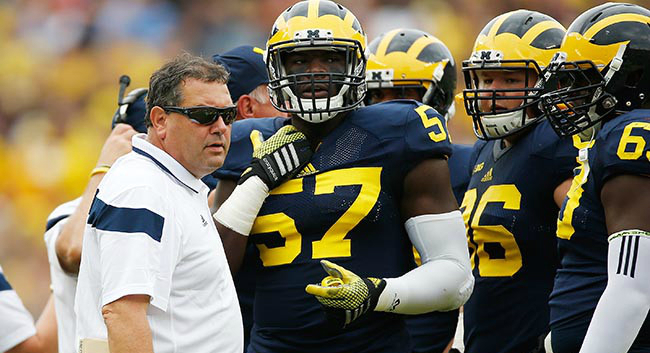 Following a 2014 during which the NFL was the subject of a lot of criticism for a lax approach to disciplining violence against women, there was bound to be much scrutiny for how teams would look at incoming players who enter the league with prior incidents, confirmed or alleged.
On Monday, TheMMQB's Peter King spoke with Buccaneers officials about their investigation into Jameis Winston's rape allegation and discovered that team officials never reached out to his accuser. They contended that there was nothing she could say that would be of use to them.
While Winston's case garners more national attention, it isn't the only example of an NFL team this year ignoring possible evidence regarding alleged violence against a woman by a prospect. The Seattle Seahawks in the second round drafted Michigan defensive end Frank Clark, who three weeks ago pleaded guilty to a persistent disorderly conduct charge in a plea deal with prosecutors. The charge stemmed from a November incident in which Clark's then-20-year-old girlfriend claimed that Clark punched her in the face. That night, Clark was arrested on charges of domestic violence and assault after two friends found the woman sprawled half-naked on the floor of a hotel room.
The Seahawks maintain that they've investigated the matter thoroughly, but a report by The Seattle Times revealed that the team never spoke with any witnesses other than Clark himself.
But the Seahawks made him the 63rd overall pick in the draft, saying team officials had conducted an extensive investigation of their own and felt confident that the 6-foot-2, 277-pound Clark had not struck his girlfriend. The team acknowledged on Monday that their investigation did not include interviews with witnesses other than Clark.

Seahawks general manager John Schneider has said the team investigated the matter thoroughly and would never have drafted Clark if they believed he'd struck his girlfriend. Schneider made those statements Friday and repeated them again in a radio interview Monday with 710 ESPN Seattle. He said in the radio interview that the team had three people investigate Clark's background, and had concluded that "whether it was punching a woman or striking a woman he would not have been on our board."
The Times emailed two witnesses, Lis Babson and Kristie Colie, on Monday. After giving written statements to police the day after the incident, they claim they haven't heard back from anyone regarding the case. When told what the witnesses said to the newspaper, the Seahawks released a statement affirming the team's "confidential interviews with people directly involved with the case." The team did confirm, however, that no one from the organization had spoken with any witnesses from that evening except for Frank Clark. That includes the woman's younger brothers, one of whom told police that he observed that Clark "grabbed her by the throat, picked her up off the ground and slammed her to the ground while also landing on top of her."
Police and prosecutors, meanwhile, have yet to explain why Clark was offered a plea deal for lesser charges that didn't result in a domestic violence conviction on his record.