The first thing Gary Danielson does when he calls last Tuesday is apologize. He missed the first call earlier in the day and had to get back a couple hours later, and he isn't happy with himself. After being assured that this happens all the time, he says, "not to me."
That short interaction in 30 seconds sums up more of how the top CBS college football analyst is wired than hours of broadcast footage, thousands of tweets, and endless pages of message board threads ever could. Danielson pays attention to detail, and he's still operating under the free agent quarterback mentality he played with during his 10 seasons in the NFL (and his brief stint in the World Football league).
These days he's not looking over his shoulder quite as often, but he still knows it could all go away at any moment. So he puts blinders on and focuses on doing his job. Which includes taking a half-hour to chat on college football's opening weekend, his 10th at CBS – and the last for partner Verne Lundquist.
Martin Rickman: When people think about you as a commentator, they don't often think back to how you got here. We get lost in what's happening in the moment. But it took you awhile to get to CBS, and I'm sure your past informs everything you do in some ways.
Gary Danielson: There was a lot of serendipity in my career as a broadcaster. I was doing local work in Detroit during the offseason in those days, and I heard about a job being available at ESPN as a sideline announcer. It was the middle of July, and I made about 10 calls to try and get an interview and an audition. At the beginning of August I got a call back, and they asked me to come in on Sunday. I had a wedding that weekend, and told them I really can't. But they said, "it's your only shot." And I'm thinking, for a sideline reporter? So I made it happen. I went in and did one of those TV set auditions. I ended up landing a lead analyst job somehow doing a primetime, 8 p.m. game just three weeks later.
I'd never really done a game before. And here I am right next to Ron Franklin, doing Baylor-Nebraska, three weeks after an audition to be a sideline reporter. It's funny to think that I've been doing lead games since 1990, and it hasn't changed much to tell you the truth.
The seat hasn't changed much, but I'm sure the nature of broadcasting has.
I put the blinders on, to tell the truth. I was a free agent quarterback. You don't have a lot of money in the bank when you're a free agent quarterback. Every time the game doesn't go well, or Dan Marino outplays me in a game (and there's a good chance of that happening all the time), you had to put your blinders on and go back to work. The outside noise would always be, "we could win if we had a Dan Marino at quarterback." Broadcasting is very similar. I had a family, and I was from the town, and I was living in Detroit, You had to make sure they knew that "dad" was different from "Danielson the quarterback." You had to handle that if you had that job.
It's no different now. Fans may have a little more access to letting their opinions be known, but it was the same a long time ago. The channels were just different. When I did one of my first Ohio State-Michigan games, I was with Brett Musburger at that time. I lived in Michigan. I was born in Michigan. I played for the Detroit Lions. But I'd also played for the Cleveland Browns. My footprint was really strong in those two areas. After that game in Columbus, I jumped in my car, and I drove home. The first three hours I'm listening to the postgame show, and almost every call was "Boy you sure can tell Danielson showed his true roots being a Michigan guy." As I got closer to home, I hear the Michigan stations, and every caller says "Couldn't stand the broadcast. What a traitor Danielson is."
That was 20 years ago now. But I enjoy it. it doesn't bother me. It doesn't affect me. It never has, and it never will. I don't think about it. I know it's there, but that's what makes college football so fun. It's part of our uniqueness. The pro guys who do these things don't catch it from the fans for being a homer or a hater, but the college guys do.
You're not going to be bothered by it as long as you think you're prepared and you're doing your job.
You can't stutter your way, or book learn your way, or put in 15 hours a day and be able to show up and be great. There is some innate ability. All the homework has to be done. All the film work and study that went into being a player has to happen. Almost all of us do that. There are very few guys who go on the air and mail it in. I don't see that happening. But there is some innate ability to do what we do. I take great pride in doing my homework, and then setting it aside and rolling with the game. It's more doing jazz than it is playing a composed song with the notes.
I've heard that before – have the notes handy, but be prepared to throw them all away when things get going.
I heard Bill Walsh talk about calling plays that way. You work all week to be prepared for a game. But every game has a life of its own and you have to trust your instincts within the game. Know that you'll be able to come up with the decision because you're confident you've done all the work to get you to that point. It's a whole life of work. It's not a week of studying.
And you have to trust your partner there too. You've been lucky in that regard.
I've been blessed. The three main guys I worked with in my career were Brad Nessler, Brent, and Verne. That's three Hall of Fame guys who are at the top of their profession. But everybody in our profession is pretty darn good.
But our conference is different. This conference from 2006-now is very similar to how the Big Ten was back in the '90s through the early 2000s. When I would go anywhere to broadcast a game when I was at ABC and ESPN, no matter what stadium I did it, there were good cheers and great celebration when the rival was losing. The second biggest cheer in all those years was when a Big Ten team was losing and it was announced. "Michigan down to whomever." Huge cheer. All the publicity in those days was for the Big Ten.
That's the way it is now with the SEC. The rest of the country wants to knock the champ off the perch.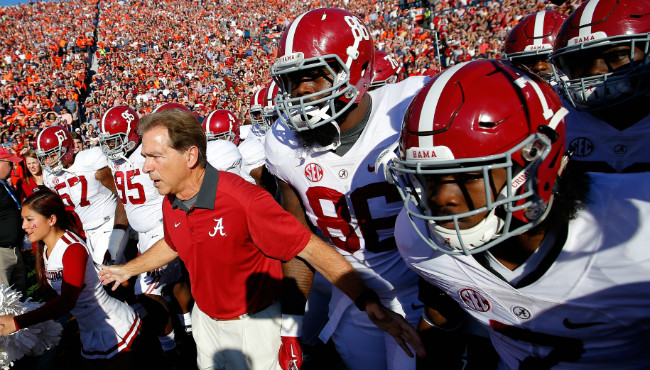 Did you ever think when you were playing at Purdue, or with the Lions and Browns, that you'd be one of the main voices for the SEC?
When I took the job, I wanted it. I went for it. I knew they were going to emerge. I saw the amount of money they were spending, and the demographic shift in the Midwest. I knew where the recruiting trail was going. I predicted it, and I was low. I thought they'd win five of the next 10 championships at the time, and they ended up winning even more than that. I could see that coming.
But I approach it a little differently. I never thought of myself as the face of the SEC because I've clinically approached it. It was always Xs and Os. Like how the surgeon puts the cloth over everything but what he's operating on. That's the way I try to do analysis. I like to go to a doctor when he's sick, and afterward he has great bedside manner. But before? I don't want a friendly, smiling surgeon. I want a guy who's going to go in there and cut the right bone, and put the right ligament together. That's how I approach the broadcast. I try to be as clinical as I can.
It doesn't matter to me if it's LSU or Alabama or Tennessee or Florida or Michigan or whatever. To me it's all just the opponent on offense, and on defense. That's what I try to bring each week.
And what Verne has brought for such a long time is that demeanor. It's a nice contrast to your approach.
At first it was comfortable. Then it was easy. Lately it's been the realization of what an honor it's been to be able to be the guy that sits with Verne, in a lot of ways. Covering this conference, that means so much to so many people. The tagline the SEC uses, and a lot of people take it the wrong way – "it just means more." But it's true. Maybe it's the lack of pro teams. You can feel that.
Lately, being able to sit in that chair next to Verne for the last run of his career, it's really come to me these last couple years. We knew it was winding down.
Everyone has a Verne story. You probably have too many to count.
Maybe it's just me, and I deal with my thoughts. But I feel lucky to have four or five close friends who I could call if I needed something and no matter what they'd drop whatever they were doing to help. What's really struck with me with Verne is he might have 100 dear, close friends. That's not Verne calling them that, that's people coming into our press boxes and saying Verne is that close to them. What a tremendous guy he must be to have people think about him that way.
We did an interview one time, and we did it separately about our relationship. Verne did his, and I went in afterward. The guy saw us later and asked, "do you two guys even know each other?" We were so far apart in what we thought was important in how we prepared and what we liked about the broadcast. Verne reveled in the stories, and I talked about the Xs and Os and how I like to keep the booth clean. Verne looks so forward to meeting his friends. And the guy said he was surprised we could even work together.
Verne can't wait to walk through The Grove, and I just want to get up in the booth and start looking at my notes. It was just so interesting. People think in a working relationship that you have to love the same things. You don't. There can be a mutual respect and a mutual goal of doing our job well, and it works. We're friends, but we're not great friends. It's more that we can trust each other to do our job when it's called for. And that's why it's worked.
We've done close to 200 games, and we talk to six or seven players and five or six coaches. That's close to 1,000 people we've talked to. Of that 1,000, the guy would walk out of the room, and Verne would say, "What a great guy. I really liked that guy." Or, "That kid really impressed me. He's going to be great someday." I think that says a lot about a person who sees the good in everybody. That comes across in the broadcast. People sense it with him.
Has he rubbed off on you at all? Have you noticed that?
I guess he has. I fight it so much. Honestly I do. I don't know what it is about me. Maybe it's because I don't want to slow down. For me being that free agent quarterback, I always want to keep working. I never want to look behind. I always know there's another guy drafted. I guess I don't like to take the time to think about how great or good or special people are.
I tell this story when I speak. I threw a really famous interception to a really great player on a really special day – Thanksgiving when everybody's watching. Ninety-eight yards. We would've won the game. It was a play that I really didn't want in the gameplan. It was something that had worked the week before, and I argued all week that they were going to work on it. They had Bill Belichick as their defensive coordinator. We called the play, and I thought I threw a good pass, and Lawrence Taylor was ready for it. The whole way I kept saying, "I'm a really good guy, why is this happening to me?"
The way I see it, there's a lot of good guys. We're all good guys. But it's an athletic performance. I do see the good in everyone now, but it has to be black and white. You have to do your job. He has rubbed off on me in how I can appreciate that in people, but I fight it in trying not to get complacent. I don't want to talk about what great kids they are because the backups are great kids. Or how disciplined they are. The whole Army and Navy teams are disciplined and smart but they can't beat Michigan. They're not good enough.
I always want to stick to the game. I marvel at some of the stories, and I love to watch the great plays and everything like that, but I don't think that's my job. My job is to be the demonstrator of what's happening on the field. I guess I'm not the guy who trusts somebody and then gets disappointed. I don't trust you, and I get surprised when I'm wrong. That's my personality.
We run into this situation also where you do only get brief interactions with the kids, and there's that pitfall of saying they were great for that hour you spent with them, but we don't know how they really are.
Exactly.
But we do know if they ran the route well or missed an assignment.
Tim Tebow was always an engaging and great interview. It wasn't until his senior year I threw some really hard questions at him. I told him I'd waited three years to ask him these. Loaded questions. And he handled them great. He came up to me after and said, "I was always surprised people never asked me those questions before."
But I like asking a tough question to Nick Saban that bristles him. I like seeing how he handles them. He handles them great. He doesn't like it, but he handles them. But nobody was tougher in a room than Steve Spurrier was. He was short, and curt. He puts you in your place. I enjoyed those. Those were fun for me.
Is there a game with Verne that stands out as your favorite over the years?
My favorite game I've ever done was Florida vs. LSU. It was Jacob Hester. It was Les Miles going for it on fourth down over and over. It was this tough, physical, manly game. There was a great quote after the game where a player said he didn't care what the score was. He just wasn't going to let his guy block him. The whole game unfolded like that. There was no spot on the field for a weak person – or broadcaster.
That's kind of what I like about these games. You can't be a weak broadcaster when you're doing Auburn-Alabama. You'd get gobbled up. I respected that in the game.
My personal favorite game of all time was when I covered Purdue-Ohio State. Drew Brees had his whole legacy on the line. They had Ohio State beaten, and he tried to throw the ball away. He had it intercepted with like two minutes left. I said, "if Drew wants to cement his legacy he has to bring this team back." He threw a 70-yard touchdown pass to win the game, and he put them back in the Rose Bowl. I remember how clutch a play that was, and how mentally and physically tough he was. I told everybody who would listen that he was going to be a star in the league. And for him to accomplish it?
You felt that SEC dominance early. Is that coming for another conference? This stuff is always cyclical.
The Big Ten is on the right path. It's like anything in sports, when the bar is raised, you either compete or you get run over. Once the new market is set in what it takes to be a great team, the rest of college football adjusts to it. The way Michigan State has rebuilt their football team to be solid and physical. The hiring of Urban Meyer at Ohio State. Jim Tressel did a great job there. When I was first covering them, they felt like a station on the way to the NFL. It was a stepping stone to the next thing. And Tressel made it important for people in the midwest to play and win at Ohio State again. Urban has taken that to the next level.
Now with Michigan hiring Jim Harbaugh, they're taking that next step up too. The conference is getting there. If Penn State could get back. Iowa refusing to be a weak-kneed team. Wisconsin still built from what Barry Alvarez did. It's going to be tough just because of population for the other conferences to really match the SEC, though. Football's different out west. It's a different brand of game. But with as many football players as there are in the South, as long as they don't eat their own – or get hurt with cheating – it's going to be tough to knock them off.