As golf has grown in popularity over the last decade, including a big influx of players in 2020 with golf courses becoming one of the first activities to open back up, we have also seen an expansion in great golf destinations.
Despite being an individual sport, the social aspect of the game has drawn many to it and the golf travel industry stateside has seen a boom as well. From established destinations like Pinehurst and Pebble Beach to newer resorts like Bandon Dunes and Sand Valley, there are a growing number of places where you can go with a group and play golf at different courses to your heart's content. One of the newer offerings in the golf travel world is Big Cedar Lodge. Johnny Morris' outdoor resort near Branson (MO) has expanded significantly in the golf space over the last decade to now include three 18-hole courses and a pair of par 3 courses (with a third, Cliffhangers, being built currently).
In October, I got invited out to Big Cedar Lodge as part of a media trip with a pair of other writers to play all five courses and get a feel for what they've built as a golf destination with a tour of the new course under construction and play all five of their current ones. I love golf and it's served as my escape for two decades now, but I've only ever done one real golf trip, when a friend and I drove from New Jersey to Pinehurst after covering the 2016 PGA at Baltusrol, playing six courses along the way. As such, I was interested to see what Big Cedar was like and play golf in an area of the country I'd never ventured to before.
What makes Big Cedar Lodge work as a golf destination is that its courses are all very different, both in how they look and how they play. Now, those differences also mean not every golfer will feel the same way about each course. Here, I'm going to give you my perspective as someone in his early 30s who has spent his life playing mostly public courses, is a 2.7 handicap, and needed my massage gun to keep the back loose throughout the trip because it was the most golf I'd played in a single week in at least two years — Pro Tip: Don't be too proud to bring the Hyperice/Theragun with you. It's a lot of golf.
Here, we'll look at mapping out what courses to play and when. To start, here is the schedule we had for playing all five courses in four days, with an 11 a.m. arrival in Springfield on Monday and a 5 p.m. departure on Thursday.
Monday: Ozarks National (1:30 p.m.)
Tuesday: Top of the Rock (9:00 a.m.)
Wednesday: Payne's Valley (9:00 a.m.); Mountain Top (3:30 p.m.)
Thursday: Buffalo Ridge (8:10 a.m.)
That schedule spaced out the rounds pretty nicely (which my back appreciated), and logistically it worked very well by keeping us from trying to make long pilgrimages from one course to another. We did have to push our tee time on the first day back a touch with some late arrivals, so that's definitely something to be mindful of, but otherwise we weren't ever pressed for time.
Now, you might not be worried about playing all five courses but still want to know a bit more about each of the courses to make your selection. Below you'll find my thoughts on each course, as well as the price during peak season (April 17 – October 29), to help you figure out which courses fit what matters most to you as a golfer. While part of what makes Big Cedar a really good golf destination is the courses all play differently and have very distinct styles if you know there are certain course styles you're not a fan of or ones you really love, it might help you figure out if you want to double up on one and skip another.
Ozarks National ($225 resort guest/$250 public)
This will likely be the favorite course of those who are really into golf course architecture, as the Coore & Crenshaw design presents the most challenges of the three tee-to-green. It is the course where you have to be really intentional in thinking your way around the most, with tricky sight lines, blind tee shots, fairways that run out into native areas and off the sides of the mountain, and plenty of well-placed bunkers — of all the courses, this is the one that I'd suggest getting a caddie for some course knowledge that goes beyond the cart GPS system. All of those challenges also make it the lowest rated by the public, as it is the most rustic of the Big Cedar courses (while still being in terrific shape) and is the one that brings big numbers into play most often (especially if the wind picks up) that can leave you very frustrated. I felt it was the most difficult of the courses (I shot an 80) because of how challenging it was off of the tee, but it's also the one that I would be most excited to get another crack at.
Once you've played it, you'll know where to go and where not to and will have at least a handful of shots you'll want to have back with a different club in your hand. There are some great risk-reward holes and scoring opportunities if you can get the ball in the fairways, but also plenty of big numbers lurking and the gnarliest rough on the property thanks to fluffy Bermuda that engulfs golf balls. If you were going to double up on a course on a Big Cedar trip, I'd suggest Ozarks because you will be left thinking about what could've been. That's part of why I think it should be the site of your first 18-hole tee time, with the other reason being once you've navigated around Ozarks, even if it's not your cup of tea, the other courses will feel much friendlier.
Payne's Valley ($350/$450)
The signature course at Big Cedar is Tiger Woods' only public course on his (still young) design resume. It is an unmissable drive-in, with the massive green fairways running through the valley, making for a rather stunning view from the road up above. Payne's is the public's choice and for good reason. It is in unbelievable shape, as Tiger took a cue from Augusta National with perfectly manicured grass all over the course (there is no rough at Payne's Valley, only various cut heights), as the Big Cedar agronomy team works wonders on the zoysia running tee to green. The fairways at Payne's are very generous, and you are rarely having to use your imagination with where to go off of the tee. The challenge comes on the green complexes that feature large ridges dividing sections of the green, tons of sloping and big breaking putts, and gigantic bunkers framing almost every green to swallow up misses. However, the grass around the greens is so perfect you're never left with a bad lie, and if you have the hands for it, you can create the spin to get up and down from pretty much anywhere.
The back nine is the stronger of the nines at Payne's, as the front is fairly straightforward and didn't make me feel like I had to plot my way around too much. The back had more character, in part because it brings you back up the hill (and for me, back into the wind as well) and presents more challenges off the tee while still giving you generous landing areas. Low scores are very possible if you're ball-striking is on point and you take advantage of the pristine turf around the greens with your short game. I had my best round of the week at Payne's (74) and, as is the refrain from all golfers, I think it probably should've been better if I hadn't botched the three short par-4s and had a few putts drop in that burned edges.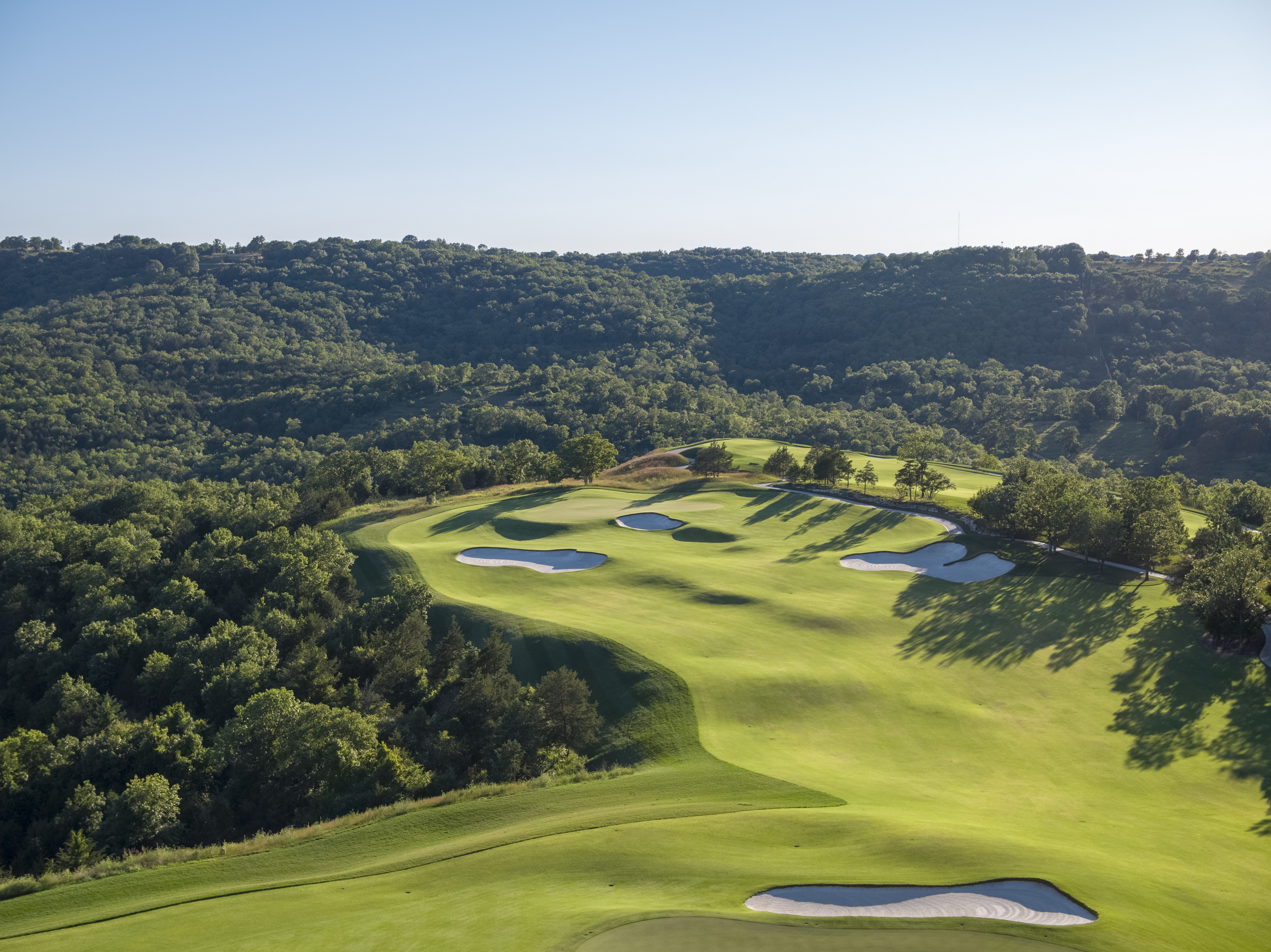 For those that play top courses regularly, Payne's Valley probably won't be the favorite because a good bit of its value comes from the condition it is in. I talked to a friend who falls into that category who felt it was "overdone" and I could see how that would be the case because it is a lot and at times feels like it's trying to be Augusta Light. However, for the majority of the public (including me), this will be the best-maintained golf course they will play all year and it really is a treat. I'm not a huge course architecture person so I'm not going to try and argue anyone's points against it, but I did think the back 9 was pretty strong in presenting challenges that could still be overcome by good shots, which is all I really ask of a course. Beyond all that, even if the design isn't your favorite, sometimes it's just really fun to play a course that doesn't have a single misplaced blade of grass, especially if that's not available to you at home.
If you were making a return trip to Big Cedar, I could absolutely see leaving this off the itinerary once you've done it because it is the priciest of the courses and I wouldn't begrudge anyone for preferring to double up Ozarks or Buffalo Ridge. That said, it is a stunning course visually and it's a joy to hit off of perfect grass for every shot, so if you don't get that type of experience often, it's worth the price of admission.
Buffalo Ridge ($200/$225)
The oldest 18-hole course on the property is Buffalo Ridge, which Tom Fazio redesigned once it got purchased by Big Cedar, and it is aptly named as there are multiple spots where you might encounter some buffalo roaming or eating on the other side of the electric fence.
The front side is the more open of the two, almost easing you into the round (aside from a pretty tight driving window on the second) before putting your nerves and confidence off the tee to the test on the back. It's not crazy tight, as the fairways are still plenty big, but the penalties for missing those fairways get much stiffer once you hit the back, with more trees and creeks lining the fairways as you wind through the hillside. It has the visuals you expect from a Fazio design, with cascading water features running along the fairway of various holes like the signature 15th hole, and it's a really fun course to play.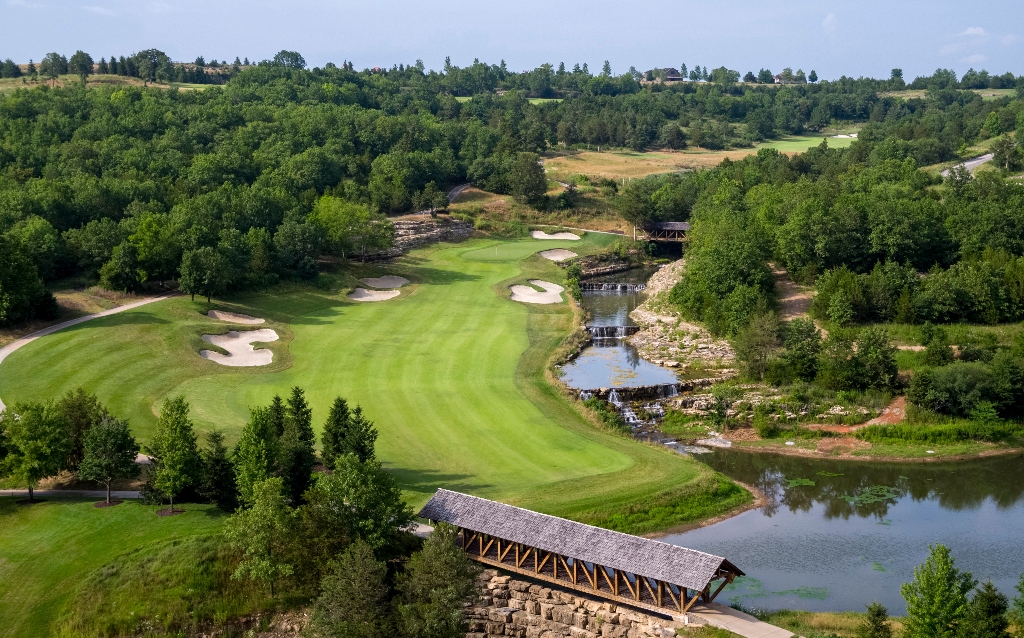 The front is certainly where you want to get most of your scoring done, as the back nine is both tighter and longer. That said, I thought the back was the most fun, even as I found myself scrambling a lot just to get looks at par and bogey (I went 35-42 to limp home with a 77). There aren't any blind shots, but it does force you to be more intentional with your tee shots and approaches, as there's more movement from tee to green. The 18th is a particularly strong closing par 5, presenting an awkward, demanding tee shot in the form of a dogleg left with bunkers lining the left edge (left of that being a sharp dropoff) and trees and rocks all down the right.
Mountain Top ($80/$95)
Of the two par 3 courses currently open at Big Cedar, Gary Player's Mountain Top was probably my favorite, especially factoring in the price. The 13-hole, walking-only course is totally exposed up on top of the mountain (hence the name) and it's a really fun challenge when the wind gets blowing. We played in the afternoon after Payne's Valley (they share a clubhouse) and by the time we got out the wind was steady at 15-20 with gusts near 40, and when that's happening, the course demands great ball-striking and full commitment from each swing. The views of the Ozarks off in the distance make for a tremendous backdrop as you try desperately to figure out how far each hole is really playing with the wind and elevation changes.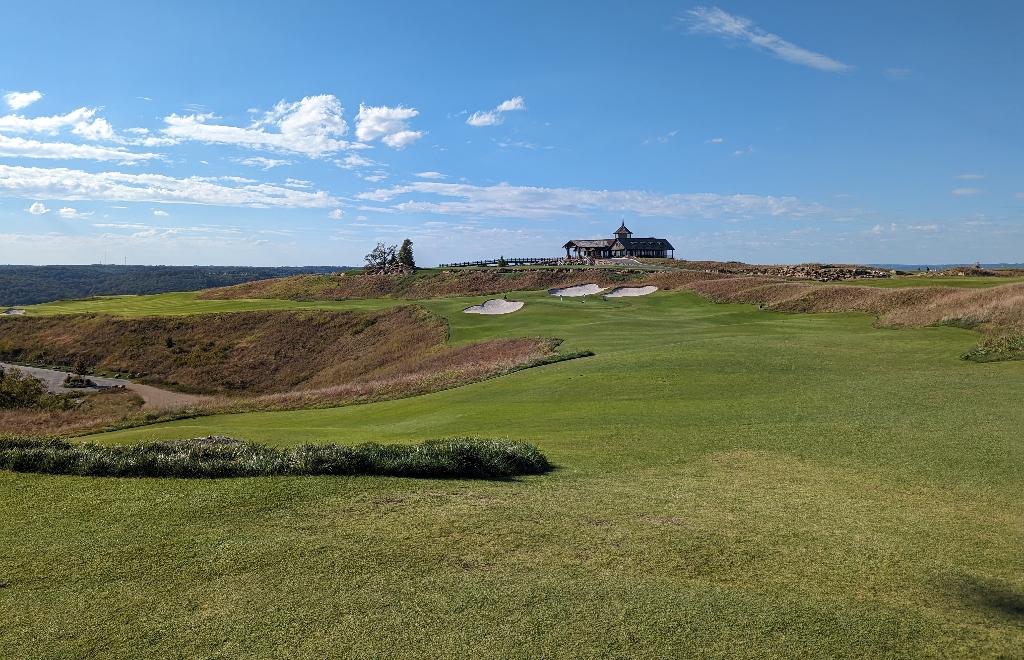 Top of the Rock ($135/$150)
The first course built on the Big Cedar property is Jack Nicklaus' Top of the Rock, which initially opened in 1998, closed for a while after a fire destroyed the clubhouse, and reopened in 2014 after a total redesign. The 9-hole par 3 features some absolutely gorgeous vistas with the lake in the background and a couple of wild elevation changes. It, like all of the courses, is in terrific shape and will make you hit six or seven different irons and wedges throughout the round — which is a must to avoid being stale as a par 3. The reason this would be the one I would skip if I wasn't looking to do all five has little to do with the course itself (the view from the 9th tee is maybe the best on the entire property).
It is the only course not in the same area as the other courses, as it's over by the main property, and it also is pretty pricey for a 9-hole par 3. That said, if you're going to be over at the main property or Top of the Rock for something else, it is a gorgeous course with some outrageous slopes on the greens that can make for quite the challenge, even if the greens themselves are pretty generous in size.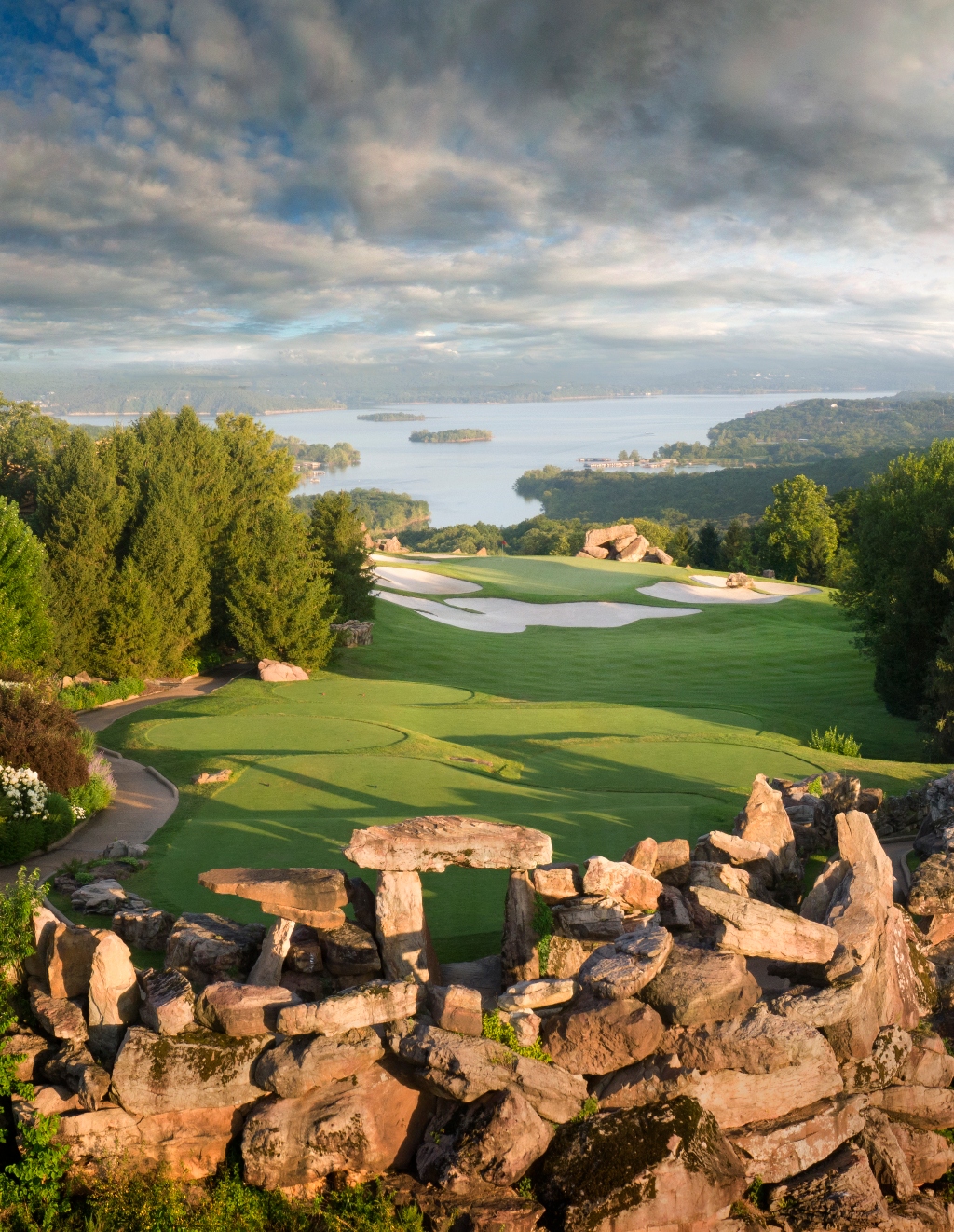 How you plan your trip really depends on what you want to get out of it — and also how much other stuff you want to do at Big Cedar. One of the things that makes it different from other golf destinations is the alternative activities beyond just golf, but it's also easy to make it all about golf. We'll keep it to what the best four-day, three-night trip looks like (like the one I did) that is focused solely on playing golf in two different forms.
Some of this will depend on where you're staying, as the Payne's Valley cottages allow easy access (you can walk up the road) to Payne's Valley, Mountain Top, and Ozarks National, while being a short drive to Buffalo Ridge. If you're at the main property, you'll have more of a drive to each course.
The "Hit Every Course" Trip
Day 1: Top of the Rock PM
Day 2: Ozarks National AM, Buffalo Ridge PM
Day 3: Payne's Valley AM, Mountain Top PM
Day 4: Ozarks National AM
This gets you to all five courses, only asks you to play 36 holes in a day once, and lets you double up Ozarks — which is the one I'd definitely want two cracks at in one trip. Playing Top of the Rock would be a nice way to ease in off the plane and you can snag a little bit of a later tee time to avoid a rush from the plane to the course, although, you might want a breakfast ball off the first with no range at Top of the Rock. The Payne's/Mountain Top back-to-back is particularly easy to do since they share a clubhouse, while the Ozarks/Buffalo back-to-back gets your 36-hole day out of the way on the first full day.
The "36 Every Day" Trip
Day 1: Ozarks National PM
Day 2: Payne's Valley AM, Buffalo Ridge PM
Day 3: Ozarks National AM, Payne's Valley PM
Day 4: Buffalo Ridge AM
Some groups aren't about that par 3 lifestyle and just want to play as much 18-hole golf as possible. I can respect that, even if I don't think my body would hold up. If you're doing that, I'd go with this rotation that gets you to all three courses twice, once in the morning and once in the afternoon, allowing you to see the courses in, quite literally, a different light each time. I personally think starting with Ozarks is the best way to go at Big Cedar, because it presents the biggest challenges straight out of the gate, but I felt it focused my game and made me much more prepared and comfortable going to the rest of the property.
I will say, one of the biggest selling points for sticking to the 18-hole courses only at Big Cedar would be maximizing your opportunities to get the free bison dogs at the turn houses. They are delicious.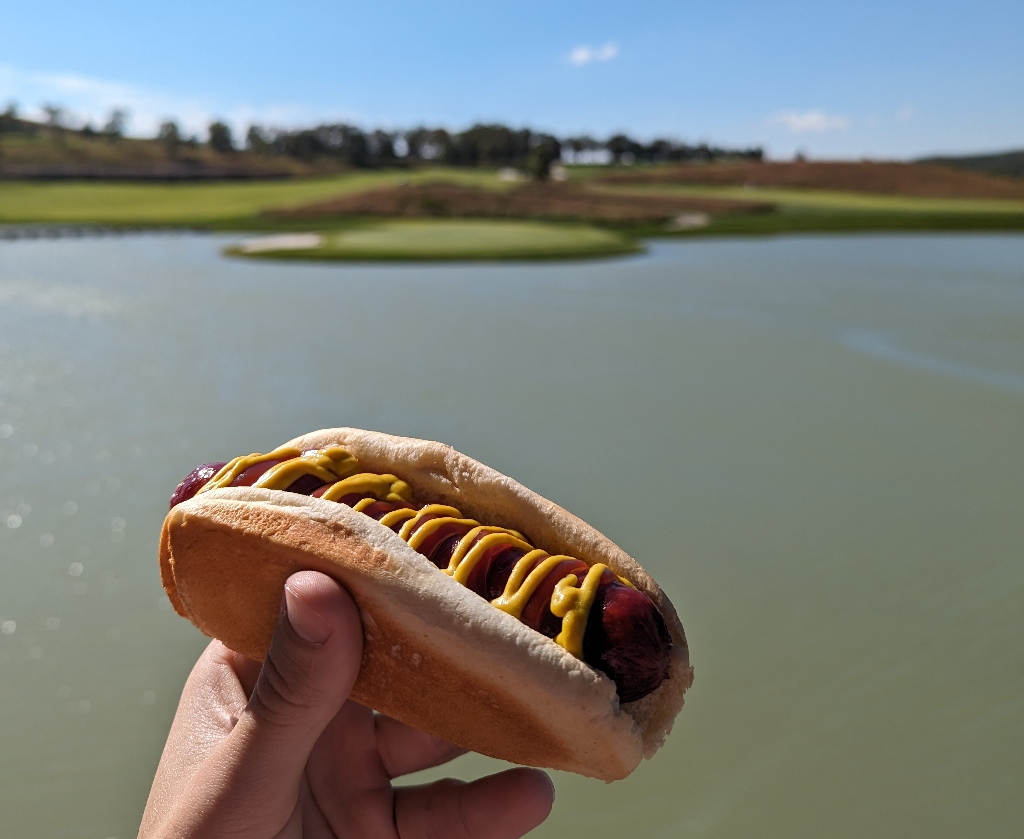 Beyond "get as many bison dogs as possible," I do also want to provide some general tips for planning your golf trip with an understanding of the specific challenges that present themselves at Big Cedar. For one, book your rounds early if you're staying on the property. Resort guests get first crack at tee times and can book months in advance, while non-resort golfers can book 30 days out for every course other than Payne's Valley, which opens the tee sheet to the public 14 days in advance. As such, it's vital to make golf plans first, get those tee times locked in, and then plan the rest of your visit around those — the easiest course to get on late is the Mountain Top par 3, if you have a sudden window of time free and want more golf.
The second thing is to be mindful of transportation. You are likely going to fly into Springfield unless you can afford to fly private or are flying from one of the few destinations that go to the Branson airport. If you are renting a car, be prepared for a fairly long line when you get in — especially at the Enterprise desk — and budget a little extra time for that on top of the hour-long drive before booking a round on your arrival date. You also could get a car service from the airport to the resort and then navigate via shuttles once there, but if you do that, you will want to make sure you're on top of things. The shuttle system is solid if you build in time for it, but sometimes they're light on shuttles and it might take 30 minutes to get one. They do have a shuttle app that you can check for how long it'd take to get one, but you do need to be aware that it won't always be immediate and you'll need to plan ahead to not have any issues with tee times.
The last thing is for those who are shipping clubs out there rather than flying with them, you'll want to specify what course you're playing first to ensure your clubs are at the right place for your first round. Ozarks National, Payne's Valley, and Mountain Top share a cart tent, but Buffalo Ridge and Top of the Rock do not, and if the clubs aren't going to be with you, you'll need to make sure they have your name, the group name (aka, the person booking the rounds), and the course you're starting at. From there, they do a great job getting clubs from course to course for you if you'd like, but the initial "where to ship" is something to be mindful of.
Overall, I thought Big Cedar presented a great golf experience across the five courses, with each presenting a different look and feel. I also know that my enjoyment of the courses was enhanced by finding my best form of the year, but I don't think that was just a coincidence. Golf has always been a 2-4 hour escape from the real world for me, but having four days to be immersed in your game, particularly when playing on perfectly manicured courses, can do wonders. Big Cedar has a little something for every kind of golfer, and hopefully my experience can help you plan your own golf trip to the Ozarks.
Uproxx was invited on a hosted trip to Big Cedar Lodge for reporting on this piece. You can find out more about our policy on press trips/hostings here.