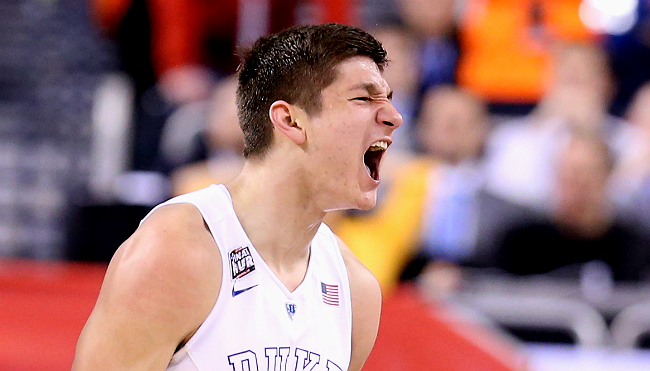 As long as Duke is a part of college basketball, then fans of college basketball will find a way to hate Duke. That's the legacy (aside from those whole five championships, countless NBA Draft picks and hundreds and hundreds of wins) of Coach K. And what a legacy it has produced, from Christian Laettner and Bobby Hurley to J.J. Redick and The Plumlees. Nobody is "just okay" with Duke. The Blue Devils elicit an emotion one way or the other, and the most prominent one way is through hatred.
Spare the fact that the past few years of Duke teams barely even resemble the constantly moving target of what the face of Duke derision actually used to be. Anyone preconditioned to have smoke come out of their ears when they see blue and white or hear the name Krzyzewski isn't about to lose sleep over any sort of inconsistency.
If that hate isn't turning to smiles any time soon, that means next year's season will undoubtedly bring about new vessels to despise. And the most likely candidate had a heck of an audition tape during the National Championship, unfairly or not.
Say hello to Grayson Allen. He doesn't deserve to be hated, but because he plays for Duke you're probably not going to be able to stand him anyway. In honor of how Laettner's 30 For 30 was outlined, the rationale has been divided into five categories: privilege, white, bully, greatness and looks. Let's see how Allen stacks up.
Privilege
Allen grew up a Duke fan in Jacksonville. He played his high school ball at Providence, a private Christian prep school that costs just over $11,000 per year. He was part of this generation's rise of club and travel teams, and constantly played both soccer and basketball.
Via Justin Barney of Jacksonville.com:
His mother, Sherry, said that Grayson was such a relentless competitor that he tried to do everything at the highest possible level every chance that he got. But camps and practices and travel and club teams in both sports stacked up.

Something had to give, and it wound up being soccer, a sport Allen had played since he was 3.

"As he got older, he was starting to do travel teams. He played in fifth grade, this little rec basketball league, Upward, and he liked it," Sherry said. "He played more and liked it even more. It got to the point where we had to say, 'You can't do two sports. It's too much on you. You have to pick.' "
There's some privilege here, but just as Laettner's was (likely) blown out of proportion a little bit because of the prep school plus Duke combo, it'll be tough for people to have sympathy for Allen if only because he has that Blue Devils name on his uniform.
White
Grayson Allen is white. You've got me there. His name is also Grayson. People seem to think he looks like other white people for some reason, and you saw a lot of that on Monday night. Everyone was very excited to point out that he is white and that his name is Grayson.
This is something Grayson Allen has no control over and is probably a dumb reason to hate him. Grayson Allen is just a person like other people are just people. But again, he plays for Duke, so that's enough rationale for most people.
Bully
Allen doesn't really act like a bully at all, even if his nickname is Deebo after the guy from Friday. If anything, he's a guy who should be a star following the title game the same way Malcolm Butler became an overnight celebrity following his interception in the Super Bowl to seal the Patriots win over the Seahawks. This kid waited his turn, sat the bench, and became a role player despite being one of the best players in the 2015 class. When he came in, he produced but never dominated the ball.
His 16 points in the championship were a perfect example of this. Some came off nice cuts or from a good pass. Others on hard takes. The rest on athletic moves. Following the game, according to Eamonn Brennan of ESPN.com, Allen said, "I never had a takeover mentality. I just wanted to stay aggressive. [My teammates] kept telling me, 'Keep going, keep going, keep taking it.'"
There's still time for him to evolve into a bully. If Duke's star trio of Jahlil Okafor, Justise Winslow and Tyus Jones go pro, especially with Quinn Cook graduating as well, someone's going to have to be the guy. That guy could be Allen. I mean, he can do this:
Greatness
Every legend has to be born somewhere. Allen was the 21st best player in the class of 2015, according to ESPN Recruiting. Some will probably point to the 2014 High School Slam Dunk Contest as the moment Allen became a force to be reckoned with, although he was a well-known high school talent before that point.
If high school laurels aren't enough, the block against Notre Dame on Feb. 7 might have been the start. Following the win over the Fighting Irish in Cameron, Winslow said of Allen, "I mean, I've seen Grayson do so many athletic things. It was a nice block, but it didn't surprise me. It got me hyped, but the things Grayson can do with a basketball, it's crazy."
Against Wake Forest on March 4, Allen outscored the Demon Deacons himself in the first half, 19-15. He finished with 27 points on 9-of-11 shooting.
But if you want to point to one stretch that affirmed that greatness? It has to be his run against Wisconsin when he did it all himself. Down nine and in a similar situation to the one the Blue Devils were in at Virginia earlier in the year, something clicked. Allen hit a three, then drove the floor and got an and-one. In a flash the deficit was manageable, and Duke was right there even with Winslow and Okafor saddled with foul troubles.
I'm sure plenty of people woke up this morning hating Grayson Allen a heck of a lot more than they did yesterday at this time – and the only reason was because he was so dang good when the stage was the biggest.
Looks
The whole time the game was going on and Allen was making move after move, people focused on his team portrait. They made jokes about how he looked. They found ways to point out he looked like other people (even if the comparison wasn't exactly flawless).
This isn't going to stop any time soon. Grayson Allen plays at Duke. These jokes never stopped for any of the forebearers before him. Just ask Jon Scheyer. Or Laettner. Or Redick. It's a badge of honor to some extent that people can't find a fault in your game other than "look at this guy." If anything, let's stick with the Game of Thrones theme and take what Tyrion Lannister told Jon Snow in the first book in the George R.R. Martin series  – "Never forget what you are, for surely the world will not. Make it your strength. Then it can never be your weakness. Armour yourself in it, and it will never be used to hurt you."
The hate's going to come. The best Allen can do is embrace it. The more people hate him, the more it probably means he's doing something right.