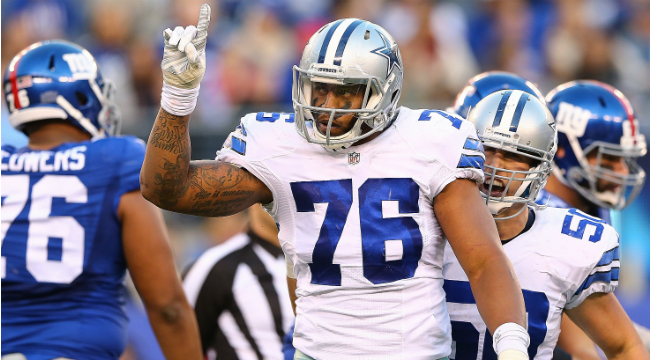 As we all know by know, Greg Hardy is at best an unapologetic head case and at worst a dangerous menace who is still gainfully employed by the Dallas Cowboys without any hint of retribution.
Cowboys owner Jerry Jones is tacitly enabling Hardy's behavior by continuing to employ him and refusing to even admonish him publicly. Thousands, perhaps millions, of football fans are disgusted by the situation, and one of them has taken it upon himself to do something — so he's started a Change.org petition to get Hardy kicked out of the NFL, one that at the time of posting has more than 72,000 signatures.
In his call for action, Freddy Martinez of Roy, Utah, merely restates the facts of Hardy's domestic-violence case and subsequent reinstatement. But it has to be said — the NFL and the Dallas Cowboys are privately-owned businesses that have absolutely no obligation to heed the requests of a petition, even if it had billions of signatures. And of course, there's one fact about Martinez that will be used to discredit his motives — he's a Philadelphia Eagles fan.
Of course, with the Cowboys being 3-8 and without Tony Romo for the rest of the season (probably) and the Eagles not being in great shape themselves this year, Martinez' motives aren't as obviously competition-based as they might have been considered in years past.
But the sentiment is an honest one, and one we echo — Greg Hardy should not be in the NFL as long as he continues to be remorseless about his crime. But no amount of words or signatures is going to change the status quo.
(Via CBS Sports)