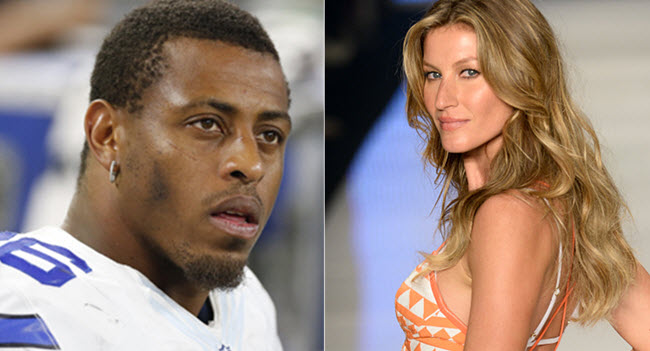 The Dallas Cowboys play the New England Patriots this weekend. For those keeping track at home, this was originally supposed to be the final game in Tom Brady's four-game suspension for DeflateGate. Instead, a federal judge overturned NFL commissioner Roger Goodell's punishment and Brady has been playing since Week 1. That means Brady — and likely his wife, supermodel Gisele Bundchen — will be in Dallas.
That pleases Cowboys defensive end Greg Hardy, who is coming back from his own suspension dating back to last year, very, very much. Basically to the point of it being uncomfortable. When asked by reporters about his thoughts on facing Brady, Hardy bypassed the typical football-related answers and instead went straight for Bündchen — and her sister. Which one? It doesn't matter, probably. Any of them.
Yes, Hardy, he of the egregious domestic violence charges, is focusing upon Brady's wife…and her sister. Oh, sure, Hardy delivered the usual over-confident, football-related trash talk, but the fact he's already commenting — unprompted — on women after returning from a suspension stemming from how he physically abused one seems most unwise. Then again, anyone who identifies himself as "Kraken from Hogwarts" probably isn't thinking with the best intentions anyway.
All of this is to say, keep Gisele and her family as far away as possible this weekend.
(Via Brandon George)