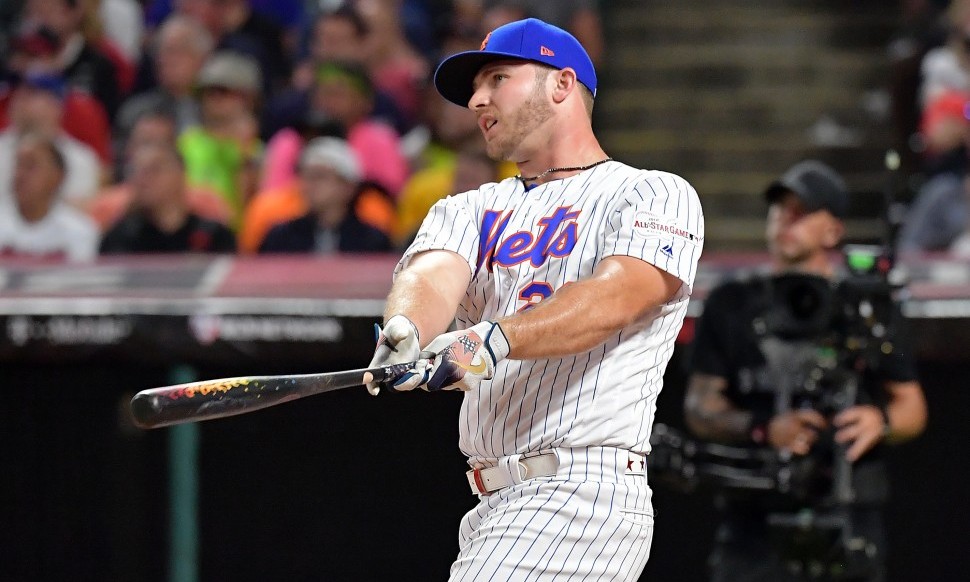 Every year, Major League Baseball takes center stage in early July, putting together back-to-back nights of intriguing All-Star content for the masses. While Tuesday's All-Star Game is always closely monitor, Monday's Home Run Derby regularly provides memorable moments and, in 2019, the centerpiece was the semi-final battle between Blue Jays youngster Vladimir Guerrero Jr. and Dodgers outfielder Joc Pederson. In the end, Guerrero Jr. emerged from the round victorious in what was an insane display of power, but he fell short in the final, with New York Mets slugger Pete Alonso to claim the title.
Guerrero got things going early with a record-breaking showing in the opening round. He pounded 29 home runs to break Josh Hamilton's mark of 28 in the 2008 Derby.

Not to be outdone, Guerrero followed it up with 29 more in the semi-finals, presumably taking a comfortable edge over Pederson.
That didn't end up being the case, however, as Pederson matched the 29 bombs and then tied Guerrero in the first tie-breaker, just before time expired.
More time was needed but, eventually, Guerrero outlasted Pederson and advanced to the finals with 40 total in three tiebreaker rounds.

Before arriving in the final round, Guerrero set the record for most home runs in a single derby.
Alonso was doing his own work, though, toppling Braves outfielder Ronald Acuña Jr. in the semifinals with a big-time performance.
Ultimately, Alonso took full advantage of the fact that Guerrero seemed to be worn out and capitalized in a big win. He didn't need the full allotment of four minutes in the championship round, booming his 23rd home run with time to spare.
It would probably be fair to suggest that Guerrero was the breakout star of the event, setting the record for total home runs and announcing his arrival to a nationwide audience. Still, Alonso ended the night with the title and, perhaps more importantly for a player earning $550,000 in salary this season, a check for a cool $1 million.