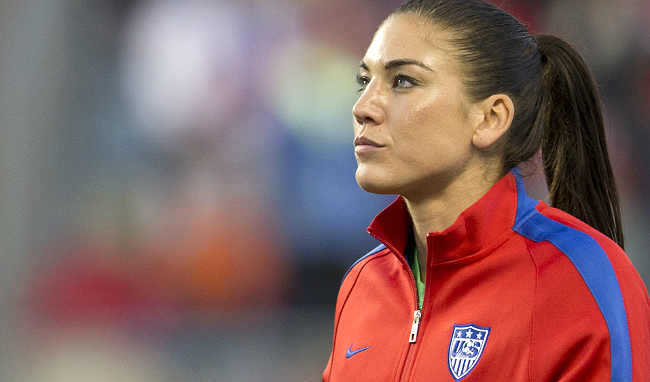 As the U.S. Women's National Team begins their 2015 World Cup in Winnipeg on Monday evening, star goalkeeper Hope Solo is back in the headlines for her off-field incident in June 2014 that won't go away, no matter how many Good Morning America image reclamation interviews she does.
ESPN's Outside the Lines published a report on Sunday (well-timed for maximum exposure, it must be said), revealing additional details about the incident during which a drunk Solo allegedly attacked her half-sister and nephew repeatedly and was belligerent with police.
The half-sister, Teresa Obert, is the center of this new release of information, which she says she's doing now because she believes the version of events that Solo put forth on GMA was a lie, with the goalkeeper invoking the nephew's size (he's 6-foot-8 and 270 pounds, but Solo exaggerated both figures in her interview) in claiming that she was the victim of domestic violence, and not the attacker.
Obert, not wanting to hurt Solo's career, initially did not want to press charges (and her failure to show up for court led to the case's dismissal), but the GMA interview is making her reconsider her priorities. In her interview with OTL's Mark Fainaru-Wada, she explained:
"I felt like I had just been kicked in the head," she says. "She should have been happy [that her case was dismissed], but then, randomly, she goes on 'Good Morning America' and lies. I was very upset. It never had anything to do with size. She has tried to make him feel small his whole life. He's not aggressive. She's a trained athlete. She's strong."
The details of the police report that OTL obtained support Obert's account of the story, and the details of the evening that Obert laid out are graphic and upsetting, but it's still, to a degree, a case of she-said/she-said at this point. Fainaru-Wada reports that the case's dismissal due to the alleged victims' lack of cooperation is being appealed by local prosecutors (the events occurred and are being adjudicated in Kirkland, Wash., a suburb of Seattle).
The USWNT has closed ranks around Solo, with coach Jill Ellis and star striker Abby Wambach both strongly asserting that they're supporting Solo (without addressing the investigation directly) and staying positive. No one should blame them for trying to maintain as much focus as possible on the biggest sporting event of their lives, despite being dogged with a grim story that appears to be far from over.
(Via ESPN)