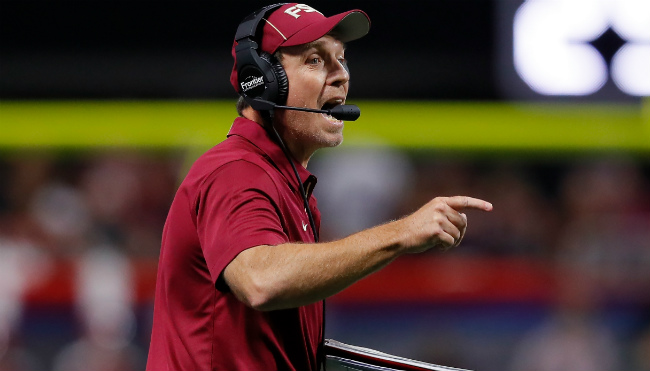 The worst-kept secret in college football is official: Jimbo Fisher is about to become the next head coach at Texas A&M. Rumors about Fisher's exit had been swirling for the last few days, reports indicate that Florida State's successful head coach is leaving Tallahassee to join the ultra-competitive SEC West.
While plenty of people have been providing information about the move for several days, Wayne McGahee of the Tallahassee Democrat broke word of Fisher's departure from Florida State on Friday.
Florida State coach Jimbo Fisher has agreed to become the new head coach at Texas A&M sources have told the Tallahassee Democrat.

Fisher was in his eighth year as the FSU head coach with an 83-23 overall record, but leaves FSU with one game left in the 2017 regular season.
Florida State confirmed that Fisher has left the program in a statement from university president John Thrasher. In it, Thrasher commended Fisher for being one of the premier coaches in America, saying "Coach Fisher did an exceptional job as both an assistant coach at FSU and in the challenging role of successor to the legendary Bobby Bowden. I believe Texas A&M is getting one of the best coaches in college football."
They'll pay a lot for him, too.
https://twitter.com/MartySmithESPN/status/936696937570557953
It's not like this is the first instance of Fisher's name popping up as one to watch in the coaching carousel, as he's been linked to plenty of jobs in the past. Just last offseason, there were rumblings that Fisher might leave to take over at LSU, where he was the offensive coordinator from 2000-06. Fisher did not leave, though, as he got a contract extension from Florida State instead.
But this time, the Seminoles were unable to retain their national championship-winning head coach. Fisher went 83-23 with a 48-17 mark in ACC play in Tallahassee, although this year was a massive outlier, as the team went 5-6 and needs to beat Louisiana-Monroe on Saturday to get bowl eligible. According to Mark Schlabach of ESPN, Fisher will not coach the game.

McGahee reports that Florida State will look to replace Fisher with Willie Taggart, a Florida native and the current head coach at Oregon.
Fisher is a good coach and a good recruiter, and Texas A&M is one of the schools that seems to be hungriest to take a step towards becoming a powerhouse. The school fired Kevin Sumlin, who consistently churned out ok-to-good teams, but never seemed to be able to take the next step towards building a championship contender.
Yes, the SEC West is brutally difficult. But Fisher is a battle-tested head coach who, this year aside, has been consistently great in his career. While contractual details aren't known just yet, this seems to be a fantastic hire by the Aggies.