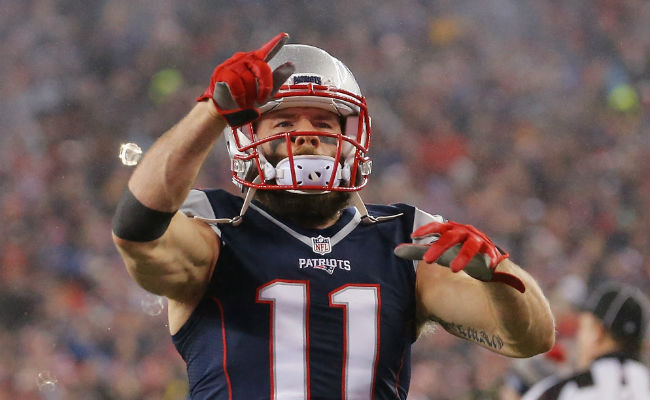 The New York Times reported on Wednesday that Julian Edelman, who made one of the most famous catches in Super Bowl history last season in a comeback win over the Atlanta Falcons, may have made another crucial catch that saved young lives.
The Times story is bizarre but the danger appears to be very real. When the New England wideout was made aware of an Instagram comment where a teenager boasted about "shooting up" his school, Edelman acted quickly to notify the authorities of the threat.
Edelman was messaged this directly on the social media platform: "Dude, there is a kid in your comment section says he s going to shoot up a school, i think you should alert the authority."

The receiver decided to do just that. He had his assistant track down the comment and pass it on to police, who worked to figure out who the Instagram user was.
He quickly notified his assistant in Boston, Shannen Moen, who looked through the hundreds of comments that followed Edelman's most recent post on Instagram. She found the alarming message: "I'm going to shoot my school up watch the news."

Moen called 911, and a police officer soon arrived. The officer saw the screen shot, then called her chief, who sent two detectives to Moen's house. The detectives collected some information about the person who posted the threat. They then returned to their office, where they made an emergency records request for account information, which allowed them to determine the sender's email and IP address, which was traced to Port Huron, Mich.
And the teenager in question was actually arrested by police after they determined that the threat was indeed very real. They found two rifles and Moen admitted to making the comment. In response, he was taken to a juvenile detention center.
Edelman said the person who pointed out the comment will get a "care package," and that he's glad he could help avoid another scary situation thanks to a bit of vigilance.