Every offseason, the NFL puts out an official ranking of 100 players, regardless of position, based on a vote by players around the league. In 2023, no wide receiver was ranked more highly than Justin Jefferson of the Minnesota Vikings, who came in as the second-best player in the league behind only Kansas City Chiefs quarterback Patrick Mahomes.
It's quite the honor for Jefferson, who is entering this season with the hopes of achieving his short-term goal (winning a Super Bowl) on the road towards his long-term goal (getting enshrined in the Pro Football Hall of Fame when his career comes to an end). But before he started the journey that is the 2023 NFL season, the All-Pro wide receiver decided to try his hand at something new: rapping.
Jefferson teamed up with London on da Track to create an new song for Under Armour around its recently-renewed "Protect This House" slogan. While Jefferson is more well-known for doing incredible things on the football field, this gave him an opportunity to try something new, as the rollout will include a hero film that took place in his hometown of Saint Rose, La., and at Destrehan High School, where Jefferson spent his high school years.
"Protect This House is iconic," Jefferson said in a statement. "It means a lot to me to be part of it with Under Armour and work with London on da Track, one of the top producers in the world, to record a custom version of the chant that captures what I'm about and will hopefully get a new generation of athletes hyped up. Music and football are so connected — this is a perfect combination of the two and something I'm very excited about."
In the lead-up to the release and prior to the Vikings' season opener against the Tampa Bay Buccaneers, Uproxx Sports caught up with Jefferson to discuss everything he had going on off the field, the upcoming NFL season, and more.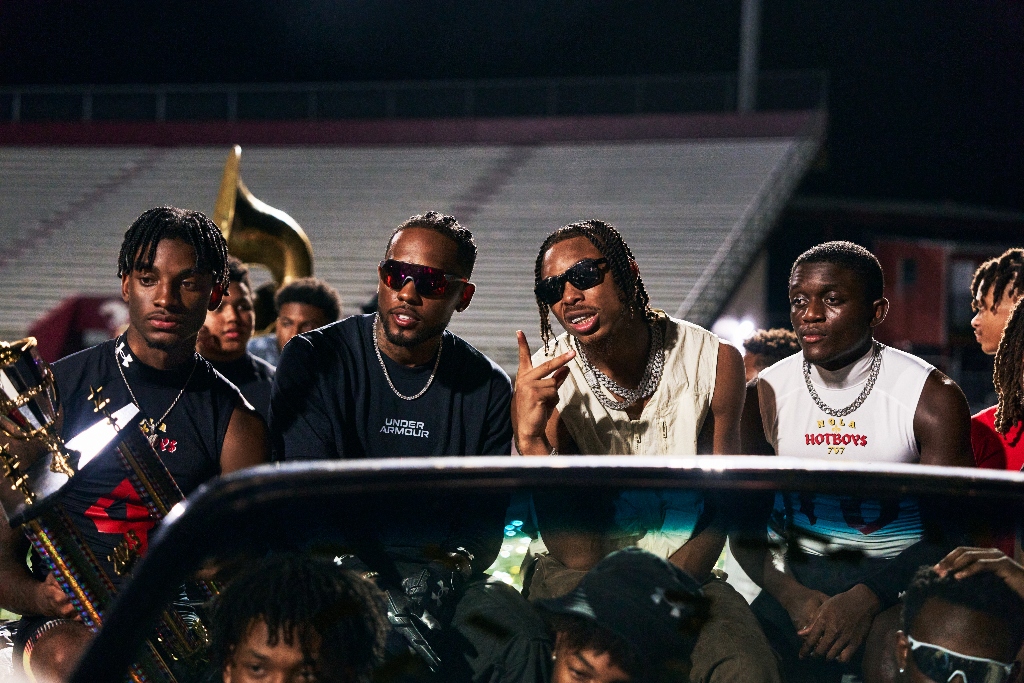 I want to talk about what you got going on with Under Armour, how did this come about?
Well, first of all, to have been with Under Armour since I've been in the league, they've been phenomenal with just having the right stuff for me, on and off the field, having me comfortable with the things that I wear. The relationship has been great, as well. So now, to renew my deal and to have a new set of years that I'm looking forward to is definitely going to be exciting, and I can't wait for what we have in store for the future.
But with the commercial, it was amazing to be a part of it, just to have it back in my hometown, to have it with London on da Track, and to just be a part of this whole campaign, it was something that was interesting to be a part of and I was definitely excited to have some of my younger guys be a part of it, and to experience a commercial, what I go through.
I was gonna say, it seemed like the ad and even before that, getting to record the music, all of that, it seemed like you had a blast.
"When in doubt, protect this house!"

Under Armour and Justin Jefferson have partnered with London On Da Track for the soundtrack of the season 🔥 pic.twitter.com/bzNaAaugLq

— Complex Sports (@ComplexSports) September 14, 2023
For sure. I mean, something that I'm not accustomed to, something I'm not used to being a part of, and especially being with someone that has been with so many different artists and did so many different tracks. So, it was crazy to see how it normally goes and how he put things together, mix things up. It was something that I definitely learned from and I was glad to be a part of it and see it for the first time.
So now that you've done this, are there any guys in sports — in the NFL or the NBA — that maybe you want to collaborate with on a track someday?
Damian Lillard definitely be spittin'. So, whenever Dame wanna let me know whenever to holla at him and get on a track, we definitely could do it.
So let's talk a little football. Just generally, how's your offseason been?
It's been great. Dealing with all the endorsement deals, have done this commercial, it was definitely a great offseason. Exploring the world a little bit and enjoying my off time from football, and also working to towards a bigger and better goal for this upcoming season. So, it was definitely something I was excited about. This whole offseason was to travel and to see the see the world and it was a great adventure.
You say something bigger and better this season, what are you working towards?
Super Bowl, like normal, but it's something that is more focused on. It's not about the individual goals, not about what I do for myself, it's about the team, it's about getting that Super Bowl and getting to the Hall of Fame status. That's something that I want to do at the end of my career. And of course, it doesn't happen now. But I can definitely get ready for it in the future just by having better play, keeping up the performance that I've been having since I stepped foot into the league. Just maintaining my body throughout the years.
I feel like in seeing people talk about football this year, we've gotten to a point where you're viewed as the clear cut, no doubt, best wide receiver in the NFL. Do you feel like you are or do you feel like you're still constantly working towards that?
I feel like everyone doesn't believe that. And that's what keeps me motivated to try to prove people wrong. I want to be the clear number one, just like a LeBron James, he's the clear number one best player in the world. Michael Jordan is the clear, best player in the world. So, that's something that I want to be a part of, and have my name in that conversation. So, it's just about proving everybody wrong and keeping that chip on my shoulder to keep me motivated.
The funny thing is for me, one and two for the best wide receivers in the league just happened to have been teammates in college. How would you and Ja'Marr push each other in practice at LSU every day, and even though you're not teammate, do you still feel like you two are pushing each other every day?
At LSU, just being side by side with one another, we're always competing with one another, we're always trying to outdo one another, just try to perform better and outperform one another. So, it always was a competitive thing with us, we always used to bet on who would get the most yards or who would get the most touchdowns or who would have the better one hander. That definitely kept us motivated to try to be better than one another, and to see it now coming on into the league, and it's just seeing we're still on top.
I definitely can remember us looking at film of NFL receivers like, "man, we could do the same thing, we can do the same exact thing." And so happened, as soon as we touched foot into league, we went crazy. So, it goes to show you the amount of talent that we had on that team, and of course, still today, we still call each other, still nitpick on the things that we do. We call each other if we're seeing that opponent and they've seen them already. We're brothers at the end of the day and we're always rooting for each other.
Let's talk about the Vikings for a sec — 13-4, won the NFC North, got to the playoffs for the first time in your career. How have you guys built on all of that this offseason?
Well, first of all, it's hard to go 13-4 with a first-year head coach, with a whole new offense, a whole new coaching staff. It's definitely something that's difficult to do. So, we're not far from reaching where we need to go and where we would like to be. So, it's just fixing the little things that we felt that we needed to fix in the offseason by picking up people, training people, getting new deals and new opportunities to really better our team. So, it's definitely great to see, the comfortability that Kirk has in the second year offense, and in me, KJ, Jordan Addison, and the rest of the guys that we have on the team. I'm definitely excited to see how we do this season.
I wanted to ask about Jordan. He's a big name from college, got brought into that wide receiver room, what has stuck out about him through camp and during the preseason?
He's definitely smooth, he has great transition on all his routes, and he knows football, he's a smart guy, he doesn't really talk much, but he lets his play do the talking. So, he's definitely confident in his play style, and we're always telling him, he doesn't really need to fill in a major role, we just need you to be you and to let the game come to you as it would normally. Don't let the NFL or the bright lights really affect your playstyle or how you normally play the game. So, it's really just trying to have him as comfortable as possible, not trying to let the lights really get too bright for him and letting everybody's expectations of what role he is filling really get too high for him.
I haven't gotten to check out that Quarterback show yet, but everyone I know who has seen it talks about Kirk and his personality. Have you seen it and are you glad people are seeing that side of Kirk?
For sure. Yeah, I definitely watched the show. I was glad that they did the show on Kirk, just to see Kirk's personality, how Kirk acts throughout the season, the difficulties that he goes through throughout the whole season. It's definitely tough, people get to see why they're the highest paid in the league. Just to see the difficulty, the difficult things that they have to go through — learning the plays, having to recall the plays, and having to deal with the grown big men rushing after him every single play. So, it definitely was a great series and glad that they got to see how Kirk really acts.