HOUSTON – Despite getting in just a couple hours before the Panthers are set to take on the Texans, Kenny Albert's locked in. He's checking his meticulously detailed player charts, having sidebars with his spotter, Ben, and cracking jokes with partner Rondé Barber. There's a dedicated "Kenny" button, similar to a cough button, on the sound board that allows Barber to chat with Albert, and vice versa. The pair gets plenty of use out of it after kickoff.
This is all part of the show for Albert, and belies the fact that he was on a redeye coming from Los Angeles after calling the Errol Spence Jr./Shawn Porter fight the night prior. Just a few days later, he will be back on the call for Fox in Houston as the Astros make their run through the Divisional Round. Albert is in a dizzying run that will see him call NFL, NHL, MLB playoffs, NBA, and boxing in a multi-week stretch, and the most surprising thing is that he hasn't managed to shoehorn more cities — and more sports — into the mix.
"There hasn't been a situation where I was looking at Kenny like, 'What do we do here?'" Barber says. "Because he's seen it all. He's done it all. He's worked with so many different types of animals on all the sports. I think his adaptability, just because of the different experiences he's had, it makes him invaluable in my mind."
By his count, the 51-year-old has worked with more than 200 analysts in his career, and that number is constantly growing. He's been on the broadcast for all four major sports (including his work on MSG broadcasting Knicks games), along with college basketball, boxing, and Olympics coverage. There's the general sense that if a game is being played, a mic is present, and Albert is in the general vicinity, he'd find a way to call it. To Albert, it stems from his high school days on Long Island when he volunteered for a girls basketball game he was already covering for the school paper as a sophomore.
They had two cameras and no announcer, so Albert filled in, and got the Cox Cable producer's card after the game. That led to around 100 events over his next three years of high school, including basketball, football, baseball, hockey, soccer, lacrosse, as well as some basketball and football for the U.S. Merchant Marine Academy.
"Obviously, I didn't get paid, but didn't really care at that point," Albert says. "I just felt like I had a three-year head start on anybody else my age who wanted to get into it who probably would not have the opportunity until college."
Albert attunes his ability to cover multiple sports to having two uncles and his father, Marv, as broadcasters as well. All three were around hockey, basketball, and boxing, and a couple of them managed to get some football work in over the years. Kenny tagged along and helped prepare stats for Marv when he was little, and saw how the various booths operated from sport to sport. As he puts it, it was part DNA and part learning through osmosis. And this part of the calendar is where it all comes together.
"Sometimes in a strange way I feel like during those periods of the year," Albert says, "and it's usually in October when so many sports collide at once, for some reason, I don't know if I'm more focused, even more organized than usual – and I'm pretty organized for the most part – but I feel like I get things done even quicker, if that's the right word. Maybe it's just because of the amount of time I'm planted in hotels where you might even get more work done than at home, but for whatever reason, I seem to thrive in those situations preparation wise, when there are a lot of things going on at once. Maybe you're just more focused. That could be part of it."
That preparation stems from hours in hotels, or airports, or planes. For some, travel can be a time suck, but Albert has managed to turn that into his optimal work environment. All throughout that time, Fox producer Barry Landis remarks, there's a constant chain of texts and emails between the football broadcast team, with research, newspaper clippings, and reports about the matchup constantly being updated. This allows Albert to stay connected even if he's on the road, and whenever he can join the production meetings, there's already plenty of work put in. In the event Kenny has to come in last minute, there's a trust that Albert will do what he does — and put the event he's calling first.
"Kenny is all about the event, the game, whatever it is he's covering," Landis says. "He is secondary. He knows how to break down the game, let it shine. He understands his role. I'm not bashing other play-by-play, guys. Don't get me wrong there, but Kenny understands that the event is first. None of us would be there without the event. So he's not necessarily looking for the spotlight. As a result, everybody around him feels very comfortable going into in a bit. There's very little animosity and I think we all know he's so well prepared. So there's no reason to panic. He's a true professional."
Albert calls himself the "traffic cop," and uses his voice to pass along what he calls "nuggets" of information on the broadcast. More importantly, he sets up analysts like Barber or sideline reporter Lindsay Czarniak.
The art of play-by-play and its mechanics are important – Albert puts a lot of pride into this – but like legendary Fox broadcaster Dick Stockton, Albert sees the job as an opportunity to put the expert in a good spot and set the tone. That brings a calming aspect to his calls, putting those he works with at ease even if it ends up being the first time he's shared the stage with someone.
"I marvel when I listen to him when I'm down there on the sidelines because I'm like, wow, he kind of sounds different," Czarniak says. "Like it's Kenny, but he has this confidence and this in-control, commanding voice that he still finds a way to make it really relatable and conversational. That's what I think is that he is very good about including Ronde or whomever his analyst is, as well as me. The whole key I think to success in this ballgame is that conversational nature because that gives it the better listen at home for people. And I think he's really good at that and spreading that love [between the broadcast team]. He's really good at that, and I think he takes time to do it, and not everybody does."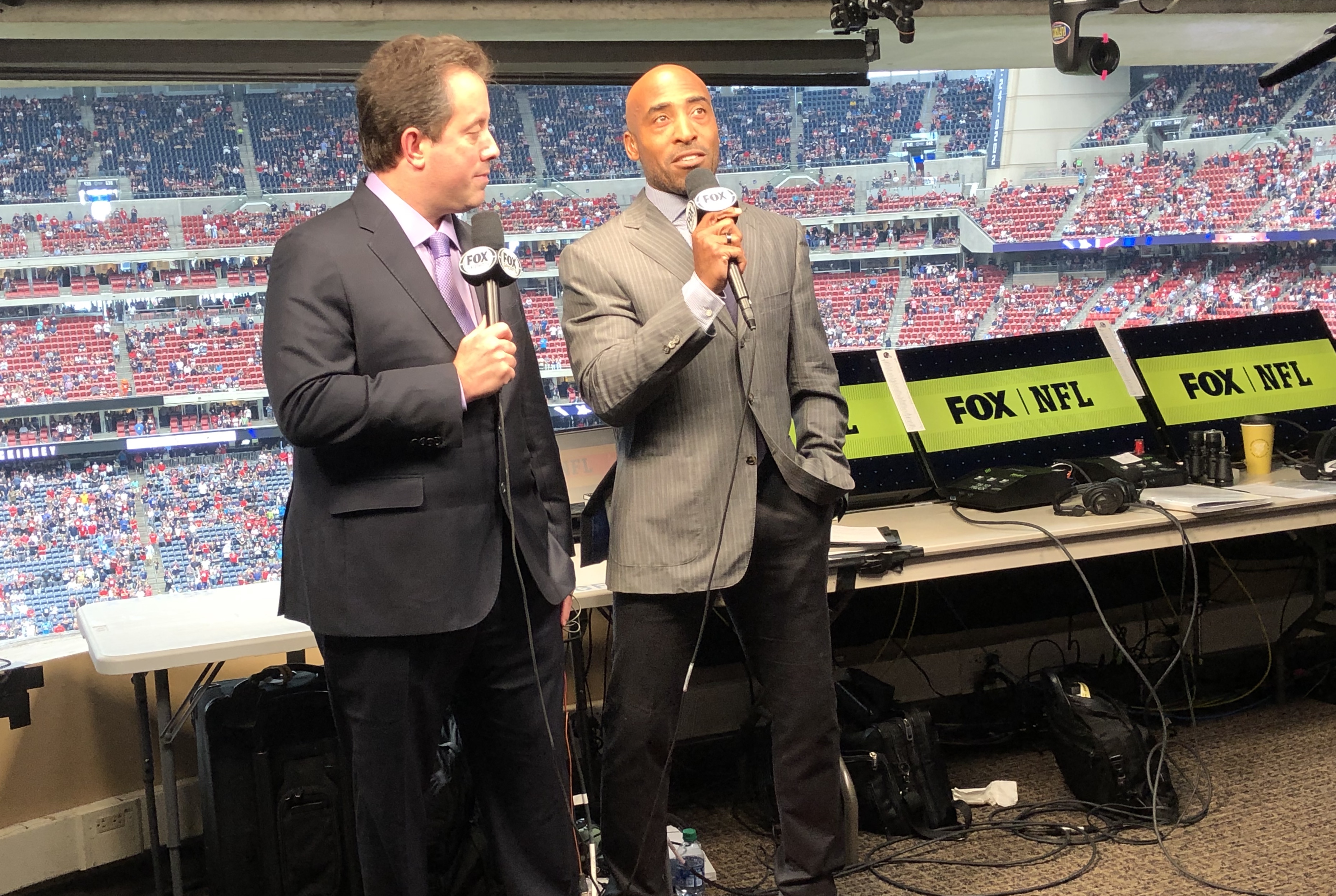 Spreading the love over decades of experience has led to some memorable moments and calls for Albert, and he especially treasures the relationships he's made along the way. Uproxx Sports made a list of some of the analysts Albert has worked with over the years and asked him to play word association, giving the first thing that came to mind for each person.
Lennox Lewis
"The champ. Soft-spoken and such a nice person; definitely has a huge presence when he walks into a room. Love his accent … I could listen to him speak all day. Also love how he refers back to his boxing career: 'I was a pugilist specialist.' Similar to many of the other analysts I've worked with, he is so highly respected by everyone in the boxing world."
Keith Hernandez
"Grew up watching Keith play for the Mets during their glory days in the mid-1980s, then had the opportunity to work a number of games with him early in his broadcast career. I drove him back into Manhattan after a game we worked at Yankee Stadium. As he squeezed into the passenger seat of my Mazda 626, all I could think of during the entire ride was his scene in the car with Elaine in an episode of Seinfeld. During another telecast, a foul ball came scorching into our booth and Keith hit the floor faster than you can say 'Cardinals.' My next line on the air was something to the effect of 'I can't believe the 11-time Gold Glove Award winner sitting to my right just bailed as quickly as he did.' Keith enjoyed a good chuckle as he lifted himself back up into his chair."
Bill Raftery
"The Mayor. You won't find anyone in the basketball world that doesn't know and love Raf. I only worked one game with him (Chris Mullin's first game as St. John's head coach), but I will never forget it. One of the best ever to analyze college basketball."
Walt Frazier
"The definition of cool. Always styling and profiling. An NBA legend and true gentleman. I've never seen him turn down a photo or autograph request. Still can't believe I have the honor of working 20-25 games with him every season."
Jim Spanarkel
"One of the most underrated analysts in sports. Has a great rapport with the coaches, is always so prepared and is a pleasure to work with."
Doris Burke
"I worked New York Liberty WNBA games with Doris in the late 1990s. I could tell then that she would be a star."
Joe Namath
"It was surreal to work Jets preseason games with Joe back in the late 1990s. I was 11 months old when he won Super Bowl 3. Couldn't have been nicer to me and everyone on the crew."
Rondé Barber
"Hall of Famer. One of the best ever at his position. Student of the game. Prepares for every broadcast as if he's going to play on Sunday. We've only worked three seasons together, but has become a close friend."
Anthony Muñoz
"Perhaps the nicest man I've ever had the pleasure of working with, and the best to ever play his position. I'll never forget attending a Green Bay Packers practice with Anthony in 1995. Reggie White actually stopped practicing to come over and shake his hand."
Howie Long and Terry Bradshaw
"Sugar Bowl: January 2007 … Notre Dame vs. LSU. One of the most memorable broadcasts of my three-decade career. Howie had never worked a game prior to this, and Terry hadn't been in a game booth in over a decade. I had such a good feeling about the telecast that I've never gone back and watched it."
Daryl Johnston and Tony Siragusa
"We worked eight NFL seasons together, including five NFC Divisional playoff games and a Pro Bowl. They were the perfect combination, 'Moose' in the booth and 'Goose' as our sideline analyst. I'm amazed they/we hardly ever spoke over each other considering Goose was down on the field with an open mic."
Tim McCarver
"The best baseball analyst in history. The first few times I worked with Tim, I was shocked at his ability to 'first guess' or predict something before it happened. I always felt like I had to be on my toes even more than usual and at my sharpest when working with Tim."
Patrick Ewing
"Called Knicks Summer League games with Patrick in July 1996 (while he was still an active player). He was terrific analyzing the games, and had a great sense of humor."
Uproxx was hosted by Fox Sports for reporting on this piece. However, Fox Sports did not review or approve this story in any way. You can find out more about our policy on press trips/hostings here.