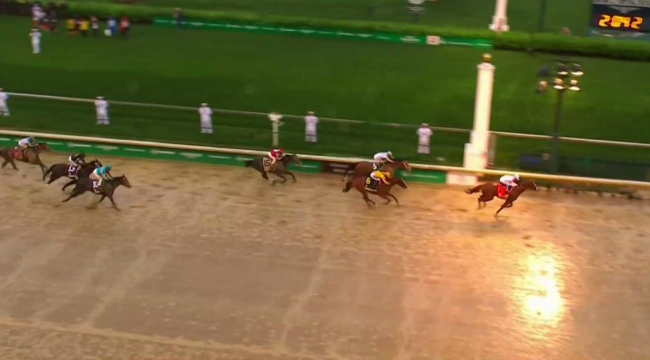 Conditions were sloppy for the 144th running of the Kentucky Derby on Saturday. That's an official horse racing term, but also the first word the uninitiated would think of when looking at the biggest race of the year before post time.
Churchill Downs had wild hats and wild outfits, but many of them were covered in translucent rain slickers for much of the afternoon as the weather came down to turn the track into a muddy mess. It was flash-flood, and this year's Boston Marathon-style conditions were on display for the race today.
More than three inches of rain fell on Saturday according to an NBC report shortly before the race started. But neither the sloppy track nor the odds mattered for Justify, which raced to victory in the first leg of the Triple Crown.
https://twitter.com/NBCSports/status/992900528534409217
Jockeys dealt with flying mud, but Justify was able to beat out the 17 other horses on Saturday to win the purse and make a messy bit of history. The horse didn't race as a two-year-old, yet was able to stay undefeated on Saturday and secure the win for the first time in 136 years.
The inclement weather certainly didn't keep fans away from the event, either.
Still, look at the difference between a horse that was out in front much of the race and one that had to deal with the muck in its wake.
Here are the full results for the race.
Just kidding, here's the full rundown with proper horse names and everything.
The run for the Triple Crown now moves on to Pimlico Raceway in Baltimore for the Preakness Stakes, a fortnight from now on May 19.