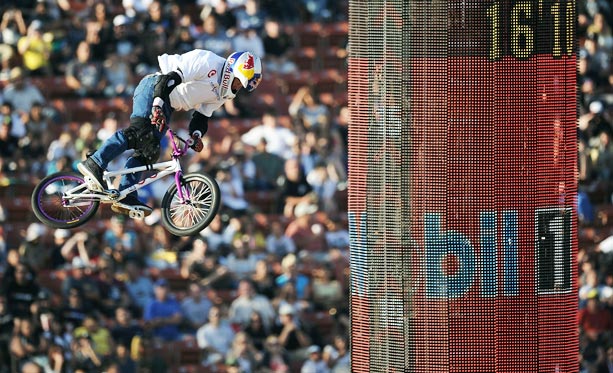 BMX legend Kevin Robinson passed away Saturday following a stroke, ESPN reports. His wife, Robin Adams Robinson called the stroke "completely unexpected," and he would've had a birthday on December 19th. The Guinness World Record holder and X-Games gold medalist was 45.
In addition to being one of the first BMX superstars of the early '90s, Robinson competed in the first X-Games and was known as much for his 10 medals and innovative tricks as he was for his philanthropic deeds. He worked to provide a safe place for kids and enthusiasts to BMX around his home in East Providence, where he started the K-Rob Foundation, which promotes athletics and healthy lifestyles to needy kids.
In 2006, he was the first BMX rider ever to land the Double Flair, something that wasn't done again until 2015. He retired from competition in 2013, but then set the Guinness World Record for the longest power-assisted bicycle backflip ever. It's as impressive as it sounds.
Here's the Double Flair:
Robinson also holds the world record for Big Air at 27 feet:
https://www.instagram.com/condorbmx/
Considering the wide breadth of his influence, the BMX world is collectively mourning him after his sudden passing. Veterans and newcomers alike were reaching out to fans on social media, sharing memories and highlights of his illustrious career.
(Via ESPN/Providence Journal)