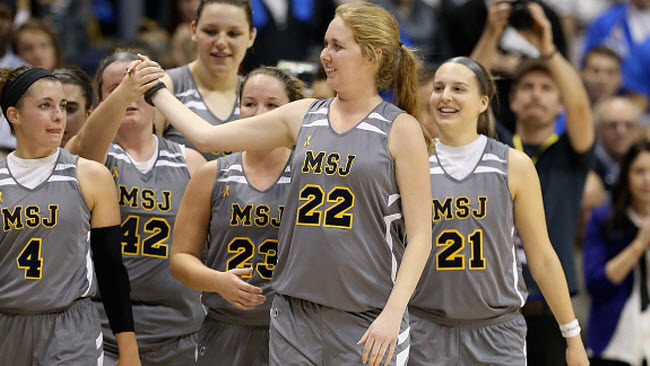 "I never gave up for a second, even when I got a terminal diagnosis… I never thought about sitting back and not living life anymore." – Lauren Hill
Lauren Hill, the 19-year-old college basketball player who fought a rare brain tumor, has passed away. She was diagnosed with DIPG (diffuse intrinsic pontine glioma) in December 2013 as a high school senior. At the time, she was being recruited to play basketball at Mount St. Joseph University, a small private school in Ohio.
Almost a year after her diagnosis, and with virtually no chance of survival, Hill suited up for a game against Hiram College. She scored the first and last basket. She later called it the greatest day of her life.
Hill played in four more games that season, scoring 10 points in all. On February 6, she received an Honorary Doctorate in Humanity from Mount St. Joseph.
In the last months of her life, Hill helped raise $1.5 million in cancer research through jersey sales and donations.
Her mother, Lisa Hill:
"She was a huge gift from God, and if he takes her back then we'll have to deal with it. But while we had her for 19 years, she was ours."
Rest in peace, Lauren Hill. You were an inspiration to us all.