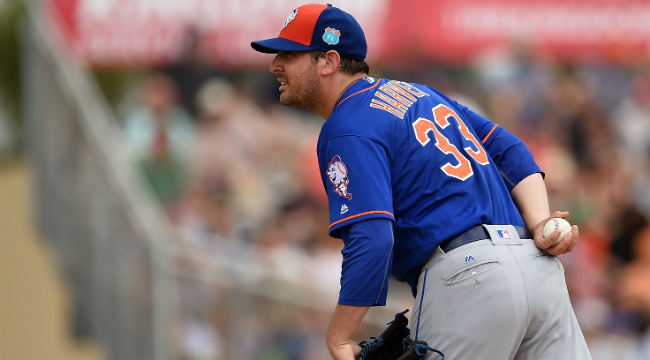 Even though the New York Mets' starting rotation is loaded with talent, Matt Harvey remains the most recognizable face (or arm) on the club. That could be because he was the first to break out, or because he courts stardom and attention in ways the other Mets pitchers don't, or even because of his much-debated recovery from Tommy John surgery from a year ago. No matter why he's the most talked-about Met, Harvey is used to raising eyebrows — but when he left the Mets' spring training facility with no word except for that he had a non-orthopedic ailment on Monday, speculation and concern ran rampant.
Though it may seem strange to say, Harvey was fortunate to only have blood clots in his bladder, which he reportedly developed from a bladder infection. He found blood in his urine, and flew up to New York for tests. The ailment has already been treated, and he's not expected to miss any time. At his press conference, Harvey opened up about the cause of his issue, and thank goodness it's minor, because oh man this is an all-time great baseball malady:
Listen, we know that professional athletes have a stronger force of will than most humans, but holding in your pee long enough to cause blood clots is a little extreme, no? Of course, anytime a bathroom situation makes the news, you know the hooligans on Twitter are going to have their fun:
Seriously, we're all glad you're okay, Matt. But please, there's enough downtime in baseball — if you need to go, just go.
Now Watch: Take An Envious Look At An MLB Player's Insane Pay Stub