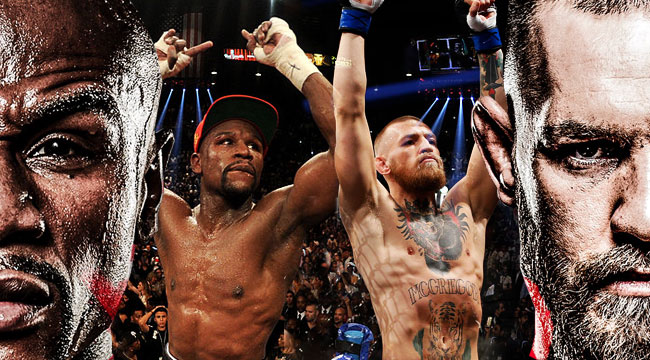 Conor McGregor and Floyd Mayweather are set to face off in a ring on August 26th, and already the pundits are declaring Mayweather the inevitable winner in this boxing versus MMA showdown. And why not? Floyd has a 49-0 record in the sport plus an extensive amateur record that includes Olympic gold. Conor? He started out his martial arts career at a boxing gym, but other than that has no competitive boxing experience. Nada. 0-0.
Let's not completely discount his MMA accomplishments, though. He's 21-3 with 18 knockouts, 13 of those in the first round. He's also the only fighter in UFC history to hold two belts simultaneously, at featherweight and lightweight. He's obviously got impressive athletic gifts and skill. But the near unanimous consensus going into this fight is that boxing is simply structured too differently for a mixed martial artists to walk in and expect success, especially against a GOAT like Floyd Mayweather.
That being said, there are some interesting wrinkles in this fight that could pave a path to a Conor McGregor win. We recently went over the keys to victory for Mayweather and McGregor, but let's take a closer look at two massive factors that are getting somewhat overlooked in the media's rush to dismiss the fight as pure spectacle: weight and age.
As we mentioned before, McGregor was the first to hold UFC belts in two different weight classes at the same time – 145 and 155 pounds. He's even gone so far as to accept fights at 170 with last minute replacement opponents like Nate Diaz. The point is this: while McGregor is best known for being a 145 pound featherweight (a similar weight to Mayweather later in his career), he's certainly not your average featherweight. McGregor used to weigh in on fight weekends looking like a skeleton, and then he'd re-hydrate up and beat down his much smaller opponents. His knockout power rarely failed him. It was only when fighting up at 170 that his ability to put larger fighters to sleep diminished.
Now let's look at Floyd Mayweather's size. At the start of his career he won a Golden Glove title at 108 pounds and his Olympic medals at 126 pounds. By the end he was fighting at around 146 pounds. The moves up in weight were often more about chasing down belts and names than significant growth on Floyd's part. He's never been a big boxing welterweight, and once he had negotiating power he regularly forced his larger opponents down to uncomfortable lower weights that left them drained.
So it was surprising to learn that Mayweather vs. McGregor would take place at 154 pounds, a weight that clearly favored Conor McGregor. Leading up to the fight, McGregor's coach John Kavanagh revealed the UFC star was preparing for a lower weight around 147 pounds. The decision to go a bit heavier might be strategy more than largess on Mayweather's part. If the fight took place at 147 pounds, Nevada rules would have the fighters wearing 8 ounce gloves rather than 10 ounce. And with a knockout artist like Conor McGregor, you obviously want as much extra glove padding as possible.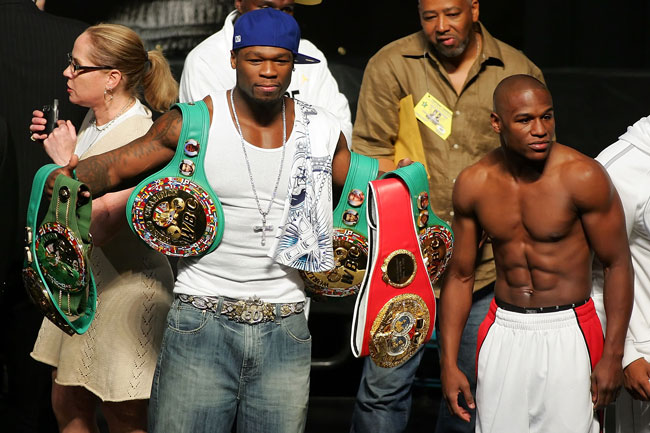 Even with all these numbers, the size difference between Mayweather and McGregor probably isn't going to sink in until the two face off at a press conference.
"Conor McGregor is huge," UFC president Dana White said recently during an interview with TSN. "I don't think people are really going to realize — you know, all this talk about, all the guys saying 'Floyd's going to destroy him! Floyd's going to destroy him!' Wait til they meet face to face for the first time and square off, and people see the difference in the size between Conor McGregor and Floyd Mayweather."
Size plays a massive part in combat sports, which is why you don't often see many fighters having a lot of success when moving up in weight classes. Mayweather and McGregor are outliers, Mayweather because of his skill, and McGregor because he was always a big lightweight making extreme cuts to beat on smaller featherweights. Mayweather is smaller than the MMA featherweights he used to trounce, and McGregor doesn't even have to go through a draining cut to fight him. Conor will be larger even in comparison to other 154 pound boxers.
And then there's age. Floyd Mayweather just turned 40 in February, while Conor McGregor turns 29 in July. There's a saying in combat sports that age catches up to everyone eventually, and that possibly being the case for Floyd is a reason why the results of this fight could shock the world. There's already been something of a decline: Mayweather's ability to knock opponents out largely flickered out of existence back around 2007, with his lone KO after that a sucker punch in his fight against Victor Ortiz.
That being said, there's not much evidence later in Mayweather's career that he was on the verge of losing his famous speed and reflexes. He was still one clear step ahead in all his most recent fights, and only retired because his ability to sell pay-per-views tanked after his long overdue fight with Manny Pacquiao was universally panned.
The Pacquiao fight could provide some insight into why Floyd was so dominant even at the end of his long career. Negotiations for the bout dragged on for years, and some suspected that Mayweather only signed on the dotted line after Manny was a bit more weathered from his bruising boxing style. If the fight had gone down in 2009 instead of 2015, many felt like Pacquiao would have won. Final opponent Andre Berto was also past his 2011 peak when facing Floyd in 2015. Mayweather's career is dotted with challengers ducked and delayed.
In Conor, he'll be facing a fighter at his absolute peak in skills, age, and confidence. Conor is fast too, and in a sport where milliseconds matter and timing is everything, Floyd will need to be just as good as he was before he retired. With two years of easy living and extravagant partying under his belt, what are the chances that Mayweather returns a little bit out of shape? A little bit slower? Pretty high. How much of a difference is the real question here.
These factors could come into play, or Floyd Mayweather could easily use his 20+ years of elite boxing experience to completely confound Conor McGregor and box him silly. That depends on just how naturally McGregor takes to the boiled down tenets of the sweet science, and the gameplan his coaches at Straight Blast Gym develop to try and exploit weaknesses in Floyd's game.
McGregor doesn't even have to have his hand raised at the end of the bout. If he goes in there and gives Floyd any amount of trouble, it could be enough to cement his place as one of the greatest martial artists in history. And in a fight where the deck is stacked against him in almost every way, he'll have to use his size well and hope that age has taken its toll, otherwise he could end up looking as foolish as the boxing media expects he will.