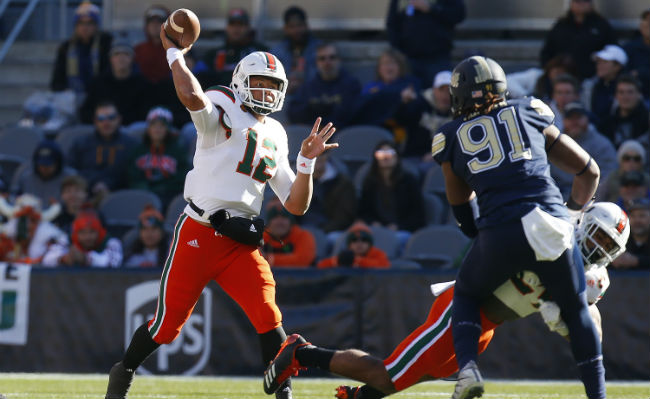 The Miami Hurricanes had a Black Friday nightmare all their own at the confluence of rivers in Pittsburgh, likely ending their College Football Playoff dreams at the hands of the Pitt Panthers on Friday.
The No. 2 team in the country went down at Heinz Field on Friday, seriously hurting its title chances and hurling the rest of the one and two-loss teams in college football back into the playoff picture.
Though the Hurricanes defense did force two turnovers and wielded the famed turnover chain, the offense did little against Pitt on Friday. Quarterback Malik Rosier struggled to move the ball, missing a number of downfield throws, and the Hurricanes looked tentative at times. Rosier was even pulled for a drive in the fourth quarter, but his replacement, Evan Shirreffs, did nothing to spark the Hurricanes.

Pitt, meanwhile, started true freshman Kenny Pickett, who had himself quite the day. He moved Pitt's offense well and found a way to manage the clock while Miami struggled.
His 22-yard touchdown run later in the fourth put the Panthers up 24-7 with 2:54 left on the clock. Check out this sweet bootleg action here from the frosh.
Miami would bring Rosier back in after this, and he threw a touchdown to Braxton Berrios to make it 24-14. Miami even recovered the onside kick that followed, but the win just wasn't in the cards for Miami.
As exciting as its triumph over Notre Dame was, Miami couldn't stay undefeated and find a way through. It leaves a lot of questions as college football heads into its final regular season weekend.