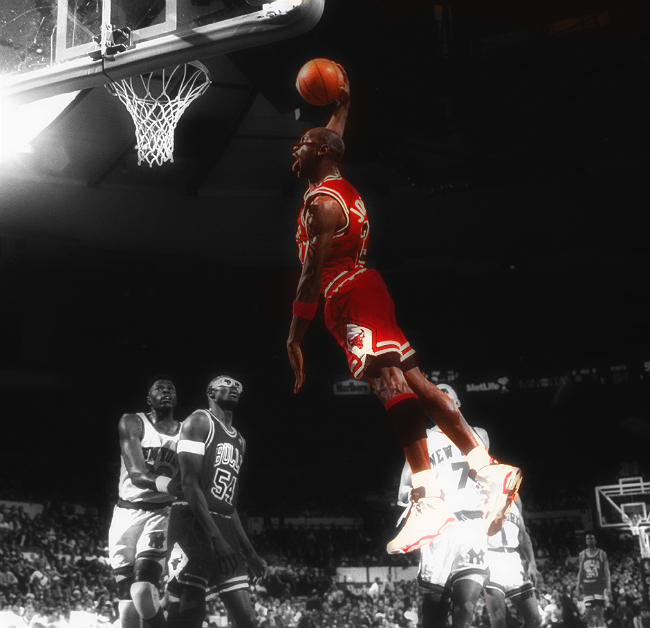 This isn't a story about a plucky underdog rising above their perceived betters. Goliath doesn't fall this time.
The New York Knicks were a model franchise back in the 90s, long before they decided their 2014-2015 season would end in February after going into the All-Star break with 10 wins and coming out of it absent both the released Amar'e Stoudemire and the injured Carmelo Anthony.
From the 1987-1988 season to the 2000-2001 season, the Knicks never missed the playoffs, and made it to the NBA Finals twice — losing to the Houston Rockets in 1994 and the San Antonio Spurs in 1999. Times were good, but they would have doubtlessly been better if not for Michael Jordan, the NBA's best player and a man who both recognized the Knicks as a threat and saw it as his duty to swat them down whenever he and the Chicago Bulls got the chance. Jordan said as much when discussing them with friend Ahmad Rashad
"Every game we played, we tried to send a statement. We're trying to make sure that they don't gain anything on us. As long a Patrick [Ewing] was going to be there, as long as [Charles] Oakley was going to be there, as long as [John] Starks was going to be there. It's like fighting your big brother or little brother — you've gotta let them know who you are. This is where you belong. I don't care where you think you think you are, this is where you belong."
From 1989-1996, the Knicks and Bulls met in the playoffs six times with the Bulls taking five of those hard-fought series. The Heat-Knicks rivalry of the late 90s gets more ink for its collection of flying elbows, trash talk, and hard fouls, but while the Knicks didn't get as much credit for roughing up the Bulls as much as the Pistons did when Jordan was trying to take their crown in the late 80s, they certainly made an impression.
"Once we started winning and got past Detroit, the Knicks became our biggest rivals. They were trying to get where we were. We were trying to maintain what we were. Every battle was magnified. Patrick [Ewing] was a good friend. Charles Oakley used to be in Chicago. John Starks, Charles Smith, Anthony Mason—all these guys. When Detroit was winning, everybody had adopted the physical type of game. New York became that way, too. You go in the middle, you're going to get hit. Patrick was a fierce intimidator." (via Cigar Aficionado)
As fierce as Ewing, Anthony Mason, Xavier McDaniel, and Charles Oakley were, they weren't able to sufficiently slow the Bulls, who went 19-8 in the playoffs against the Knicks from 1989-1993 and in the 1996 Conference Semifinals with Jordan averaging 33.1 points per game, going for over 40 in seven of the 27 games.
The Knicks one win against the Bulls in the playoffs came in the 1993-1994 season when they made it to the Finals after surpassing a Bulls team that was without Jordan as he tried his hand at minor league baseball during his first retirement. Interestingly, the Knicks' other Eastern Conference title came in the first year after Jordan's second retirement, when everyone with a pulse save for Toni Kukoc had left the Bulls following their run of six titles in eight seasons. Though a conference championship is a conference championship, to a degree, even the Knicks' greatest achievements from that era are affected by Jordan, since the Knicks didn't beat the best to be the best. Or in this case, the second best.
When Jordan returned to the league in 2001 with the Washington Wizards, he was a 38-year-old forward three seasons removed from the game and the Knicks were headed for a 52-loss season. Despite the lack of playoff drama, however, Jordan still found a way to add a few highlights to his reel against the Knicks, burying a last-second shot to put the them away at the Garden on December 22, 2001 and scoring 39 points in his last game at Madison Square Garden, a place that Jordan called one of his "favorite places" to play in a post-game interview following that clutch basket in 2001.
"Sometimes you just have a favorite place to play. This has always been one of my favorite places." (via USA Today)
Those are Jordan's last highlights against the Knicks, but below are a few of the earlier moments from Jordan's career that made the Knicks-Bulls rivalry so special and utterly frustrating for Knicks fans.
Jordan Rocks The Cradle
Jordan's first game at Madison Square Garden featured this slam dunk contest worthy jam. Was it a travel? Probably, but what does it matter at this point?
Jordan Knees Ewing In The Face
Jordan put up 47 in an April 1988 game against the Knicks, but this alley-oop jam past a leaping Mark Jackson punctuated the night and Jordan's knee to Patrick Ewing's face as he hung from the rim punctuates the punctuation.
Jordan Posterizes Patrick Ewing
If you play this whole video, you'll see some amazing vintage Scottie Pippen dunks too, but the Jordan play is the real main event. I don't know what's more impressive, the ankle breaking move he uses to get past John Starks and Charles Oakley, or Jordan's authoritative jam on Patrick Ewing.
Game 7 Dominance 
The Knicks took the Bulls to seven games in the 1992 Conference Semi-Finals but Jordan put up a series-high 42 points to put the final nail in the coffin.
Jordan Goes For 54 
The Knicks took the first two games of the 1993 Conference Finals, but Jordan lead the Bulls back with an 11-assist, 22-point performance in game three and 54 points in game four. He also put up a triple double in game five (because Jordan had the ability to surprise a team by pulling down a dozen rebounds as well), putting the Bulls up 3-2 in the series before clinching the teams third straight trip to the NBA Finals.
The Comeback
Jordan's comeback game against the Pacers had been a bit of a letdown, but when number 45 graced the hardwood at the Garden for MJ's first game at the Garden since his retirement, you could feel that something special was going to happen. That's not conjecture. As a 12-year-old Bulls fan living in New Jersey, I was glued to the TV hoping that Jordan's return would give me something to hold over the heads of my Knicks fan friends. As you surely know, Jordan didn't disappoint, showing the world that he was truly back by way of a 55-point performance and a stunning last second pass to Bill Wennington for the winning basket. Bill Wennington, welcome to your legacy.
"Con Man"
Jeff Van Gundy kept the winning ways alive in New York after Pat Riley and Don Nelson left the team under very different circumstances within nine months of each other in the mid 90s. So much so that the Knicks actually seemed like an appealing option for Michael Jordan when he and the Bulls were squabbling over a new contract after the 1996-1997 season. But Van Gundy clearly erred when he called out Michael Jordan for being a "con man" who lulls opponents into a false sense of friendship before using that friendship to dominate them.