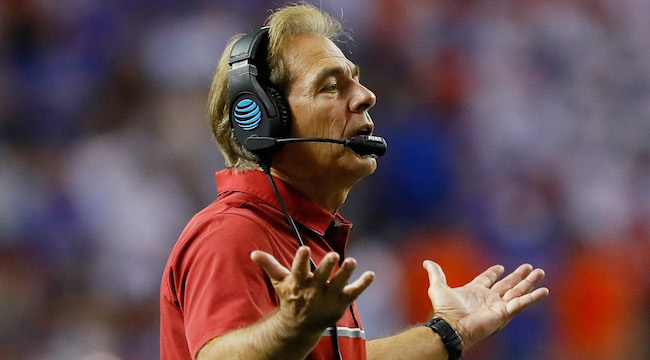 College football recruiting has morphed into a cottage industry. Throughout the country, full-time recruiting experts earn their living in covering the choices of 18-year-old athletes, with everything coming to a head each February in the madness that is National Signing Day. For the 2017 class, the biggest domino that has yet to fall has to do with the collegiate decision of the nation's top recruit, 6'3, 226-pound running back Najee Harris.
Harris, who ranks as the No. 1 recruit in the 247Sports composite that many trust as the industry's leading resource, is currently committed to play for Nick Saban and the Alabama Crimson Tide through a verbal pledge. In fact, that has been the case with the California native for more than 18 months. However, Harris has reportedly been wavering on that commitment, to the point where there is a great deal of intrigue around his status as the U.S. Army All-American Bowl approaches on Sunday.
There was a belief that Harris would illuminate his final decision during or after that nationally televised exhibition but, on Tuesday, the talented running back let the world know that he was choosing a different path. To put it simply, he wasn't going to announce anything (via AL.com):
When asked if he'd just duck interviews after the game and head to the airport and to his school of choice, he said that's what he plans on doing. So, there will be no announcement. Harris is an early high school graduate and will enroll in college next week.
This is, of course, anything but "traditional" in the new landscape that is recruiting and Harris is actively making coaching staffs from both Alabama and Michigan (seen as the major competitor for the Tide) wait with no firm endpoint in sight. The uber-talented youngster is planning to enroll at his college of choice in the next few weeks, as Harris is an early graduate from Antioch High School in California. Still, the fact that his choice won't be publicly announced is a bizarre yet strangely refreshing thing.
Everyone (yes, everyone) in the college football world is awaiting the college choice of a recent high school graduate and that seems slightly insane when zooming out of the weird universe that is recruiting. Najee Harris is seen as a public figure and he has been one for more than two years. In the same breath, being incredibly talented on the football field does not mean that Harris firmly enjoys this level of attention and, in any other walk of life, he would simply be allowed to enroll and show up on a campus just in the same way that he apparently plans to in the near future.
Fans of Alabama, Michigan and any of the dozens of other schools offering Harris a scholarship will now be scouring the internet for information as to his whereabouts. That, alone, is quite strange. Meanwhile, the best high school football player in the country will be milling over what is, to date, perhaps the biggest decision of his life. When evaluating all sides, maybe it is Najee Harris that has this thing figured out while the world around him does not.
(AL.com)