---
The 2015 NCAA Tournament is set, and the country is watching intently as the basketball has finally begun. But what about the NBA heads dreading the upcoming 2-3 zones, preponderance of late-game foul shots, offensive sets that take forever to materialize, and the rest of the NCAA effluvia which forces us to watch NBA hoops over the subpar level on display in college.
We thought we'd preview each region so you know which players might be making a future appearance in the Grown Man League. This is based on their pre-Draft rankings right now, but some might fall out of the discussion altogether depending on how they perform this weekend.
The NCAA Tournament can make or break an NBA landing spot. While scouts still look at upside and throw the word potential around like it wasn't once applied to Darko Milicic, a Final Four dance goes a long way towards convincing those skeptical about a player excelling at the next level.
For today's West region, we look at five players with their eyes on a prize in June, rather than March.
1. Montrezl Harrell, PF Louisville, 6'8 240-pound Junior
It's an indictment of the professional talent in the East region that Harrell is its top prospect. He has no chance to star at the next level and likely won't emerge as a viable starter, either. But players like Harrell can certainly carve a role in the NBA given proper support, and it's one that often proves pertinent to a contender's viability.
Any discussion with Harrell must begin with his size – or more specifically, lack thereof. The junior measured in at under 6'7 in shoes when playing with USA Basketball in 2013, making him awfully short for a big man. But height only matters so much, and Harrell has a 7'3 wingspan that allows him to play bigger than listed size suggests.
The problem is that he doesn't boast the offensive skill of other undersized power forwards who have become starters in the NBA. Harrell subsists on athleticism, hustle, and offensive rebounding to score for the Cardinals. His realistic range falls short of the college three-point line, he makes only 58 percent from the free throw line, and doesn't have the off-dribble knack necessary to consistently take advantage of his speed and quickness.
Harrell is a fantastic rebounder, though, and should prove relatively effective corralling pick-and-rolls defensively, too. He'll struggle checking longer post scorers, but he also won't be facing those players on frequent occasion – bench guys play most of their minutes against bench guys.
The only thing that could doom Harrell is his recent penchant for chucking three-pointers. If he can't play within himself offensively and won't buy into being the quintessential hustle player, it's easy to envision his career going the way of Thomas Robinson – another veteran college star who faced size questions before coming to the NBA.
However, there's little reason to believe he'll fall into the trap of wanting to star. And if he doesn't, Harrell could prove good value for years to come as a mid first-round pick.
2. Justin Anderson, SF Virginia, 6'6 228-pound Junior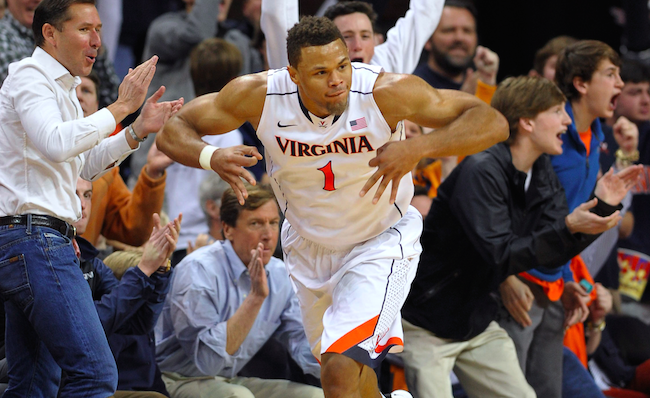 Anderson has '3-and-D' written all over him. Health permitting, of course.
The 6'6 junior is shooting 46.9 percent from beyond the arc in 2014-2015 after barely cracking 30 percent during his first two seasons at Virginia. He's a fantastic leaper, too, frequently skying for highlight-worthy lobs in both transition and halfcourt situations. Should his wildly improved stroke become the new normal, the only way Anderson will disappoint is if the team that selects him expects him to be a creator. That's simply not his game and never will be.
Anderson is a potentially elite defender. Blessed with a 6-11 wingspan, thick frame, and prototypical all-around athleticism, he should be able to capably check multiple positions at the next level. He's a threatening weak-side shot-blocker and will likely out-rebound his position, too.
In addition to shooting, health is the other concern surrounding Anderson, He fractured a finger on his right shooting hand in early February, only returning to the Cavaliers' lineup for the past two games – in which he scored zero points over a combined 26 minutes of play. Could this injury derail the incredible progress he's made as a shooter?
That's the question NBA teams picking in the mid to late first round will be asking themselves, and Anderson's workouts will loom especially large as a result. If he finds his stroke between now and the draft, though, expect Anderson to eventually emerge as a key cog for a winning team.
3. Kris Dunn, G Providence, 6'3 205-pound Sophomore
A highly-regarded high school prospect, Dunn has come on like gangbusters in 2014-2015 after a highly disappointing freshman season.
The 6-3 point guard has every physical attribute NBA teams want from floor generals. His ideal height is supplemented by a 6-8 wingspan, and Dunn is perhaps the quickest player with the ball in the country. He gets wherever he wants on the floor, and knows what to do once he's there – he has an advanced arsenal of finishing moves in the paint and natural court sense. The 21 year-old is an engaged and disruptive defender, too, who uses his combination of length and foot-speed to rack up steals and deflections with ease.
What's the issue, then? Dunn can't shoot. He's improved on two-point jumpers in 2014-2015 but is still a below-average three-point shooter, and is only one year removed from making a dismal 32 percent of his field goal attempts. Is one great season enough to trump a poor one?
We say yes, and Dunn's long-held standing as an elite prospect supports that thinking. He's always had the natural tools to thrive, and clearly has room for improvement – especially as a marksman and decision-maker. The boom or bust potential is fairly high here, but those are exactly the kind of prospects opportunistic teams look for in the mid to late first round.
Dunn is talented enough to be a starter in the NBA. There's no telling whether he will be or not, but that possibility alone makes him a very intriguing player.
4. Jarell Martin, F Louisiana State, 6'10 235-pound Sophomore
Much like Dunn, Martin has come on strong in 2014-2015 after a very underwhelming freshman season.
The former top-10 recruit is averaging 17 points and nine rebounds for the Tigers, showing the versatile offensive game teams covet from stretch 4s. We're just unsure if he's equipped to play such a role for long stretches – Martin measured in at under 6-8 last summer and doesn't have the explosive athleticism or rangy length to compensate.
His lack of ideal physical attributes doesn't matter as much on the college level, where the 20 year-old has used his combination of skill and size to become a sometimes devastating scorer. Martin had 21 points against Kentucky, 28 against Florida, 25 against Auburn, and 27 points versus Arkansas in the SEC Tournament. That's elite production against solid competition, but still leads to questions concerning his NBA potential.
Namely: Can Martin develop into a consistent three-point shooter? What position does he guard?
He reminds us a bit of a less productive T.J. Warren, the North Carolina State product who was drafted 14th overall by the Phoenix Suns last June and had a quiet rookie season. The biggest difference between Martin and Warren, though, is the former lacks the latter's preternatural nose for the basket. And if Martin isn't scoring well, we're not sure who how positively impacts the NBA game.
But there's obvious skill here, and a team with a late first round pick will likely take a prudent gamble on it.
5. Terry Rozier, PG Louisville, 6'1 190-pound Sophomore
Rozier has been relatively disappointing in 2014-2015. After a freshman campaign and summer that flashed his considerable gifts and suggested big things for his NBA potential, the Louisville guard has instead become one of the more divisive names in the draft.
It's not hard to see why, either. Rozier has tremendous physical gifts: speed, explosiveness, quickness, strength, and length. He's a dogged defender with a relentless motor, and is putting up big numbers for the one of the bet teams in college basketball. The 21 year-old gets by his man with ease in the halfcourt and is a terror with a head of steam in transition, too.
But he's a combo guard who can't shoot, a confluence which proves extra problematic in today's NBA. Rozier is shooting 31 percent from beyond the arc and has struggled as a two-point jump-shooter, too. He doesn't see the floor like a true floor general, either, evidenced by a paltry 1.3-1.0 assist to turnover ratio.
It's just hard to imagine Rozier ever developing into a viable starter at the next level, and difficult still to envision him as a reserve cog. He's similar to former Cardinals star Russ Smith in that vein, actually – a player caught between positions and roles.
If Rozier commits to being a ballhawk defensively, he could certainly prove to be an impact player for stretches. Those guys have value, but just far less than the kind so many envisioned him gaining during his sophomore year.
HONORABLE MENTIONS: Buddy Hield, Oklahoma; Jordan Mickey, LSU; Branden Dawson, Michigan State; Daniel Ochefu, Villanova; Mamadou Ndiaye, UC Irvine; Wayne Blackshear, Louisville