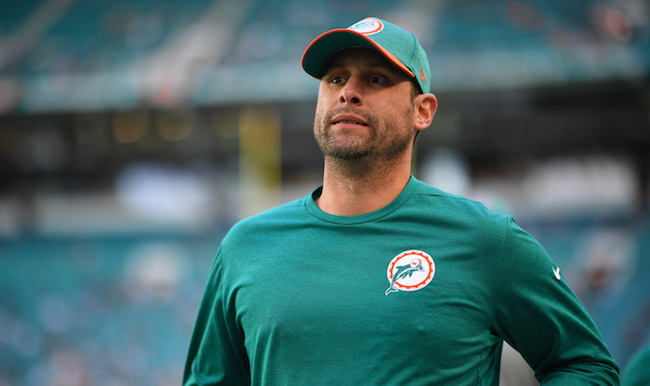 Slowly but surely the NFL's coaching vacancies are being filled. The Cardinals, Packers, and Bucs all made hires this week, bringing in Kliff Kingsbury, Matt LaFleur, and Bruce Arians, respectively, and now the Jets can be added to that list.
Like the rest of those franchises, the Jets are going with an offensive coach. New York will bring in a familiar foe to lead their franchise, as recently fired Dolphins coach Adam Gase will reportedly be the new head coach in the Meadowlands, according to Ian Rapoport of NFL Network.

The Jets fired Todd Bowles this offseason after another dismal season in New York — which, it's important to note, is far from just Bowles' fault — and will bring in the man that went 23-25 in three seasons in Miami. Prior to his stint with the Dolphins, Gase was the offensive coordinator for the Bears and Broncos and the Jets will hope he can bring some life to what was one of the league's worst offenses last season.
Rookie quarterback Sam Darnold had, well, a season befitting of a rookie quarterback on a team with limited talent and Gase will be tasked with figuring out how to make not only Darnold better, but get more out of those skill position players. Still, there seems to be a ceiling on how good the Jets can be under any coach without significant roster upgrades, which will be up to the front office to provide.