Bill Belichick's genius, unlike his likability and fashion sense, is not up for debate. He may very likely go down as the greatest coach in NFL history. Yet we sometimes take for granted that he has essentially been the Patriots' general manager the entire time as well. If any team won four titles and made the playoffs virtually every year under a GM's leadership, that GM would be considered a legend, too.
Belichick's GM strategy through the years has focused on draft picks. He's good at making them, and he's fantastic at acquiring them. Whether by trading down in the draft to take advantage of more desperate teams or letting free agent after free agent walk away from the team and raking in compensatory picks (shout out to Grantland's Bill Barnwell). Both of those strategies involve getting a lot of mid- to late-round picks.
With the NFL Draft inching ever closer, let's take a look back at Bill Belichick's most notable later round draft picks — the ones that flew under the radar at the time, that may not have even been announced on TV, but wound up being crucial parts of the Patriots' dynastic run. In chronological order:
2000 — QB Tom Brady
Might as well start with the biggie. Not much needs to be said about the 199th overall pick (a compensatory pick at the end of the sixth round), except that he was Tahm Effing Brady. Who knows if we're even writing this article if this pick didn't happen.
2002 — DE Jarvis Green & WR David Givens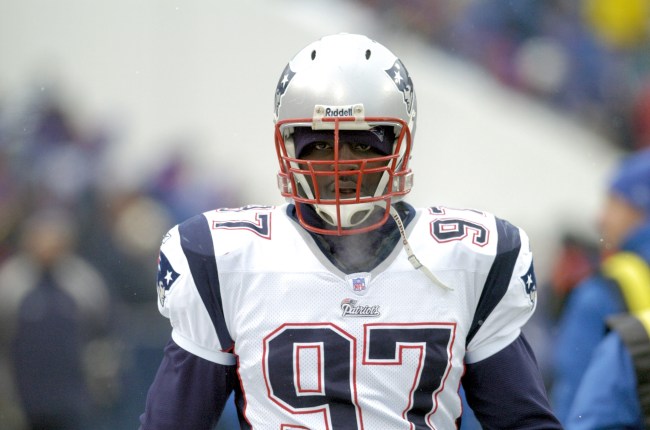 Picked in the fourth round with the 126th overall pick (acquired in the trade that sent Terry Glenn to the Packers — classic Belichick), Green was a rotation player for the Pats until 2009, but he makes this list because of his 2.5 sacks in the three games of the 2003 playoffs, which culminated in a Super Bowl victory over the Panthers.
The Patriots' 253rd overall pick in the seventh round, Givens only played five seasons (four with the Patriots). He was never the Pats' primary (or even secondary) receiver, but he was automatic in the playoffs. He played in eight total postseason games, and scored a touchdown in seven of them. That's insane.
2003 — CB Asante Samuel & OL Dan Koppen