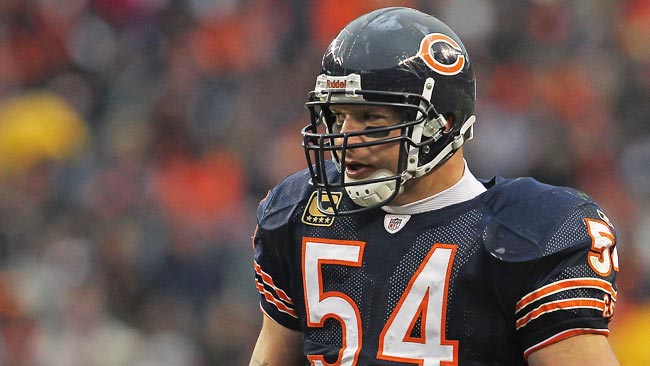 Eight NFL legends will be entered into 2018's Pro Football Hall of Fame class this August in Canton. Every class is stacked considering it's the Hall of Fame, but this year seems deeper than most with five of the best to ever put on pads making it in, along with three others who made an impact on the game.
Let's break down the entire class.
Randy Moss is second all-time in touchdown receptions and was one of the most dominating forces in the NFL for years. Our own Bill DiFilippo goes into great detail with a plethora of Moss highlights for evidence here.
Brian Urlacher spent the early aughts playing relatively second-fiddle to Ray Lewis, but was still a player that could produce moments of awe and ridiculously high tackle counts. He joins his AFC foe as a first-ballot HoFer, riding his Defensive Player of the Year award in 2005 and his eight Pro Bowl selections to immortality. The converted safety ushered in a new wave of speed on defense in the NFL.
Ray Lewis needs no introduction, as the two-time Defensive Player of the Year and 13-time Pro Bowl selection made it in as a first-ballot inductee to the surprise of no one.
Brian Dawkins makes it to the Hall of Fame the same weekend the Eagles are in the Super Bowl. Weapon X was one of the most dynamic and fear-inducing safeties in the league for 16 seasons, making the Hall on his third ballot. Here are a couple of awesome facts about Dawkins (who will get a Super Bowl ring if the Eagles win because he's part of Philly's front office):
He's the first player in NFL history to record a sack, an interception, forced fumble, and touchdown reception in a single game
He's also the first player in NFL history to record at least 30 interceptions and 30 forced fumbles in a career.
Dawkins is the only player in NFL history with 25+ interceptions (37), forced fumbles (36) and sacks (26).
Let's watch some highlights.
Terrell Owens has finally made it on his third ballot. He seemed like a guaranteed pick last year, but missed out to the dismay of fans coast to coast. That wrong has been righted now. In his 16 years as a receiver, he holds a ridiculous amount of records and firsts for the NFL, including being the first player to score a touchdown against all 32 teams. He also set multiple franchise records for every team he played with, as the Niners, Bills, Eagles, Cowboys, and Bengals all were better with him on the field.
Senior inductee Jerry Kramer was a guard on the Packers from 58-68, made five all-pro teams and was voted on the NFL's 50th Anniversary team. He helped the Packers win two Super Bowls with the man himself Vince Lombardi, and before the Super Bowl, was part of five NFL Championship Packer teams.
Robert Brazile makes it in as the second senior inductee. He was a linebacker for the Oilers from 1975-84, was a four-time first-team all-pro, went to seven Pro Bowls, and was picked for the 1970s All-Decade team.
Bobby Beathard is being voted in as a Contributor, serving in the front office of the Chiefs, Chargers, Redskins, Dolphins, and Falcons.