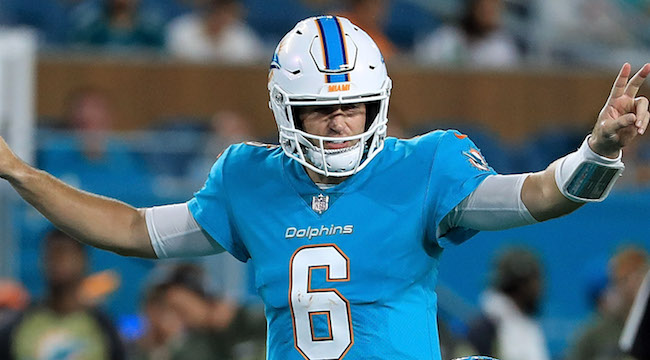 We were within a Jay Cutler interception (and a ghastly one, at that) from a winning performance in Week 10, but developing thick skin is a requirement in this particular corner of the sports world. For the most part, we have avoided abject disaster but, in recent weeks, the bad beats have begun to roll a bit and staying afloat has been, well, acceptable.
Now, though, our mission is to right the ship when it comes to Week 11 of the NFL season and, before we hand out five winning selections on the Over/Under side of things, let's check out the season-long performance.
Last Week: 2-3
Season: 28-22
Come get these winners.
Titans and Steelers UNDER 44 points
This may not be fun but we're going back to the well with a Thursday evening Under. The Steelers haven't been as dominant offensively as you might think and Tennessee's offense has been maddening at times. Throw in the fact that Pittsburgh's defense is low-key stout and the general weirdness on Thursday? Let's take the Under to begin the week right.

Packers and Ravens UNDER 38 points
Baltimore has gone over the full-game total in five straight games and that trend isn't going to continue. Green Bay's defense is actually reasonable but, more than anything, it is a fade of a Packers offense that is absolutely decimated by injuries. This particular professional football contest smells a lot like 20-13 to me.
Bucs and Dolphins first half UNDER 20 points
As noted above, Jay Cutler sunk us last week with an inexplicable pick before the half but I can't stay away. Tampa is still without Jameis Winston and the Dolphins are still terrible offensively. Hold your nose and take the correct side.
Bills and Chargers UNDER 44 points
The Bills are starting fifth-round rookie Nathan Peterman at quarterback and that is pretty much all you need to see against a defense that employs Joey Bosa and Melvin Ingram. Could San Diego explode on the ground behind Melvin Gordon? Sure, but the Bills are capable of holding the Chargers down to some extent and it just seems wild to think Peterman will be competent in his first NFL start.
Cowboys and Eagles UNDER 48.5 points
Dallas certainly did not look the part of a quality NFL offense in their blowout loss to Atlanta last week and that is the backdrop for this selection. Still, it is also a bet on the Cowboys defense being reasonably "up" for this division contest and an evaluation that the line is a few points too high at this juncture. If Dallas rights the ship on offense, we could be in trouble but it's the right side.