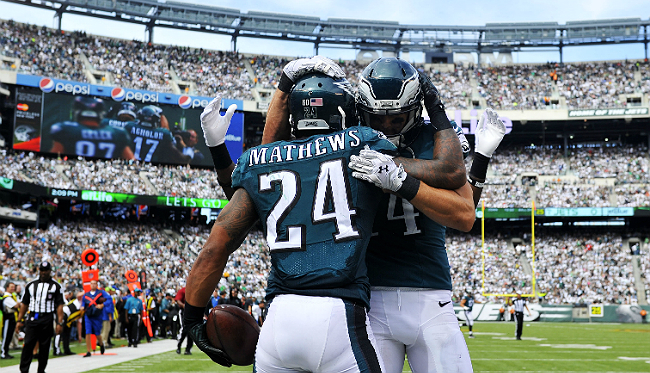 Another week in the books! This was the first week of this young NFL season to go mostly as expected. After incorrectly predicting six games and seven games in the previous two weeks, respectively, I managed to only miss three games this week for an excellent record of 13-3. It brings my total to 32-16 on the season. Not bad — that's a 75 percent hit ratio.
The biggest surprises were the Raiders dropping plenty of points on the Cleveland defense (looks like Amari Cooper is a stud), the Vikings holding off Philip Rivers, and, most surprisingly, the Eagles managing to at least semi-right the ship on offense against a good Jets defense.
Sadly, only three losses means only three drawings, but they were good ones:
EAGLES
"If the Eagles win, I will draw a crashed Jet Fighter with a Bald Eagle chilling on top."
VIKINGS
"If the Vikings win, I will draw Teddy Bridgewater pushing Rivers into a river under a bridge."
RAIDERS
"If the Raiders win, I will draw the Brownie getting kicked by Amari Cooper."
(SEE ALL THE PREVIOUS ILLUSTRATIONS BELOW OUR WEEK 4 PICKS)
Week 4 begins with us finally getting into the groove and understanding which teams might genuinely suck and which might be competitive. The slate of games this week doesn't give us many expected good match-ups, but there are always one or two games that are better than advertised.
Here are my predictions, and in italics what illustration I will create if I pick incorrectly:
RAVENS @ STEELERS
The Ravens have never gone 0-3 until this season. Their competition thus far is 8-1, so the Ravens may be better than advertised. I don't see them starting 0-4, even against the Steelers in Pittsburgh. The Steelers just lost Big Ben and managed to put up almost nothing on the Rams. This should be a classic Baltimore/Pittsburgh grit match.
If the Steelers win, I will draw Joe Flacco with terrible towels all over him.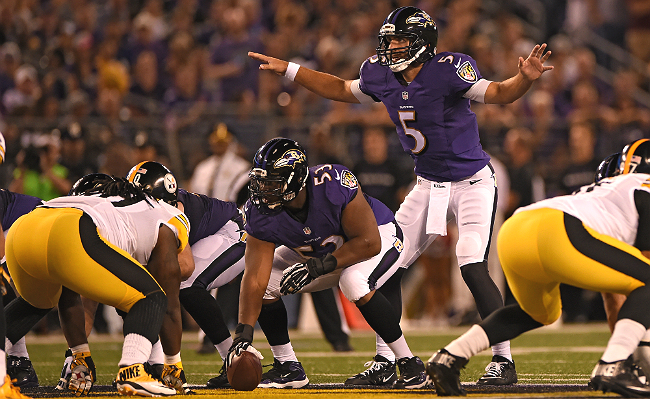 JETS @ DOLPHINS
The Jets revealed themselves to still be dumb this past week against the Eagles, but the Dolphins have revealed themselves to be quite possibly even dumber, and Joe Philbin's seat is going to be literal lava pretty soon.
If the Dolphins win, I will draw a Dolphin spraying Brandon Marshall in the face.
JAGUARS @ COLTS
The Colts don't look like world-beaters right now, but the Jags look worse.
If the Jags win, I will draw Blake Bortles riding Andrew Luck like a horse.
GIANTS @ BILLS
All that is standing between Eli and that Buffalo defensive front is a patchwork O-line with players hurt and out of position. This is going to be murder.
If the Giants win, I will draw Cruz dancing the Salsa on Rex Ryan's grave.
PANTHERS @ BUCCANEERS
The Panthers are 3-0, believe it or not. Nobody is taking them seriously because they haven't faced superior competition, and that isn't changing this week when they take on Tampa Bay High School.
If the Bucs win, I will draw Jameis Winston doing Cam Newton's celebration over a grumpy Jared Allen who is saying, "I came here for this?"
EAGLES @ REDSKINS
This is an NFC East game. Who even knows what's going to happen.
If the Redskins win, I'll draw Sam Bradford's spirit tearing its ACL.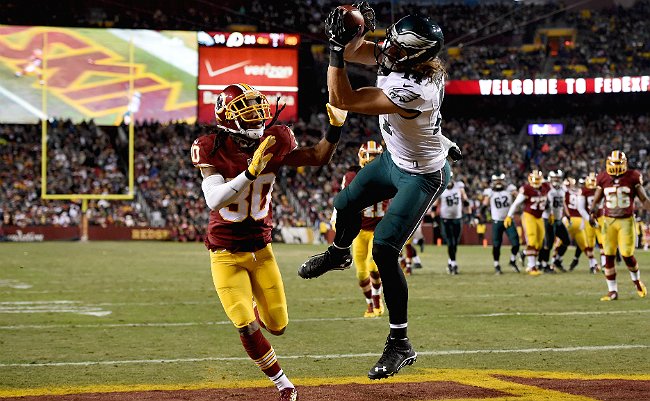 RAIDERS @ BEARS
The Raiders have a legitimate offense, and the Bears are the Bears. The Raiders might start this season 3-1.
If the Bears win, I'll draw Jimmy Clausen taking up smoking from Jay Cutler.
TEXANS @ FALCONS
Can anyone stop J.J. Watt? Well, yes, if Julio Jones is open.
If the Texans win, I will draw J.J. Watt riding a bull chasing a screaming Matt Ryan.
CHIEFS @ BENGALS
Early season Bengals continue to roll. Alex Smith continues to be terrible.
If the Chiefs win, I will draw Andy Dalton telling Marvin Lewis he thought it was the playoffs.
BROWNS @ CHARGERS
Browns decided to start 36-year-old Josh McCown instead of the young up-comer who everyone wants to see, and they deserve nothing but scorn for it.
If the Browns win, I will draw the Brownie walking the Browns bulldog, who is peeing on Philip Rivers.
PACKERS @ 49ERS
The very first nationally televised snuff film.
If the 49ers win, it'll be a damn miracle.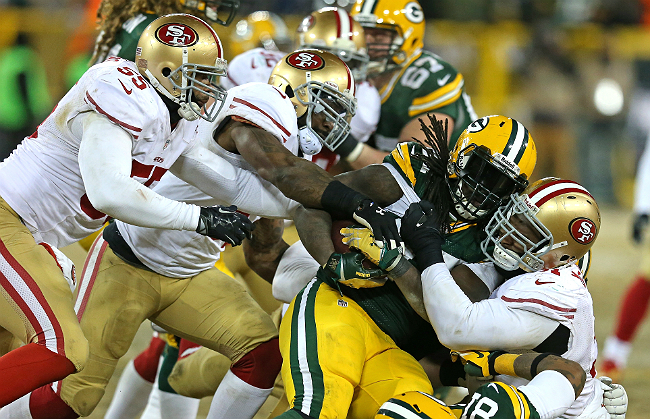 RAMS @ CARDINALS
The Cardinals are stomping bad opponents, and the Rams aren't looking quite so hot since Week 1.
If the Rams win, I will draw Nick Foles parting the "Red Sea."
VIKINGS @ BRONCOS
Broncos defense is legit, even if Peyton's arm is about as strong as the noodles under his chicken parm.
If the Vikings win, I will draw Peyton Manning walking into a barr. Anthony Barr. 
COWBOYS @ SAINTS
Even the Weeden can clobber the Saints.
If the Saints win, I will draw Luke McCown giving respect to his elder Brandon Weeden.
LIONS @ SEAHAWKS
The Lions are the Lions again. Can't wait for them to have a glimmer of hope in a few years before Megatron finally gives up.
If the Lions win, I will draw Megatron (the transformer) blowing up Russell Wilson.

The Patriots and the Titans both have Week 4 bye weeks, because the NFL is still somehow convinced that Week 4 byes aren't a terrible idea.
ILLUSTRATIONS FROM PREVIOUS WEEKS
WEEK 1
Bills
"If Tyrod beats Andrew Luck, I will draw Rex Ryan telling Luck that he's switching to Progressive."
Chiefs
"If the Chiefs win, I will draw Alex Smith as the Grinch standing on J.J. Watt with a narrator saying, 'And his hands grew three sizes that day.'"
Rams
"If the Rams win, I will draw Nick Foles peeing into Russell Wilson's recovery water as Russell drinks it and talks about Jesus."
Titans
"If the Titans win, I will draw Marcus Mariota stealing Jameis' crab legs."
Falcons
"If the Falcons win, I will draw Tim Tebow hitting Chip Kelly with a battery."
Chargers
"If the Chargers win, I will draw Philip Rivers making a dumb face as his bolo tie shoots a laser through Stafford."
WEEK 2
Broncos
"If the Broncos win, I will draw Peyton with noodle arms singing, "Have you ever seen your toes?" to Andy Reid in the Nationwide jingle."
Raiders
"If the Raiders win, I will draw a Raiders fan costume that has Joe Flacco's severed head as decoration."
Jaguars
"If the Jaguars win, I will draw Blake Bortles stomping on Ndamukong Suh."
Bucs
"If the Bucs win, I will draw Jameis Winston as a pirate making Rob Ryan walk the plank."
Vikings
"If the Vikings win, I will draw Adrian Peterson as a dentist killing a Lion."
Redskins
"If the Redskins win, I will draw Captain Kirk Cousins shooting Nick Foles with a phaser."
Browns
"If the Browns win, I will draw Duck Hunt."