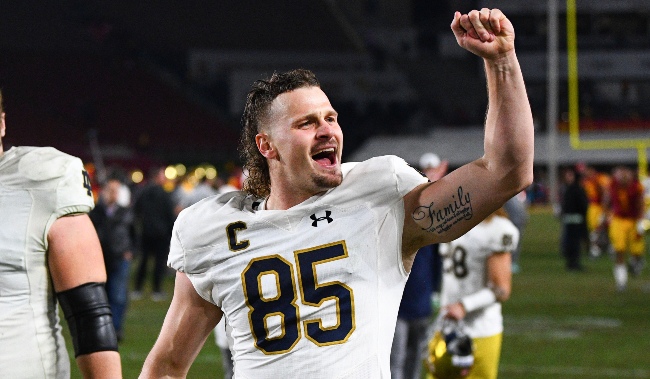 There are a bunch of things in life that can be described as simple pleasures — the smell of fresh cut grass, a warm cup of hot cocoa on a cold winter's day, getting to spend time with loved ones, etc. None of those things, however, are anywhere near as good as the performance that Notre Dame punter Tyler Newsome threw down on the bench press at the school's pro day.
Newsome — a 6'3, 214 NFL Draft hopeful for the Fighting Irish — did 30 reps on the bench, which would make a lot more sense if, say, he was an imposing defensive lineman or an indomitable force on the offensive line. Instead, he is a punter, so this really rules.

As someone declares in that video, "he's a punter, baby," which is good, because it illustrates that those in attendance knew they were witnessing something special. Based on the results from the NFL Combine, Newsome would have been tied for 11th among offensive and defensive linemen with this performance on the bench and 13th overall. None of the special teams players who attended the Combine did the bench press.
Newsome was a pretty good punter — he was 17th nationally in punting average last year and holds the Notre Dame record for career punting average — but based on this performance, we here at Uproxx Sports would like to recommend he gets a look as an outside linebacker at the next level.