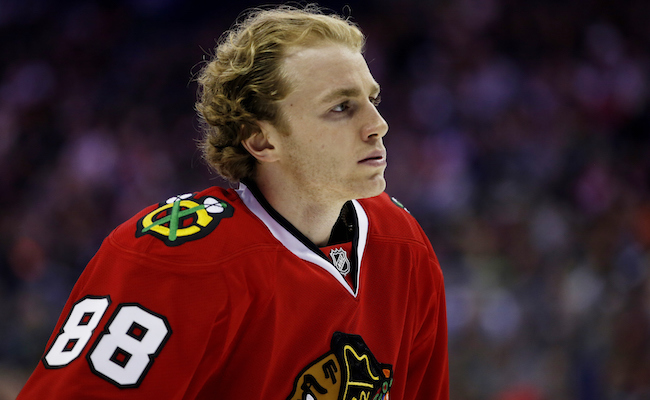 The woman who is alleging that Patrick Kane sexually assaulted her earlier this summer has been dropped by her lawyer following new, unusual developments in the case.
On Wednesday, criminal attorney Tom Eoannou held a press conference to reveal that the bag that contained a rape kit submitted by his client – a 21-year-old Buffalo woman – had recently been found on the front porch of her parents' house. The bag containing the evidence was reportedly torn and folded several times before being delivered anonymously to the parents' house.
Here's what Eonnou had to say during his presser earlier in the week:
"In my 30-years-plus of being both a prosecutor and a defense attorney," he said, "I have never seen an evidence bag outside a police lab, a prosecutor's office, or a courtroom — let alone find one in the doorway of a rape victim's mother's home."
However, just one day later, Eonnou held another presser to announce that he would no longer be representing the client due to concerns over the evidence bag and the authenticity of how it came to be discovered.
Because this story just keeps getting more and more insane and increasingly hard for the public to wrap their heads around, here's 670 The Score's Julie DiCaro recapping Eonnou's statements regarding his withdrawal.
It seems like every time we're led to believe this saga can't get more outrageous, it does. It'll be interesting to see what happens from here.