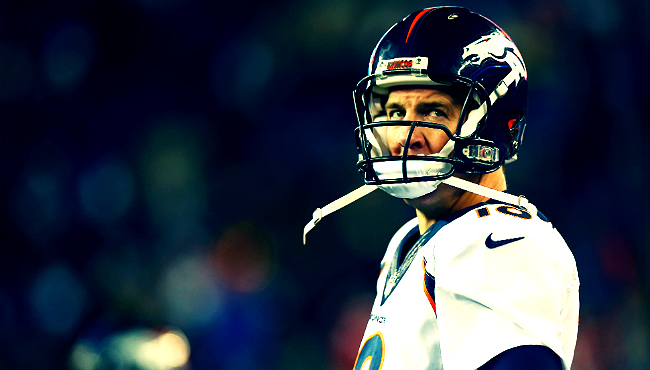 The Huffington Post dropped a bombshell of a report on Saturday night via Al Jazeera, one that claims that Denver Broncos quarterback Peyton Manning used human growth hormone to recover from neck surgery in 2011.
Al Jazeera's report claims that Manning, along with a handful of other "high-profile" athletes, used performing enhancing drugs. The entire report will drop on Sunday, but Huffington Post acquired the information early and specifically named the NFL's all-time leader in passing touchdowns. There were also a handful of other athletes named, like Philadelphia Phillies first baseman Ryan Howard and Pittsburgh Steelers linebacker James Harrison.
But Manning is the marquee name in the report. Manning reportedly would get drugs, including human growth hormone, delivered to his house under his wife's name. In an undercover video, Austin-based pharmacist Charlie Sly reportedly says: "All the time we would be sending Ashley Manning drugs. Like growth hormone, all the time, everywhere, Florida. And it would never be under Peyton's name, it would always be under her name."
Unsurprisingly, Manning's agent flat out denies any use of performance enhancing drugs by his client, calling the report "outrageous and wrong." Also denying any involvement in this ring is Sly, who released the following video soon after the report came out on Saturday night and said that any recordings were made without his consent and recanted any and all statements that Al Jazeera will air.
The entire report is scheduled to drop on Sunday.
(via Huffington Post)
Now Watch: Has This Been The Worst Season For Injuries In The NFL?