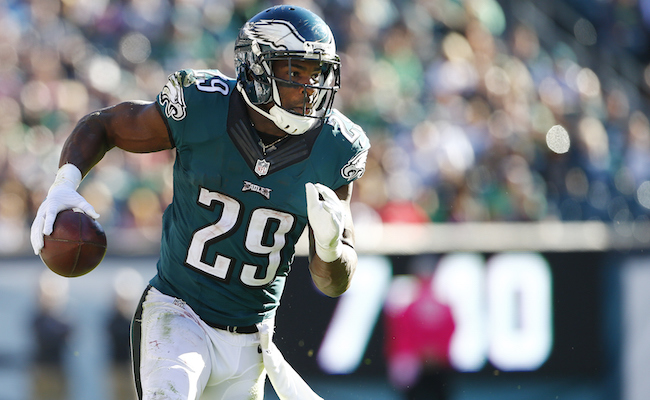 The Philadelphia Eagles have continued to struggle with inconsistency this season, with their latest flub coming in the form of a 45-17 drumming at the hands of the Tampa Bay Buccaneers. The loss moved the Eagles to 4-6 on the season, which has to be considered a major disappointment for the many who considered them to be contenders this year. When teams fail to meet or exceed expectations, frustrations seem to mount and create problems that normally wouldn't exist within a winning team.
That came into play on Sunday, when one anonymous Eagles player chided the team's lack of effort and commitment to winning. Specifically, he cited a third down run from DeMarco Murray in the first quarter of last weekend's game against the Miami Dolphins, when Murray slid instead of taking a hit near the first down marker.
It was third and 1, and DeMarco Murray got the handoff. He turned the corner and appeared to have the first down. But rather than finish off his run, he saw 185-pound cornerback Brice McCain coming at him, and he slid to the ground just barely beyond the first-down marker.

…

"Well, when you see DeMarco sliding before getting hit, you tell me. Was that giving full effort?" said an Eagles player who spoke on the condition of anonymity. "You see that [stuff], and it makes you wonder."
Here's the play in question:
Does Murray really deserve criticism for this play? I mean, I know a lot of people like to say that quarterbacks are the only players who should slide to avoid contact — and maybe it's just me — but sliding actually seems like the best option Murray had on this particular play. He was heading for the sideline and a group of Dolphins defenders were closing fast.
Had he stayed on his feet, there's the possibility that a big hit could have kept him short of first down marker. There's also the possibility that such a hit could injure the running back. By sliding, not only does Murray avoid taking a lick, he also avoids all contact and keeps his momentum moving forward and his center of inertia low, minimizing his chances of being stopped short of the marker.
So, maybe he broke an "unwritten rule" of running backs, but the most important factor here is that, regardless of your thoughts on the decision, he got the first down. So, really, there's not a big deal to be made out of this. Had he gave himself up short of the line-to-gain, then it would be a fair to criticize. But it just seems like certain Eagles players are looking in the wrong spot — or at least citing the wrong example — to diagnose what is wrong with the team this season.
(Via Philly.com)
Now Watch: Why We Want to Party with Rob Gronkowski