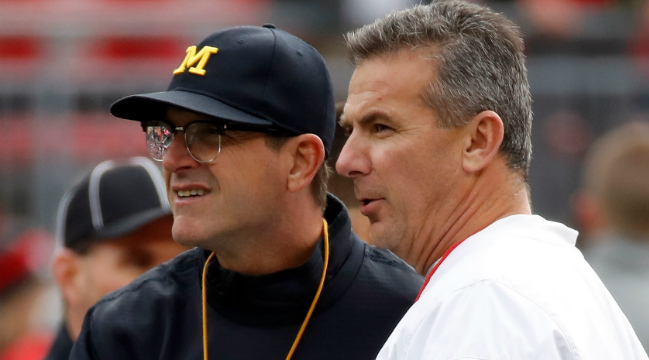 July 9, 2013 was a big day for college football fans. This was the day that NCAA Football 14 was released on PlayStation 3 and Xbox 360, giving fans of the series their annual college football video game fix. This was also a big day because we haven't had a college football video game release since then.
Thanks to court battles over the NCAA using college athletes' likenesses in these games, EA Sports hasn't been able to drop a college football game in more than four years. This year's edition of Madden gives us a few college teams in its "Longshot" mode, but we don't have the ability to pursue the Road to Glory or bring a small MAC school to prominence unless we bust out an old system and get to gaming.
But could this all change? Could we be on the verge of a college football video game coming back? Thanks to this PlayStation commercial that aired on Friday night, it sure as heck seems like it.
The players in this ad — Deshaun Watson, Derrick Henry, and Joey Bosa — are all young NFL players who were bonafide studs at Clemson, Alabama, and Ohio State, respectively. Speaking of the Buckeyes, Urban Meyer's in this ad wearing school-branded gear. Jim Harbaugh's in here, too, although the Michigan logo is not prominently displayed at any point.
The commercial is super, super vague, and it could very well just be a thing that's aired to promote PlayStation. But then again, it's kind of weird that PlayStation would go "Hey, let's get Urban Meyer and Jim Harbaugh in the same commercial" for anything other than a potential college football game, right?
We've reached out to PlayStation PR and asked about the contents of this advertisement and will keep you posted on their response.
(Via SB Nation)