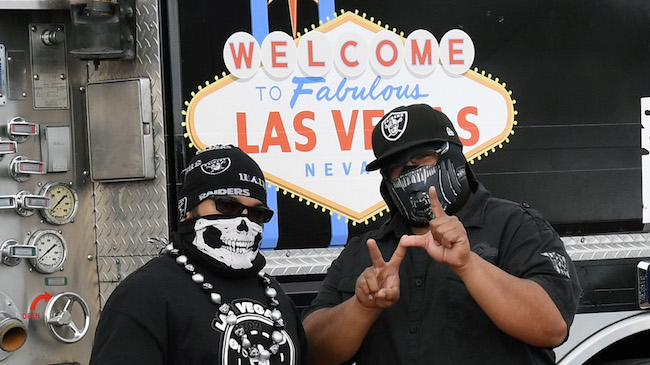 The Oakland Raiders will only exist for two more years before they leave the Bay Area in order to become the Las Vegas Raiders. The NFL's owners voted 31-1 in favor of the Raiders' move on Monday, disappointing Oakland's fan base that hoped to see the team stay in the city.
The decision to move the team to Las Vegas is another step towards Sin City becoming a legitimate professional sports town, as they already have an NHL team playing at the new T-Mobile Arena, as well as playing host to big fight events in boxing and the UFC. Adding the NFL will bring even more sports fans into the city, which excites sports books and casinos. The NFL has addressed the issue of sports gambling, which it maintains it is still against, but one thing they probably didn't think about was legal brothels in Las Vegas taking advantage of the Raiders' move.
The NFL might not have thought about it, but Dennis Hof, owner of the Bunny Ranch, certainly did. Mere hours after the Raiders move was approved, Hof announced that he would be opening his seventh brothel in 2020, coinciding with the opening of the new NFL stadium, that would be Raiders-themed (it's called the Pirate's Booty Sports Brothel) to take advantage of the incoming football fans.
"I've had a license for a seventh brothel near Las Vegas for some time now, but I was waiting for the right time to launch another house of debauchery," Hof said in a press release. "The Raiders coming to Vegas will mean big business for me, so my next sex den will honor the the Men in Black and their Raider Nation.

"My seventh sex palace will be called the 'Pirate's Booty Sports Brothel' and it will be the first brothel entirely dedicated to athletes and their die hard fans."
I'm sure this is exactly what the NFL wanted when it decided to move to Las Vegas. Nothing will thrill Roger Goodell more than a brothel opening up specifically for NFL fans with a special VIP area designated for Raiders players (!!!) and other athletes.
"Pirate's Booty will have the magnificent 'Darrell Russell Hall of Dames,' named after the late great Raider's defensive tackle and well known Bunny Ranch patron," Hof said. "The VIP section will be exclusively available to Raiders players and other high-profile athletes, and staffed with over twenty cheerleader-garbed working girls called either the 'Wide Receivers' or 'Hookerettes', I haven't decided."
Just incredible stuff. I'm sure The Shield will be trying to figure out how to get this shut down, but I can't see any way for the NFL to do anything about this. Welcome to Las Vegas!