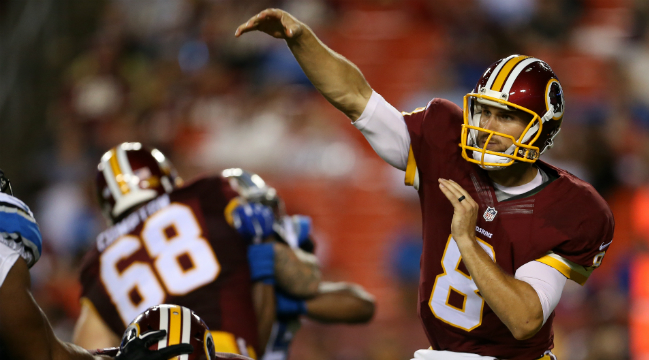 In case you somehow missed it a few weeks ago, Kirk Cousins was pretty fired up after leading the Redskins to a comeback win over the Bucs (which also produced some hilarious memes, along with being made into a t-shirt, for some reason).
On Sunday, Cousins had a monster game once again for Washington, as he went 20-35 with 324 yards, four touchdowns, and no interceptions in the Redskins 47-14 blowout win over the Saints, and he also became the first quarterback this season to finish the game with a perfect quarterback rating. With Cousins playing better than nearly anyone expected and the Skins somehow still in the mix for a playoff spot at 4-5, it appears that after much controversy that Jay Gruden may have been right after all that Cousins is the best quarterback on the Washington roster.
Naturally, the Redskins were feeling pretty good coming into the locker room after their big win so of course someone had to give their impression of Cousin's infamous "YOU LIKE THAT!" rant, and this time it was defensive end Chris Baker.
Nailed it. Cousins appeared to also approve of the impression as he told reporters "You gotta like that right?" Indeed you do, Kirk.