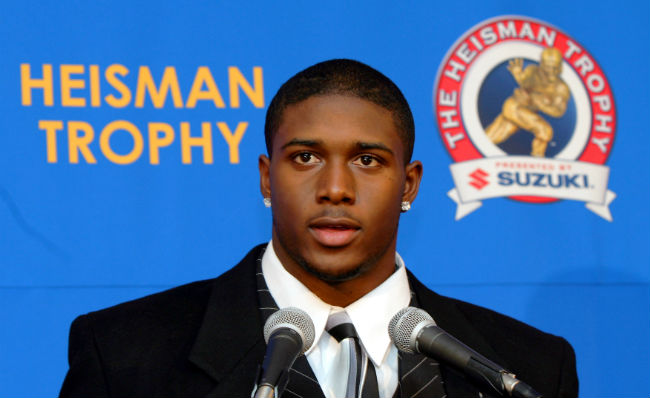 Reggie Bush officially retired from professional football on Saturday. The running back, last with the Buffalo Bills in 2016, will forever have the unique distinction of having his final NFL season end with negative yards on the season: 12 carries for -3 yards.
But Bush's career will be defined not by his end with the Bills. Instead, everyone will remember him for his brilliance at USC and early on in NFL his career with the Saints and Dolphins. Though Bush never had the pro career many hoped he would have, he was still a serviceable back with 5,490 yards and 36 touchdowns rushing and 3,598 yards and 18 touchdowns receiving in his 11-year career.
The NCAA says that time with the Trojans never happened, unfortunately, but we have YouTube and can confirm that Bush did, in fact, rule when he played college football. So let's take a look back at when Reggie Bush was incredible at football, starting with a quick look at his high school highlights.
OK, that was fun. There are a ton of college highlights we can watch, but instead, how about we talk about the time he ripped Fresno State limb from limb? The early run in the highlight package isn't a touchdown, but it does show off just how fast Bush was when he got a head of steam thanks to a good block.
If you're looking for the Fresno State run, though, here it is. Look at the way he could stop and start. The dude literally went from top speed, to stopping for a split second, then running as fast as he could in another direction. No one could catch him.
For the rest of his college career, here's a 20-minute(!!!) video of his best moments. We highly recommend spending the next third of an hour watching Reggie By God Bush do things that are guaranteed to make you laugh.
Bush certainly had his fair share of moments in the NFL, but it was never as stunning as his time in college. Still, his professional highlights were rather fun.
You can see the final tackler he has to avoid, or the one last block he needs, is never quite there on a lot of his pro runs. Bush's time at USC is marred by a few things, but when football fans think of Bush, they'll forever remember one of the most dynamic running backs in college football history.