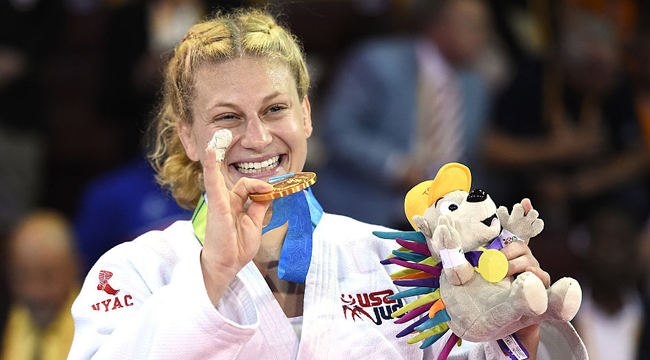 Before Ronda Rousey switched over to MMA and started destroying everyone she faced, she was on the US Olympic Judo team with Kayla Harrison. Harrison, who won gold medals in the 2012 and 2016 games, regularly threw around and dominated Rousey. So it's a bit of an understatement to say the prospect of her transitioning to mixed martial arts has excited a few people.
Last week, Kayla made things official: she announced her intention to fight and will split her training between her judo coach Jimmy Pedro and MMA legend Renzo Gracie's team, which includes such UFC stars as Eddie Alvarez and Frankie Edgar. She doesn't seem too interested in fighting Ronda Rousey, though. For one thing, Rousey is the one who's been giving her advice on what it'd take to become a fighter. Via the World Series of Fighting:
"We've talked for years about the transition into MMA," Harrison said of Rousey's help. "She's given me a lot of help and pointers along the way… The first thing she said was to definitely start striking, get a good striking coach and to get comfortable with that because it's so different than judo."

"I'm not really interested in fighting Ronda. We've been trainign parnters for years and fought every day for 7 years," Harrison said. "I'm not interested in revisiting that. It would turn into a giant judo match inside a cage."

"Honestly, I just want to be the best. I think we all know who it is at 145-pounds," Harrison said. "It'd be an honor to step in the cage with the best of the best."
The fighter Kayla is referring to is undoubtedly Cris Cyborg, the best (and some argue only) 145 pounder in the world. Ronda Rousey has refused to face off against Cyborg for years now, demanding the heavy Brazilian fighter meet her at 135 pounds. But 145 pounds is exactly where Harrison is comfortable. In fact, she won both of her medals in the 170 pound division.
At the moment, the UFC doesn't have a 145 pound division. But that's fine for now as far as Kalya is concerned. Her plan is to take things slowly and build her way up to the big show. By then, perhaps the UFC will reconsider its position on a de facto women's heavyweight division. With Kayla Harrison perhaps signalling the start of an influx of Olympic caliber female athletes, they'd be foolish not to.