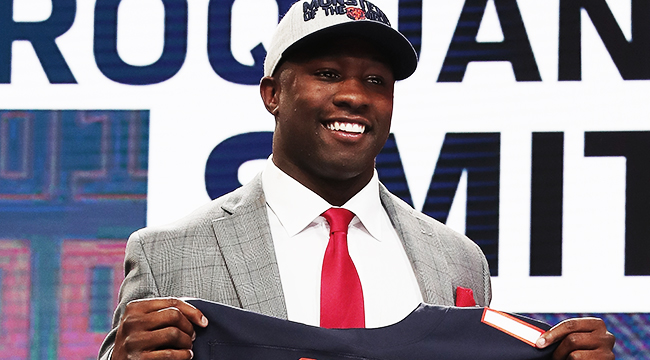 Roquan Smith went to the University of Georgia. It's not Linebacker U, but going to the Chicago Bears with the eighth overall pick in the 2018 NFL Draft means heading to the pro equivalent. No team has a list of linebackers like the Bears: Dick Butkus, Mike Singletary, Brian Urlacher, Lance Briggs, and now, Roquan Smith.
But Smith, at 6'1 and 236 pounds, doesn't boast the kind of intimidating physical stature featured by some of those Monsters of the Midway. That weight is 11 pounds above where he was listed in Athens, and yet it never seemed to be a problem for the unanimous All-American while he was playing for Kirby Smart.
At the combine, Smith ran a 4.51-second 40-yard dash, but insists he was running 4.4's in training and wasn't 100 percent healthy in Indianapolis. He'll now transition to a league evolving to mirror the college game: more spread out, predicated on mismatches, and in desperate need of linebackers who can run, cover, and play in space.
Watch Smith in the Rose Bowl chasing around future No. 1 overall pick Baker Mayfield and that's all one needs to see in order to understand his place in the modern NFL, yet the questions surrounding his game heading into the draft process came as fast and furious as a Roquan Smith tackle.
Already an adept veteran at giving non-answer answers (Smart's old boss, Nick Saban, would be so proud), I tried to get behind the smiling, congenial Smith so at the very least he'd brag about himself. But pushing him just makes him smile, chuckling as he does his best to give you another answer he knows won't wind up on any bulletin boards or clickbait headlines.
What you get spending time with the rookie is the impression he's someone who very much understands who he is and what he brings to the table, a unique trait for a 21-year-old professional athlete. Although he's a funny, mild-mannered guy, Smith plays like a man possessed … perhaps possessed with the knowledge he can beat any ball carrier to and spot, and when he gets there, he is likely to take them down.
That would certainly provide most linebackers with the kind of grinning, calm off-the-field demeanor Smith possesses. It's just most linebackers don't run like the wind, hit like a semi, and play with a Mensa level understanding of the game like he does.


It would be easy to say you fell in the draft because the NFL still worries too much about size. Look at Aaron Donald, a guy who fell for similar reasons. Do you think speed is more advantageous now than people understand?
Absolutely, and where the game is transitioning to, it's a speed game. So it's like who can get here the quickest, and it's all about matchups. So if I can get a mismatch with this running back or this tight end on this linebacker then I'm going to try and do it. I think that's huge. I think it's about finding the best athletes who can matchup.
If you don't know where you're going or why you're going there, you can't play as fast. Adjusting to a new defense, and facing decidedly different offensive schemes, are you having to put in extra time studying to make sure you can play fast from Day 1?
Definitely, I have to put in a lot of work, but on the college level you see a lot more formations. So there's a lot more checks and different things like that. In the league, you have your traditional formations. There's only so many formations. I think it'll be good.
You have Aaron Rodgers in Week 1 on national television. Are you already thinking about the season adjusting to going against the best players in the league?
That'll definitely be huge, going to be able to face a guy of that caliber, but I'm just going to take it one game at a time when we open up preseason and the Hall of Fame game. So I'm just going to try to shift my focus there and I feel like once I get to Week 1, I'll be there. But I definitely have a lot of respect for Rodgers.
If you could describe what would be a successful first year in Chicago, what would it be?
Just being the best possible teammate I could be and winning games. Having one of the best defenses in the league, the best defense in the league.
I'm going to give you an opportunity to give a non-diplomatic answer. You were knocked for your size coming into college and now the NFL. Do you carry that knowledge and does it motivate you to show you're plenty big to be a great player?
Definitely. There's definitely a chip on my shoulder. I had a chip on my shoulder going into college. I was considered undersized. "I don't know if he'll be able to put on the weight. I don't know if he'll be able to put on the size." And then you hear the same thing going in (to the draft). So it's just a chip I carry on my shoulder. I'm confident in myself. I know what I can do and I'm confident in my abilities.
Seems like a pretty big chip given the way you like to hit guys. Do you relish the chance to bring the thunder?
Absolutely, I get a chance, I like my chances. I like to make my presence felt.


Do you have a favorite play you made? When you think about your college career is there a play or a moment?
There was a really good play against Oklahoma late in the game, third-and-2 maybe, when they were going down to score. It was on a little wide receiver jet sweep, a little end around. I ran that down. It was definitely huge.
In that Rose Bowl against Oklahoma, particularly in the second half, you were playing with your hair on fire, getting sideline to sideline, but Mayfield and Oklahoma jumped you guys a little bit. You didn't play as well in the first half. What changed? Did something click for you?
They came out and had us a little rattled in the first half. We just tried to come out in the second half — we weren't playing our style of defense, so the second half we just had to play our style and knew that we weren't trying to go home. We were just like it's either now or never. We knew we had that opportunity and it wasn't going to last forever, so it was like, me as a leader, I had to play my best and try to pick up all my guys around me for them to play their best as well.
So you played a little desperate?
[Laughs] I wouldn't say desperate. I was just trying to make every play I could, put my teammates in the best possible situation as well as myself. So I was just trying to put the team in the best possible situation to win.
Have you eaten at Au Cheval yet? You have to get the cheeseburger at Au Cheval.
Oh man … cheeseburger. I'm trying to protect the figure.
When was the last time you had a cheeseburger?
A cheeseburger? Oh it's been a little minute.
Alright, no junk food then. I know they don't do this in football, but they might start it in golf. They already do it in baseball. If you could pick walk up music, what would it be?
I would just go basic: Drake, God's Plan.