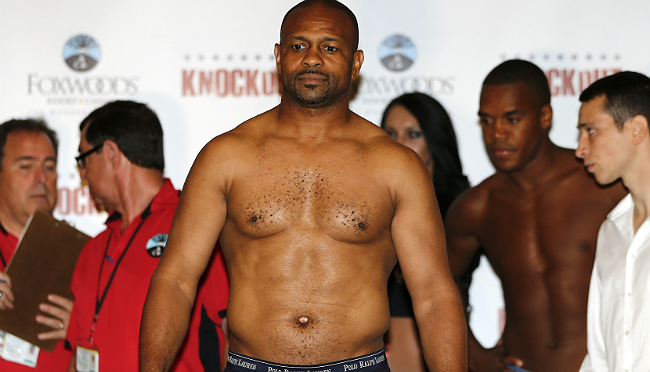 Roy Jones, Jr. is 46 years old, and is still not only participating in professional boxing matches, but winning them in dominating fashion. He defeated 27-year-old Eric Watkins in the sixth round of their bout at Foxwoods in Connecticut on Sunday night with this blow:
Jones, Jr. has now won eight-straight fights dating back to late 2011, to up his pro record to 62-8 with 45 knockouts. He won his first fight all the way back in 1989. He also has his next two fights already lined up. He will face off against Danny Santiago on August 29 in Sint Maarten, and then Tony Moran on September 12 in Liverpool, England.
But it's not just Roy Jones, Jr.'s boxing that has people talking, it's also his music career, which he made sure fans in attendance were well aware of.
Who could forget his classic 2002 album Round One: The Album, and the 2004 follow-up Body Head Bangerz: Volume One. Apparently, soon, there will be another classic to add to the collection, and, if we're lucky, maybe Jones, Jr. will rap it live after his next fight.
But, all kidding aside, it is mightily impressive that Jones, Jr. has been able to stay active in boxing this long, not to mention continuing to win most of his fights. Although he's four years younger, it's a competition at this point between himself and Bernard Hopkins to see who will last in pro boxing the longest.