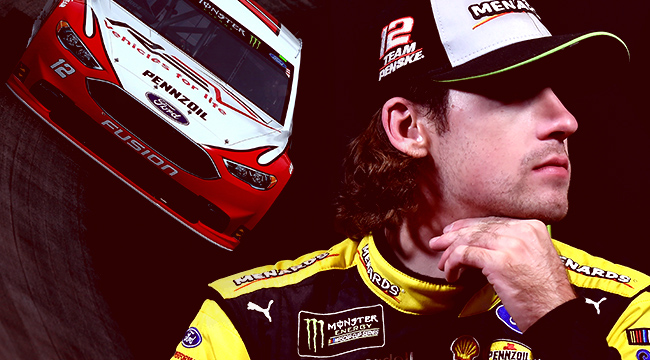 LAS VEGAS – The media scrum gravitates toward Jimmie Johnson, as always, but 24-year-old Ryan Blaney seems to be enjoying the quiet. Each driver in the NASCAR Playoffs has their own hero portrait, and a picture of their car behind them while they were given director's chairs to sit in. In other years, the car might have been the hero, but with the landscape of today's NASCAR, it'd be hard to decide which paint scheme to choose from as teams and sponsors shift (or in the case of last year's title winner Martin Truex and Furniture Row Racing – are shutting down all together).
As obligations go, this Thursday is easy. The drivers are used to marathon meet-and-greets, events, and ride-alongs, even on race weekends, so there's something calming and soothing about an hour where only a couple people stop to chat inside a well too lit conference room at the South Point Casino just off strip. Blaney doesn't ever appear stressed, in the car or otherwise. He notably was one of Charlotte's most eligible bachelors in an online publication a couple years back (a joke, Blaney says, played on him by a member of his team; he never thought he'd make it through the first round). He is turning a huge plot of land outside Charlotte into his own personal retreat; more man-estate than mancave. And he's made frequent trips out to Los Angeles and has done his share of voice work and acting, including appearances on NBC's Taken, Cars 3, and Disney XD's Spider-Man.
Blaney sees driving as both job and passion. It's all he's ever wanted to do. But to keep the sport — and his own profile — growing, he can't just sign photos and die-casts and race his way into the NASCAR Playoffs. He needs to become his own personality off track, and he's taking every step he can toward doing so. That includes making a splash in the Playoffs, and he finds himself in seventh place heading into Richmond Raceway's first-ever Playoff race, Saturday night at 7:30 pm ET on NBCSN.
Uproxx spent some time with Blaney before the race in Las Vegas and discussed acting, his love for Star Wars, the pride he has for fellow driver and friend Bubba Wallace, and more.
Uproxx: It seems like you've really enjoyed those acting opportunities. Anything that you've got coming up?
Ryan Blaney: I don't know. I love doing those opportunities, to do the Cars 3 movie. To do the Spider-Man voiceover and that animated show, that was really cool and then to do a couple other acting gigs. I enjoy doing that stuff, it's different, it's new, but nothing in the near future. Maybe in the offseason, I'll try to find something to do.
It's not like you guys aren't busy enough, but do you tend to want to keep your time filled pretty much?
I do, yeah, I'd rather be doing stuff than sitting around, honestly. Then I feel like I'm actually contributing to something, whether it's for myself or other people but yeah, I try to keep busy. I think that's the best way to be.


How did those opportunities first come about for you?
I think it's a mixture of NASCAR, my team, my management team. NBC is when I got on the Taken deal. That was an NBC deal, so a lot of people asking around and wanting to do more things, and they knew I was interested in doing that stuff. So that's just kinda worked out. They came to me and asked me to do it.
Are you a Marvel guy by trade, or are you a DC guy generally?
I'm more of a Marvel guy. But I like them both, I don't hate DC because I like Marvel.
Some people do, it's weird.
It's amazing to me how people despise DC, they like Marvel or vice versa. Say man, if they're good comics, they're good films, like why are you hating — legitimately hating — the other ones? They're enjoyable!
You got a go-to, character-wise?
I've always been a Thor guy. Thor's good. Actually, Deadpool's my favorite. The movies were amazing, I've always liked the comics, just that type of character, I think, is pretty cool. He's very free and stuff, yeah, I'd say Deadpool is my favorite for sure.
Any bites on getting something in the Star Wars universe for you?
Not yet. I would absolutely love just to be an extra and …
Just a Stormtrooper.
In Episode 9 or something, that would be so cool. So I don't know, I have to get on that. I really have to get on that and just show my face. When we film just tell me which Stormtrooper I am and that way I can point it out.
What's your take on the new movies? Because I know that's another thing, people just get mad but I'm happy to just have anything.
Yeah you know when The Force Awakens came out, that was a big, big movie. And that was one was pretty good and then people were pissed off at The Last Jedi which is weird because I thought it was a good movie too. There were some things I would have liked to see happen to change things up, but I don't know why people despise The Last Jedi so much, I'm just happy they're making them.
For years and years there weren't Star Wars movies and now we've got something coming all the time.
Between them and Rogue One and Solo, there's a bunch of them. I think there's more and more stand-alone films that are coming out. I enjoyed the new movies. I'm a big Daisy Ridley fan. So yeah, I will always watch.
Do you have a favorite of any of the ones that have come out originally? I'm a The Empire Strikes Back guy.
I am Empire as well. Yeah, Empire and actually The Phantom Menace was like the first one I ever saw as a kid. And I was a huge Darth Maul fan. Darth Maul's one of my favorite characters. And it was cool to see him back in Solo, that was awesome.
Did you watch the cartoons? They said Clone Wars was good, but I never got into it.
Yeah it was like Clone Wars and Rebels. They say they're great and they tie up a lot of ends, but I never watched them. You need so much time that we don't have.


Something that's been really interesting to me is watching guys like you and Austin Dillon and Bubba especially start to push forward a little bit and kinda change what it means to be a driver. You're raising the culture. You guys love racing. You had drivers growing up that you followed, but now it's kind of a crossroads opportunity to do these kind of things which you're always presented with but now maybe do a little bit more. Kinda put yourselves out there and social media's helped with that, other things have helped with that, but it seems like you've really taken that torch.
Yeah, we've been trying. First off, racing is the biggest thing for us. That's our job, racing is the reason we get to do these other opportunities. So that's always the first thing but I enjoy doing things away from racing. I think it's healthy to separate yourself sometime and do new things, you know? Other than your job all the time. I think that's healthy for you to experience new stuff. It's been neat to get some cool opportunities to do, go to some cool places, meet great people. And yeah a bunch of NASCAR's push right now is getting us to do this stuff so it's been nice to be a part of, honestly and I can't wait for more and more things to come.
What else do you think needs to be done to keep going in the right direction?
I think just keep working on what we have been, getting us to be out in the public eye a little bit more, bring us to cool events. I've been part of some … Obviously a big movie fan, so I've been a few movie premieres that have been so cool. I went to the Avengers: Infinity War premiere and that was the coolest thing I've ever been a part of and that was so, so cool. And I just think doing that, getting faces out to show that we're people too. I'm sure you saw it in the NBA, getting athletes out there and showing that they're not just ballplayers, they're people and they do the same things that fans do. So I think just more of that, just making us a lot more relatable to everyday customers.
You've had a lot more time in Los Angeles than you ever thought you'd be out there. Have you taken to it? Do you have some spots that you like going to?
Yeah. I enjoy LA, though it's a little crowded for me. And if I don't leave the city, I'm good. But yeah I usually spend four or five days out there before the race. I usually just drive from Phoenix to Los Angeles and I have some buddies out there in the music world that I see. Any spots I go to? I can't really remember. There was this one really, really cool bar I went to. I can't remember the dang name of it. It was like the main door is like a refrigerator door and you walk in and then it's this big open area but I can't remember the dang name of it but there's some good spots in LA that I like. I just like to see culture differences around the United States. Growing up in North Carolina then you go all the way west.
Yeah, it's another world.
It's neat how you know … It's crazy how Americans we're part of the same country, but it's cool to see that transition of how they live and then city life. I've been in the country so it's nice to get that diversity every now and then. Cool to see how other people live all the way across the country. I think that's really, really neat.
It's a chance to see that swath all over to be around which is really cool, and then you see places you never thought you'd see growing up. I never thought I'd live in LA, I also never thought I'd live in Charlotte, and to see those two contrasts is kinda wild.
Yeah, yeah, that's a great part of our job is we get to travel all over the place and visit great places. Meet people around those great places and hear their stories and I never would have. Growing up, watching my dad race, I did a little bit but not being a part of it and actually being a driver and you get to experience it first hand, it's really cool to places that you visit.
Bubba's first full season doing what he was able to do and you guys are obviously close. Did you have any tips for him along the way? Just kinda keep him going? It's a long season.
It is, that's what I told him. This cup schedule is grueling. So we're fortunate to be here but it's a long year for sure. 38 races, that's long and not only the amount of races, the length of these races are way different. The demand as far as media availability or something like that, that's way different, it's a lot more and I think at first it kinda overwhelmed him a little bit and then, but he's settled in very well. And is doing a great job and I was really happy to see him get that extension over there with Petty for a couple more years. That was really cool to see.
Felt like a win for a lot of the young guys.
It did, it did and he was deserving of it all the way. He's always been deserving of that stuff. He's never had anything given to him, he's always earned it every step along the way so that was cool to see him work hard at that and him do a good job in that car and hopefully they just keep improving every single race.
NASCAR provided travel accommodations for this story. You can read more about our policy on press trips and hostings here.