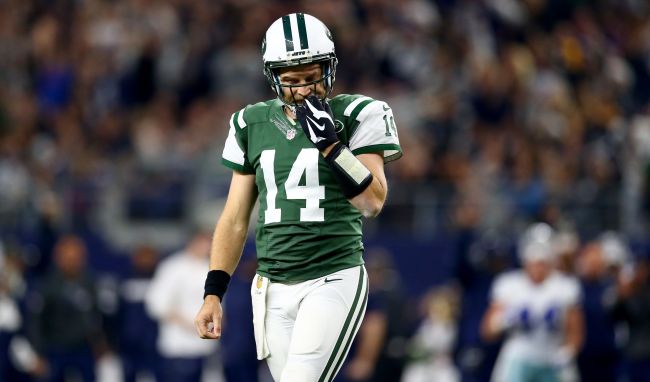 If you woke up Monday morning feeling empty inside with hints of uncomfortable rage, you might be a New York Jets fan. But this is more than the average feeling of cold emptiness you usually have. This is worse. You are used to seeing your team screw up and let you down, but this year? Really? You had the playoffs in the palm of your hand, and you lost to the very coach you fired last year for being bad. Stupid team.
But hey, there is reason to be optimistic, right? No one expected you to be competitive this year because lol Jets, but you were. You won 10 games! It can't be all that bad. You got a couple of stellar wideouts! You have some of the best defensive players in the game, with the right defensive mind coaching the team! You found a QB in Ryan Fitzpatrick!
Well, maybe not.
You see, the Jets would not have reached this far without the play of Fitzmagic, and it's easy to look at the Harvard grad and think hey, maybe we finally found somebody, and his name isn't Geno. But beware, because that's what Ryan Fitzpatrick does. If you have followed football for the past decade, then you are likely aware of what I call the Ryan Fitzpatrick Cycle.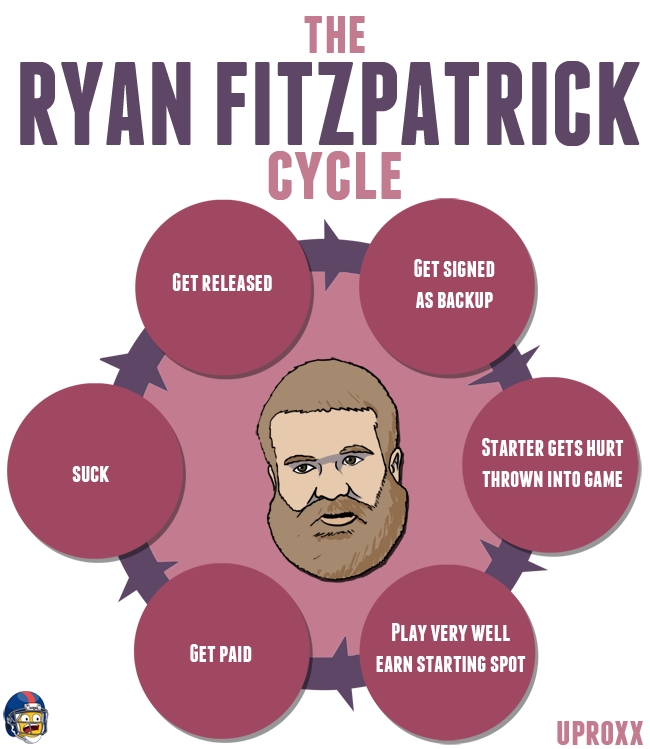 If you are a Jets fan, you should be terrified right now. When things look positive with Fitzy, that's when things start to go wrong. You got hints of it against the Bills. Fitz threw some bad picks that severely hurt the Jets' chances. That's bad Fitz. That's not the Fitzmagic you fell in love with, that's the Fitztragic that you mistakenly married while in the honeymoon phase of your relationship and now he sits on the couch every day and you thought you could be that person to change him, but nope. Ryan Fitzpatrick is a serial murderer of dreams. Let's look at his history.
-Drafted as a late-round backup QB onto the St. Louis Rams in 2005
-Replaced injured starter Jamie Martin
-Played well, earned starting spot
-Played crappy
-Traded by the Rams to Cincinnati in 2007
-Replaced Carson Palmer due to injury in 2008
-Played well, earned starting spot
-Played crappy
-Signed as backup QB on Buffalo Bills in 2009
-Replaced injured starter Trent Edwards
-Played well
-Earned big paycheck
-Played crappy
-Signed with Tennessee Titans to backup Jake Locker
-Replaced Jake Locker due to injury
-Played well
-Then played crappy
-Signed with Houston Texans as backup to Ryan Mallett
-Replaced Ryan Mallett due to injury
-Played well
-Then played crappy and got hurt
-Traded to the New York Jets to backup Geno Smith
-Replaced Geno Smith due to injury
-Played well
-?
You know where this is going, Jets fans. Don't deny it. You know in your hearts that once you give Fitzy that mad money, he will go full on Fitztragic on you. You can't change him; some men are born broken. Let him walk. Send him to a mediocre team with an injury-prone starter with a fanbase desperate to love a middling QB. Like the 49ers or Dolphins, or maybe the Rams again. Or the Bears. Yeah, send him to the Bears. They already hate Jay Cutler for no reason, and he gets hurt a lot. Chicago would love Fitzy.
Now Watch: Is Jim Harbaugh The Craziest Coach In College Football?